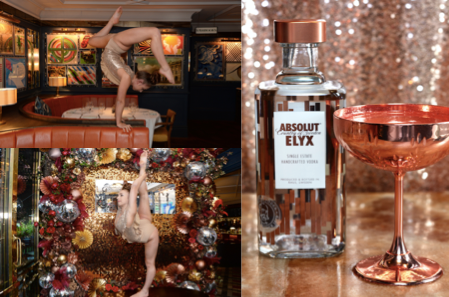 The Ivy Soho Brasserie Collaboration With Absolut Elyx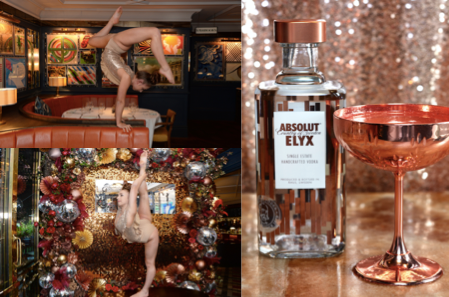 The Ivy Soho Brasserie has partnered with luxury Swedish vodka, Absolut Elyx, to celebrate Soho's history of fun, theatre and entertainment. Collaborating for six weeks only, guests can enjoy an eye-popping installation, cabaret-themed brunch series and two bespoke cocktails.
 The Ivy Soho Brasserie's façade will be decked out in glittering sequins, mirror balls, copper roses and flowers, all inspired by Soho's glamourous heritage as London's party quarter and Absolut Elyx's unique copper distillation process.
Absolut Elyx and The Ivy Soho Brasserie's bar team have also concocted two exclusive cocktails. The 'Absolut 29' (£9.95) features Absolut Elyx Vodka, Cointreau, a juicy mix of pineapple, berries and lime, topped with prosecco and served in a copper martini glass, whilst the glittering 'Red Elyxir' (£8.95) incorporates Absolut Elyx Vodka, infused red fruit tea, Earl Grey tincture, lime, agave and soda.
Finally, guests can enjoy cabaret-themed entertainment over brunch from 11am until 4pm on Saturday's throughout the duration of the collaboration. There will be a gorgeous duo of dancers who will greet, host and entertain guests, all set against the back-drop of tunes provided by the brasserie's resident DJ.
All entertainment can be enjoyed alongside The Ivy Soho Brasserie's well-loved brunch dishes including hot buttermilk pancakes (strawberries, raspberries and blackberries with Greek yoghurt, lemon balm and warm strawberry sauce), chicken Milanese (brioche crumbed chicken breast with marinated tomato, capers, rocket and pesto) and iconic chocolate bombe (melting chocolate bombe with a vanilla ice cream and honeycomb centre with hot salted caramel sauce).
The events will be running until Sunday the 16th of September, so hurry up and book now!
Address: 26-28 Broadwick Street, London W1F 8JB
Website: www.theivysohobrasserie.com
Instagram: @ivysohobrass Facebook: /theivysohobrasserie