THE SINGLE MALT SHOP TO HOST SUPERIOR IRISH WHISKEY TASTING IN CELEBRATION OF ST PATRICK'S DAY
Darby's, London
Thursday 9th March 2023
6pm – 8:30pm
Limited capacity, 40 spaces at £50 per head
Premium Irish whiskey showcase served with Irish & British dishes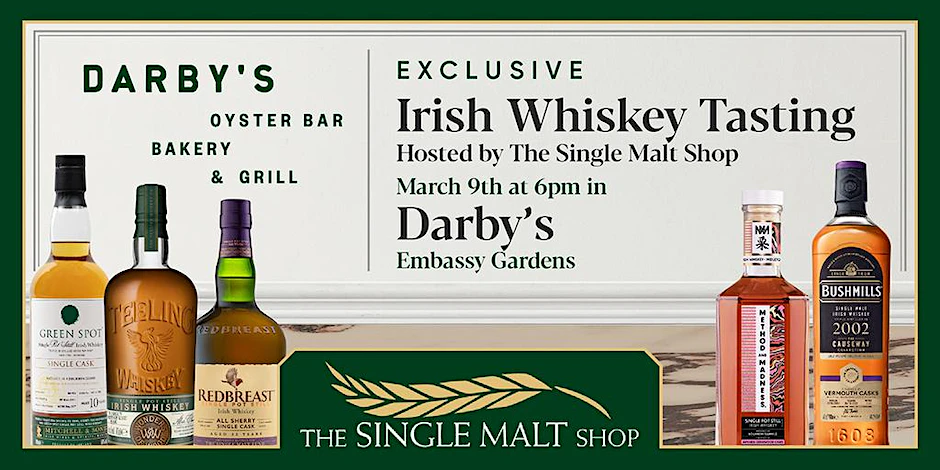 Thursday 9th March 2023, dedicated whiskey connoisseurs and newly launched drinks retailer The Single Malt Shop will host an exclusive, first-class Irish whiskey tasting experience to commence St Patrick's Day celebrations.
The whiskey specialists will be taking over the Irish owned, oyster bar Darby's, from 6pm-8:30pm. The limited capacity event will accommodate 40 guests, tickets are available to purchase here for £50 per head.
The evening will see leading Irish whiskey educator Charlie McCarthy guiding guests through five of the best, most coveted Irish whiskeys. All of which are exclusively bottled for The Single Malt Shop, or exclusive to the retailer in the UK.

The journey through the blends will be accompanied by a menu of bespoke dishes by Darby's, which is owned by renowned Dublin chef, Robin Gill. Comprising of snacks and classic small plates that champion the best ingredients from across Britain and Ireland. Truffled mushroom croquettes, smoked eel Gilda, beef nuggets, mustard and pickles, Cornish crab cocktail, gem lettuce and classically dressed Killough bay oyster, to name a few.
Unique to this tasting, five brands from across three distilleries will be showcasing their elite pours, with bottle value ranging from £70 to £400.
The line-up includes:
Redbreast 22 Year Old (YO) – a single cask bottling – bearing a signature sherry style, this whiskey is rich in tannins with touches of leather and dried tobacco that quickly subside revealing toasted almonds and walnuts, all layered over sweet vanilla and dried fruits that linger in the background adding balance to the pot still spices.
Green Spot 10 YO – with only 300 bottles of this rich single cask release and fruity dram in existence, this pour is worth savouring. With notes of sticky malt loaf, with oily cereal, vanilla custard, honey, plenty of gentle baking spices, and sweet, raisin- studded chutney, combined with a silky, spiced vanilla finish, it makes for a truly great whiskey.
Bushmills 2002 Vermouth Cask, Causeway Collection – the world's first-ever vermouth cask-finished Irish single malt whiskey release, an exciting innovation from the world's oldest licensed whiskey distillery. This special whiskey is matured in oloroso sherry butts and bourbon barrels for over 18 years, then aged for nearly two years in unique vermouth casks from the Piedmont region of Italy. Expect hints of rose petal that give way to sweet honey, married with mandarin orange, followed by fresh vanilla, dried fruits and toasted almond.
Teeling Wonders of Wood Series II, Portuguese Oak – this whiskey has been fully matured in Virgin Portuguese Oak casks which are native to the Iberian Peninsula and boast a naturally higher tannin content than other variants. Experience its distinct savoury marmalade flavour with warming hints of tobacco and pepper, unique to this whiskey.
Japanese Cedarwood, a limited edition single pot still Irish whiskey from Method & Madness. Initially matured in a mix of bourbon and sherry casks, before being finished in Japanese cedarwood casks, giving way to notes of caraway seeds,
jasmine tea, cloves, rich baking spice, sweet, aromatic wood and delicate peaches throughout the palate.
Given the exclusivity of each of the bottles, this showcase is not to be missed for any whiskey lovers! Tickets are available to purchase now here.
Darby's is located at 3 Viaduct Gardens, Nine Elms, London SW11 7AY