The last couple of years, everyone has been talking about how 'this year is the year of the rum'. Well this year I think they've definitely got it right, so you can bet we were extremely happy when Ben and Harry of Shorts Boy Distillery sent us a bottle of Tidal Rum for us to review.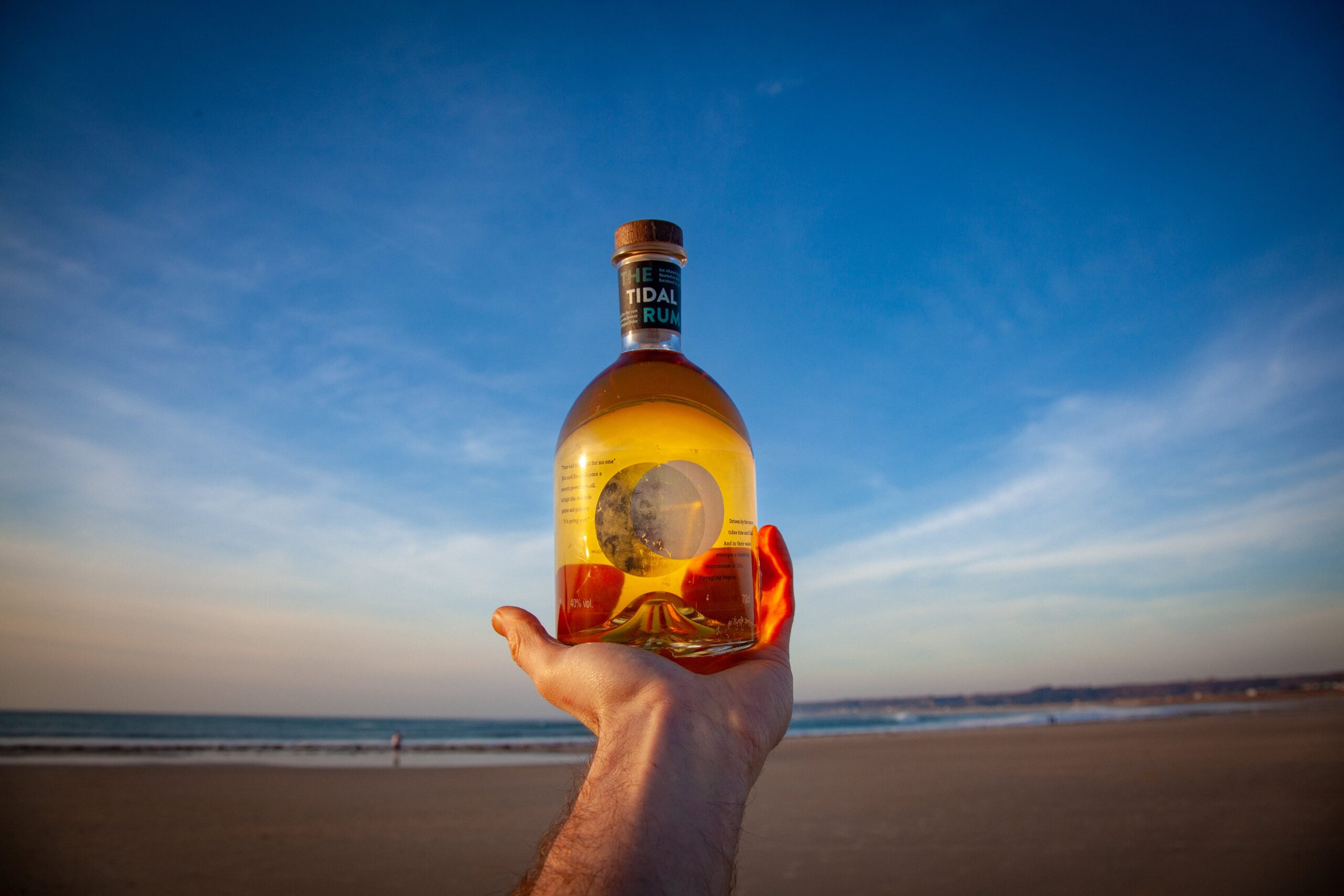 So how do they make Tidal Rum? Well Tidal Rum is a golden aged rum infused with oak smoked Pepper Dulse seaweed foraged during spring tides in Jersey. The rum itself is a blend of four aged golden Island rums from Barbados, Jamaica, Trinidad and the Dominican Republic. (Those rum aficionados know that's where all the best rums come from)! After foraging a fresh batch of Pepper Dulse seaweed, it is then sun dried, oak smoked and then infused into the blended rum.
Upon receiving the bottle, I was instantly struck with how pretty it is. The full moon design with a gorgeous poem "Time and tide wait for no one. Ebb and flow become a smooth powerful swell. At high tide, seabirds gather and gaily try "it's going out!" Driven by the moon, tides rise and fall. And in their wake emerges a teeming microcosm of life. Foraging begins…" speaks volumes and made me want to escape to the seaside with a rum in hand.
The experts told us that Tidal Rum was best served on the rocks and we were promised a 'smooth, oak finished, wholesome flavour which warms, replenishes and evokes memories of the seaboard – reminding us of what life is all about'. It was probably appropriate that I was drinking this rum on the one year anniversary of visiting Barbados in 2019. Because with the first sip, I was instantly transported back to that beach.
The smoked Pepper Dulse provides an earthy, truffle flavour that perfectly compliments the caramel and toffee hues of the rum. It was a unique flavour, that to put it simply really did invoke the taste of the seaside. It was extremely easy to drink and dare I say one of the best rums I've had the pleasure to drink.
Harry told me that Tidal Rum's signature serve is "The Tidal" is a simple double measure of Tidal, soda and half a fresh lime squeezed in. Fresh and simple to make, it certainly was an easy and fresh drink to consume and that's coming from someone who isn't a huge soda drinker.
Our drink of choice though was definitely the TIDAL DAIQUIRI (50ml Tidal Rum, 15ml Amontillado Sherry, 25ml Lime Juice and 10ml Agave Syrup METHOD :Add all ingredients to a shaker, and shake with cubed ice. Fine strain over ice – GARNISH: Spray of salt water and lime wheel). It was tart, sweet but with the hint of salt which just made it the perfect daiquiri.
A 70ml bottle of 40% Tidal Rum can be purchased online from https://www.tidalrum.je. So what are you waiting for, get purchasing now.
https://www.facebook.com/TidalRum/
https://www.instagram.com/tidalrum/
Written by Tegan LeBon