Time To Escape To Sri Lanka With Amber Collection Hotels? We Think So!
I have a few friends who are constantly raving about the wonders of Sri Lanka, so is it any surprise that I'm day dreaming about an escape to this tropical paradise?
The Amber Collection was created to introduce a special brand of luxury and lifestyle to Sri Lanka. The aim was for tailor-made journeys to leave a lasting impression of the island and offer an an experience guests will never forget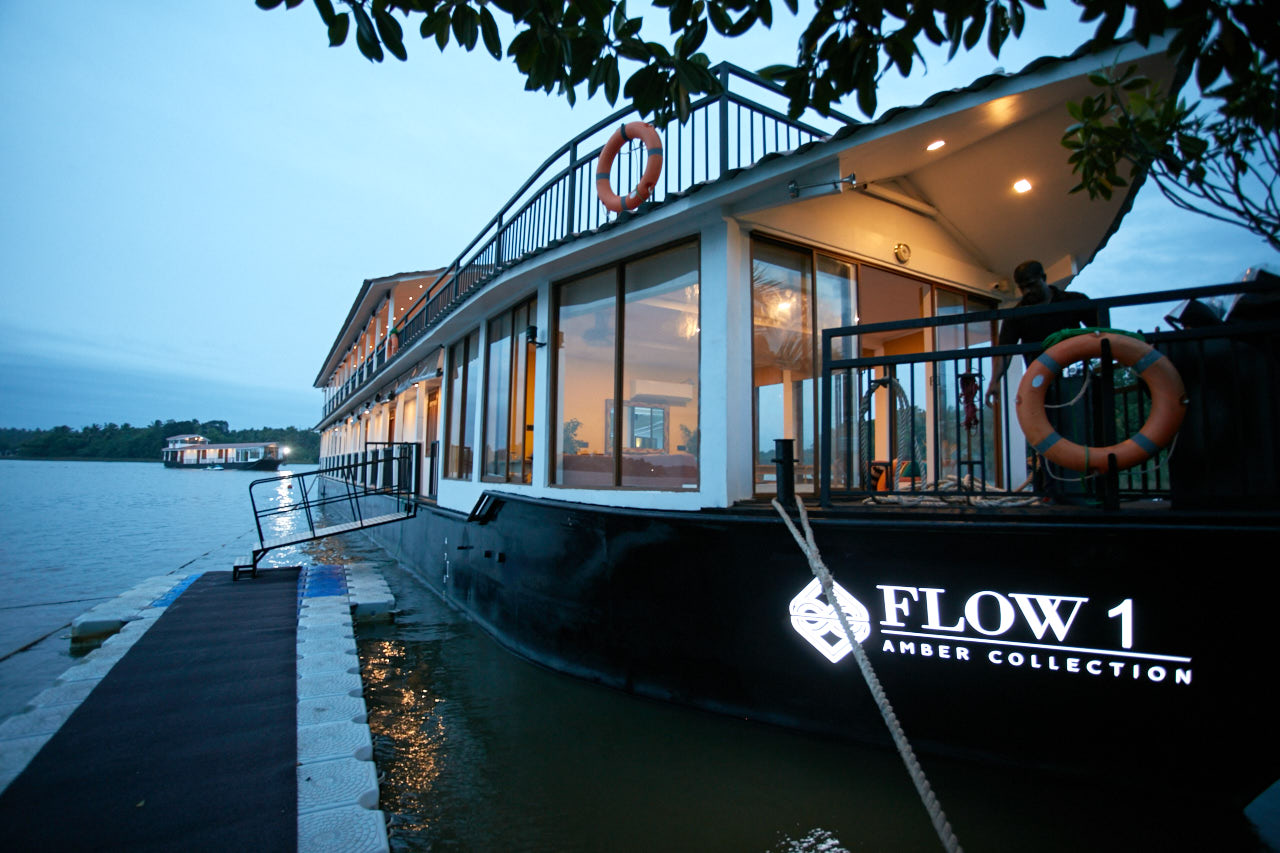 The first place on our wish list of places to stay is the Lake safari in Sri Lanka with Flow. What is Flow? It's the first of its kind… a lake safari stay in Sri Lanka on Bolgoda Lake. This lake is Sri Lanka's only natural and largest fresh water lake. It's at a huge 342 square kilometers and is located in the district of Kalutara, only 45 minutes by car from the commercial capital Colombo and only 28 miles from Bandaranaike International Airport.
During your stay with Flow, you can expect a never before, one of a kind experience on board either of the two elegantly restored luxury river cruises. You'll be surrounded by unspoilt wildlife and hidden islands. Sounds like paradise to us. It doesn't even matter if you're a solo traveller, or travelling as a couple or with your whole family. There is something for everyone to do whilst on board.
Activities on board and around the lake include include fishing excursions on traditional fishing boats with local fishermen and Sri Lankan cookery lessons.
Guests can also pre-book on-board spa treatments during their stay and all stays on Flow include complimentary access to The Marina – an exclusive lake-side private members club which is part of The Amber Collection. This includes access to water sports, excursions, gourmet cuisine and entertainment on selected nights.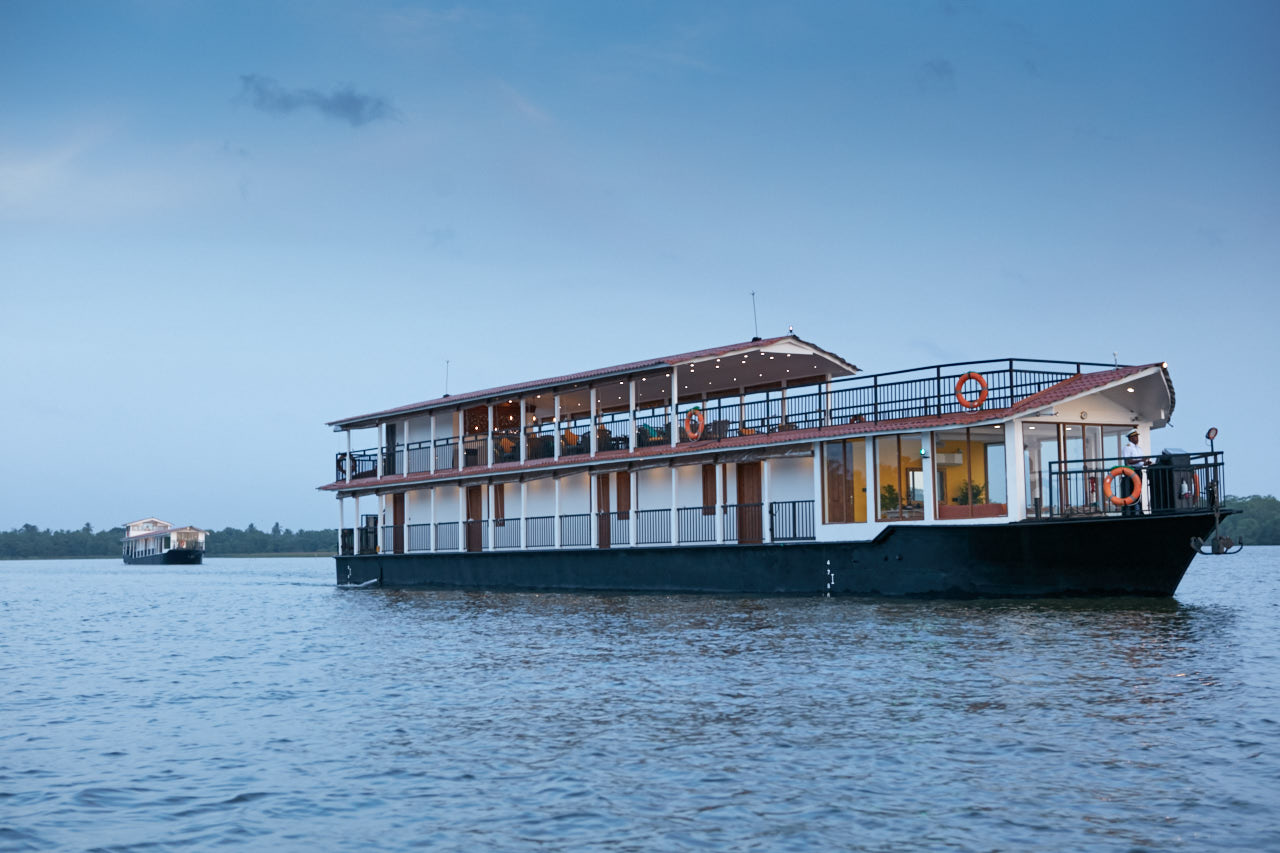 As already mentioned, there's two luxury river cruises to chose from. Flow 1 is complete with an upper deck floating lawn and dedicated living and dining area. With three large double rooms on the vessel you're guaranteed privacy not afforded elsewhere. Expect dreamy four poster beds, free standing bath and en-suite washrooms. Panoramic views across the lake and surrounding area can be enjoyed from all rooms. Flow 2 has only two double rooms also complete with four poster beds, free standing baths, ensuite washrooms and panoramic views is completed with an additional Captain's Lounge, living area and dining space.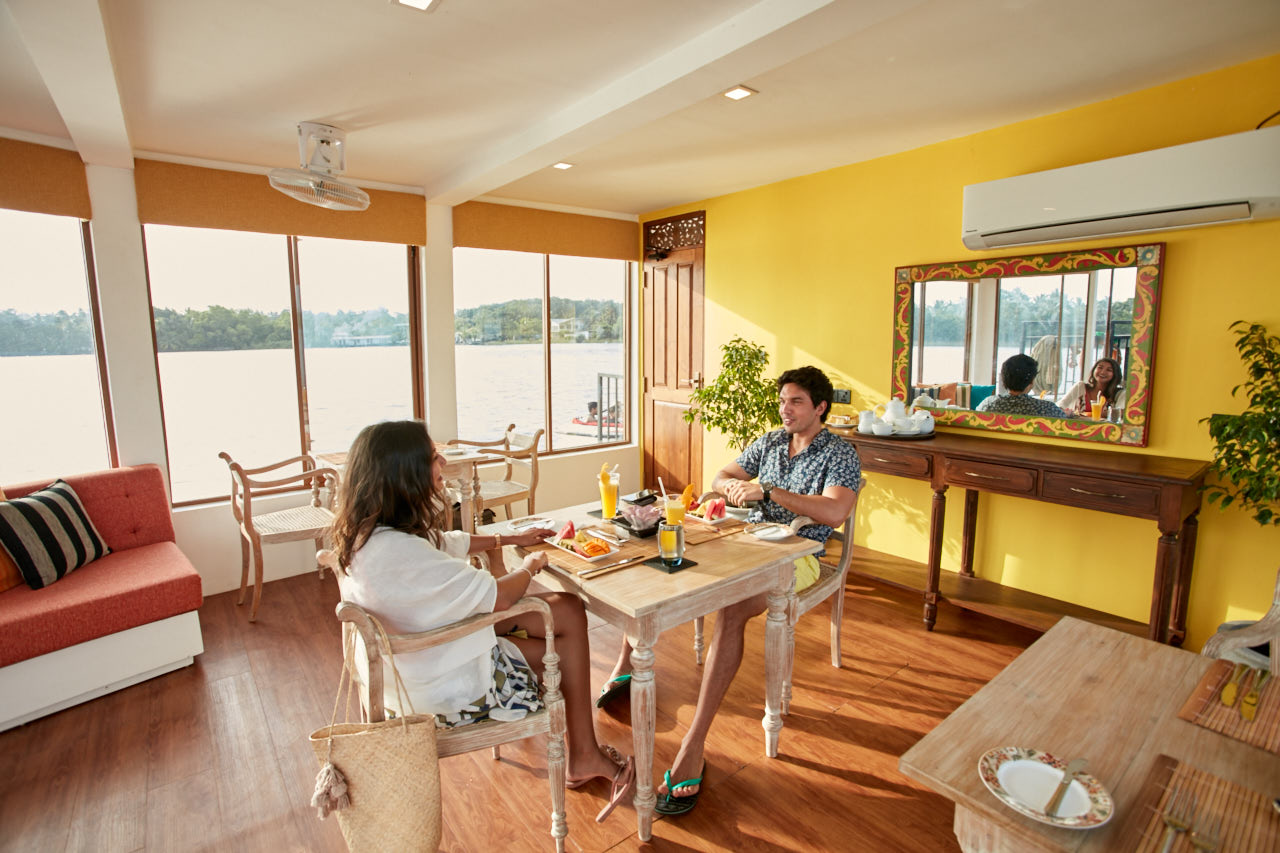 Whilst onboard, you can expect unfaltering, discreet service, that caters to all your needs from Flow's crew whose aim is to create beautiful memories of your time in Sri Lanka. The crew on each vessel consists of an ex-Navy Captain, engineer, chef, steward and deckhand. The onboard dining will also have you completely bowled over with an array of locally sourced produce ranging from catch of the day from the lake or a menu of international dishes prepared by the head chef at your request. Whether it's early breakfast to the sound of the birds or sunset dinner on the deck Flow has created a perfect tropical stay.
If you ever tire of the magnificent views and unparalleled luxury (we know you won't) and want a little excitement you can always hop over to The Marina.
The Marina is a member's only water sports centre and club house which provides panoramic views and elegant surroundings. Guests can expect a swimming pool, hot tubs, cosy cabanas, a reading room and lounge and also a conference suite. Activities include water-skiing, jet skiing, jet boating, tube riding, kayaking for the adventurous. For a more leisurely experience guests can enjoy scenic boat tours, Indian ocean adventures, birdwatching, fishing excursions on Bolgoda Lake and even lakeside yoga sessions.
Guests can dine in style at one of the two fine dining establishments, The Galley Restaurant and The Deck and Lawn al fresco restaurant. Menus consist of seafood and local cuisine prepared by The Marina's chefs. For a quick bite The Gas Station Coffee and Juice Bar is available for guests to refuel after a fun day full of water activities and relaxation.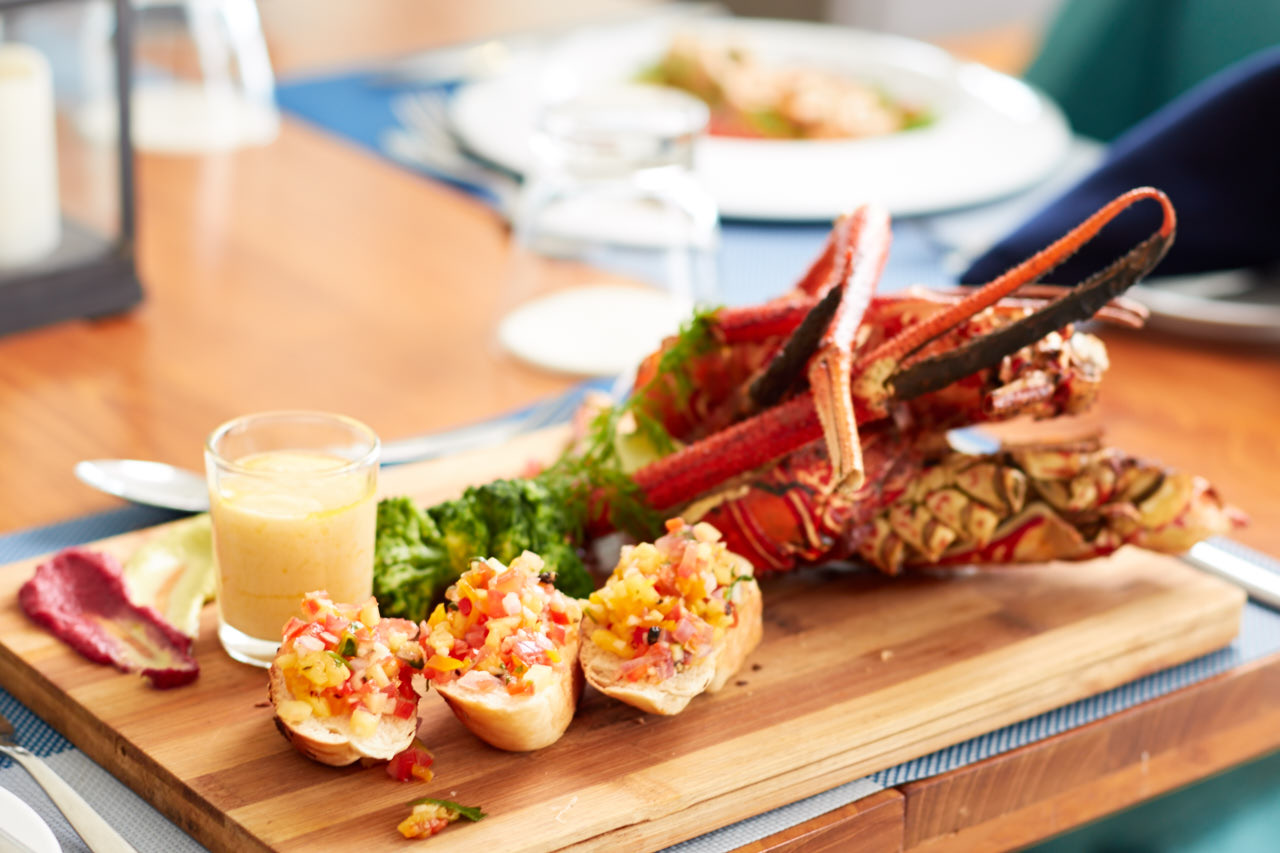 It doesn't matter if you're not a member of The Marina, non-members can enjoy all of the facilities at The Marina with a Day Pass. This costs under £20 purchased on arrival, so the perfect excuse to enjoy a day out at The Marina. The pass may be redeemed against food and activities including jet ski rides and tube rides. And don't forget guests of Flow may enjoy The Marina on a complimentary basis with optional extras.
The Amber Collection, Sri Lanka: Sri Lanka based Amber Collection operates unique boutique accommodation and leisure facilities. Amber Collection boutique hotels are five-star deluxe properties featuring extensive luxury facilities and services. With hotels located away from the increasingly busy beaches of the island, with no compromise on the experience, The Amber Collection is your unique bespoke travel escape in Sri Lanka.
Website:www.theambercollection.com
Written by Tegan LeBon