Why you should get a laptop stand if working from home
During lockdown, people who previously worked in offices have had to adjust to working from home for the first time.
Many have created make-shift desks on kitchen or living room tables, while others are lucky enough to have a dedicated area or home office.
But where you sit is actually less important than what you use in your new workspace. Even if you don't know how long lockdown will last, it's worthwhile to invest in products that will help keep your posture, reduce back pain and neck strain, and lessen the risk of you harming yourself.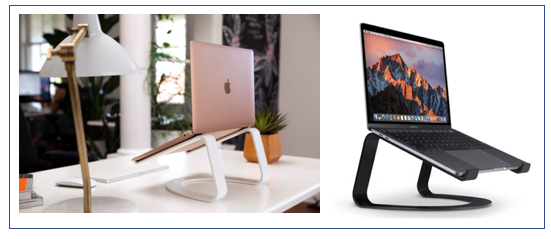 "A big contributor to back and neck pain is flexion due to looking down at our screens," says Cheyne Voss, head of physio at Ten.
"Your screen should be at a level where the top is at – or slightly below – eye level and therefore you should only look slightly downward when viewing the middle of the screen.
"Equally, your laptop or monitor should be about an arm's length away from you in distance and your elbows should be at a perfect 90 degrees when typing."
You could use books as a stand but the issue here is that a) these might slip and your laptop could get damaged and b) it's a fire hazard – if the laptop heats up, there could be a serious accident.
To avoid this, we recommend getting a laptop stand or a standing desk.
These days, there are high-quality products available at affordable prices. As an example, if you have a MacBook, you can get the Curve by Twelve South for £54.99 on Amazon (https://www.twelvesouth.com).
Thanks to its design, the product elevates the screen to an ergonomic height so that you no longer have to bend your neck down towards the screen while typing (especially if sat at a lower desk).
You can rest your hands on the stand, or get an external keyboard to add even more comfort to your new WFH set-up. It's also a great alternative to use if you need two screens – i.e. are using a desktop computer as well – as it saves space on the desk.
Plus, the Curve stand is very stylish, with a matte finish in either white or black.
Keith McNiven, personal trainer and founder of Right Path Fitness (https://zonebodyfit.com) shares some more tips on how to adjust to working from home.
"Before you settle into your new routine, make sure to separate your workspace from your personal space," he tells us.
"Don't work from bed and avoid the bedroom as a whole, if you can – this will not only help you be more productive, but it's better for your mental health and having a workspace that isn't in the same room as where you rest your head will also improve your sleep.
"Once you've chosen a spot, make it your own. Invest in a good, ergonomic chair – yes, they are more expensive, but your back will thank you in the long-run. If you're on a laptop, have this on a raised platform or on a laptop stand.
"Decorate the area with a few plants (research shows that this being around greenery boosts mental health for people who spend a lot of time indoors), notebooks, a motivational speech in a frame – whatever you'd like."
It's understandable if you're reluctant to spend money on your temporary office, but with lockdown our new reality for the foreseeable future, it's never been more important to look after your body at home.
You wouldn't accept a bad chair or lack of a laptop stand in your normal work environment, so why do it now?
And if money is a big problem, you could even ask your employer if there's any budget for new equipment – or if they can ship it over from the office.
Written by Almara Abgarian