2023 Advent Calendar Guide
To quote Taylor Swift… 'Tis the Damn Season…
So with that in mind, it's time to prep for the holiday season with a selection of some of the best Advent Calendars this year.
Alcohol
The Whisky Exchange 25 Whiskies of the World Advent Calendar | £145
This Christmas whisky calendar is filled with a collection of 25 exceptional whiskies including exclusive bottlings, under-the-radar whiskies, and the Whisky Exchange's favourites from around the world.
While the exact contents remain a mystery, this extraordinary line-up is a whisky-lover's dream, featuring whiskies from intriguing distilleries such as Craigellachie, Filey Bay, Dingle, Starward, and Ichiro's Malt.
https://www.thewhiskyexchange.com/p/70945/the-perfect-measure-whisky-advent-calendar-25-whiskies-of-the-world-25
The Whisky Exchange 25 Spirits for 25 Days Christmas Advent Calendar | £145
If spirits are more your thing, embark on a journey of discovery with Whisky Exhange's lucky dip Christmas calendar. Discover 25 fine spirits and whiskies from around the globe – from whisky, rum and gin to amaro and Calvados, including something extra special on Christmas day.
The Scotch Malt Whisky Society (SMWS)
We love whisky in our household so we had to also include The Scotch Malt Whisky Society (SMWS) Advent Calendar! They like to have fun with their whisky and give their bottles names like The More Things Change The More They Stay The Same or Jazz Custard
Their 12 Drams of Christmas Calendar is a stunning selection of 12 hand-picked single casks ready to take you to Christmas Eve. This year's Christmas countdown has 50ml drams, a very special prize giveaway and the opportunity to purchase a full-size bottle if you fall in love with any of these delicious drams.
In addition to a one in 20 chance of winning a prize, here's what to expect in this year's 12 Drams of Christmas:
12 x 50ml whiskies
A daily video introduction to your dram from our Society ambassadors
A printable tasting sheet for your notes
We'll also be offering the opportunity to purchase a full-size bottle of the whisky in the calendar.
https://smws.com/12-drams-of-christmas/
Food
Bird and Blend
Bird & Blend Tea Co. Advent Calendar www.birdandblendtea.com
The UK's most loved indie tea company, are on a mission to spread happiness and reimagine tea this festive season with the launch of its merry & bright Advent Calendar and wider Christmas range of products.
Offering double the tea delight, every day offers x2 tea parcels in a taste sensation of flavours;
Unlock 24 days of tea exploration, with 24 unique and award-winning blends to savour – 48 tea bags in total, perfect for sharing
Calendar contains mixture of both Christmas teas and fan faves including Mulled Cider, Hazelnut Rocher, Great British Cuppa & Dozy Girl!
100% plastic free, biodegradable and & earth-friendly
Regular and decaf versions available!
Boasting wonderfully festive flavours such as new blends 'Tis the Squeezon and Hazelnut Rocher. Plus Bird & Blend's pick of its favourite blends; Cold Weather Warrior, Mulled Cider, Banana Bread Chai, Apple Strudel, Peppy Mint, Birthday Cake, amongst many more.
Tea Calendar is available for £38 and will be available buy online and in-store
Joe and Seph's Popcorn Advent Calendar
Get into the festive spirit in delicious style, with this magical Gourmet Popcorn Advent Calendar. It's whimsical and opens up like a giant Christmas storybook and depicts a snowy scene of Joe's Popcorn Kitchens at Christmastime. Behind 24 festive cubbyholes you'll find 19 unique flavours of Joe & Seph's award-winning, gourmet popcorn!
https://www.joeandsephs.co.uk/gifts/gourmet-popcorn-advent-calendar
Swizzles Advent Calendar
This advent calendar contains an assortment of family favourite sweets! It's perfect for those that are not interested in the traditional chocolate advent calendar!  And seriously… who doesn't love drumsticks squashies, love hearts and fizzies.
https://www.swizzels.com/shop/christmas-advent-calendar
LAKRIDS BY BÜLOW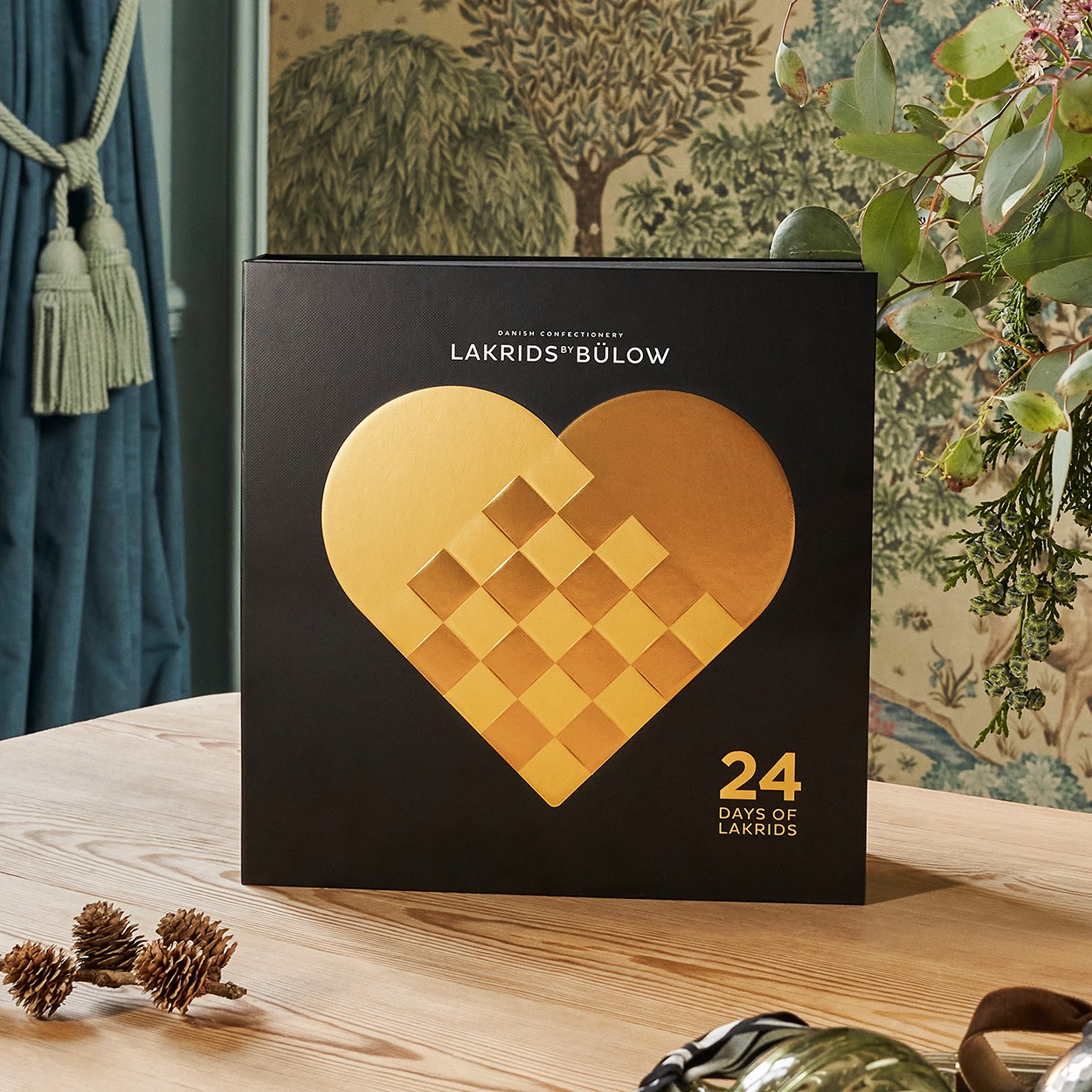 Can you imagine a better way to enjoy December than with 24 days of unique taste experiences? In LAKRIDS BY BÜLOW LIQUORICE ADVENT CALENDAR, we have gathered your all-time favourites along with limited flavours, perfect to share with a loved one and to create sweet, magical moments this Christmas. Presented in a fully recyclable box, you have the opportunity to make December a little more memorable.
https://lakridsbybulow.com/shop/advent-calendar
Chocolate
Play in Choc
Experience 12 or 24 days of PLAY inCHOC joy in the lead up to Christmas with these chocolate and surprise toy advent calendars – all 100% plastic free.
Each window offers a 10g mini-chocolate bar, a 3D puzzle toy made from 100% recycled board, 3 stencils to use for creative drawing, and a fun facts educational info-card.  The calendar sleeve also easily reverses into a beautifully illustrated play mat, offering hours of extra fun.
12 Day Advent Calendar – £27.50
24 Day Advent Calendar – £55.00
Cadbury Advent Calendars
Cadbury has you covered this year with three advent calendars to chose from! Pick Heroes, Dairy Milk, or the classic Cadbury Dairy Milk Advent Calendar. They're Available at retailers Nationwide starting at £2.74. I mean who doesn't love opening each door to discover delicious pieces of Cadbury Dairy Milk in festive advent shapes! 
Monty Bojangles
£10
The ultimate way to countdown to Christmas is with this beautiful Enchanting Winter Nights Advent Calendar. It features a delicious chocolatey cocoa
dusted truffle behind each door, with three on the final day! With multiple Great Taste Award winning flavours, including Choccy Scoffy, Orange Angelical, Popcorn Carousel, Flutter Scotch, Berry Bubbly and Cookie Moon, the hard part's going to be deciding whether to gift to someone special, or keep for yourself…
https://montybojangles.com/blog/our_products/advent-chocolate-truffles-calendar-250g/
Ombar Oat M'lk Chocolate
Ombar Oat M'lk Advent Calendar: Dreaming of a Greener Christmas? Well look no further than Ombar! Sure to delight family, friends and also the planet, this Advent Calendar is a celebration of the Ombar Oat M'lk range, which really is the first of its kind; vegan chocolate with sustainability at its core.

The range has less than half the carbon emissions of mainstream milk chocolate and is made using sustainable organic and gluten-free British-grown oats.
Festive fans can expect each door to unveil one of four perfectly formed, delicious, creamy and utterly indulgent mini flavours: Smooth & Creamy
Original, Hazelnut, Salted Caramel Truffle, and Fruit & Nut. And what's more, each Advent Calendar sold will help fund Fundación Jocotoco's reforestation of rainforest in Ecuador where Ombar (sustainably) source their precious cacao.
There's two to chose from and each advent calendar is £14.99.
https://shop.ombar.com/collections/christmas/products/ombar-oat-mlk-advent-calendar
Nomo
Classic Advent Calendar (MRRP £5, 80g)
NOMO's plant-based and free from advent calendar is filled with 24 creamy vegan chocolate drops and a Creamy Choc bar to enjoy on Christmas day.
Available at Co-op, Holland & Barrett, Nisa, Sainsbury's, Tesco, Morrisons and Waitrose.
https://nomochoc.com/products/advent-calendar
Wickedly Welsh
Wickedly Welsh have a really great advent calendar for £19.99. This award winning chocolate calendar has many highlights including
Artisanal quality – each chocolate is a masterpiece, lovingly crafted by our award-winning chocolatiers
Festive flavours – from Spiced Milk Praline to velvety Salted Caramel or Ginger Crunch, discover a new flavour behind each door
Provel Welsh heritage – immerse yourself in the rich culture of Wales with chocolates that tell a story.
www.wickedlywelsh.co.uk/collections/christmas-gifts/products/advent-calendar
Lindt
For years, the Lindt TEDDY Advent Calendar has been a beacon of festive delight, marking the arrival of December with a delectable assortment of milk chocolate treats, as well as the inclusion of the iconic Lindt TEDDY 100g with his unique and magical heart charm. This year, Lindt & Sprüngli will elevate the excitement of the season by bringing the Lindt TEDDY Advent Calendar to life! Join the Lindt TEDDY on 24 festive, heart-warming augmented reality adventures while enjoying a selection of fine milk chocolates, expertly crafted by the Master Chocolatiers.
The Lindt TEDDY AR Advent Calendar is the must-have festive gift this season; spreading joy, creating memories, experiencing an enchanting story, and of course, enjoying chocolate. This new blend of tradition and innovative technology makes the perfect present for all to enjoy this Christmas.
The Lindt TEDDY Augmented Reality Advent Calendar 250g will be available nationwide and at Lindt Retail stores at an RRP of £12, making it the perfect gift for families and friends seeking chocolate delights and enchanting adventures. Visit Lindt TEDDY Advent AR 250g | Lindt Shop UK for more information. Please note pricing will be at the discretion of individual retailers and may vary.
For a bespoke experience, visit your local Lindt Chocolate Shop and choose the Lindt Pick & Mix advent calendar and fill with your favourites, or discover the popular Lindt TEDDY and NEW Festive Selection advent calendars. All available in Lindt Chocolate Shops orwww.lindt.co.uk/shop.
Divine's Fairtrade Milk Chocolate Advent Calendar
Divine's Fairtrade Milk Chocolate Advent Calendar truly is the gift that keeps on giving. Not only are you rewarded with a delicious milk chocolate heart each day, but your daily Divine delight improves the lives of cocoa farmers and their families through Divine's commitment to fight exploitation in the industry as the world's only farmer-owned Fairtrade chocolate maker.
https://www.divinechocolate.com/product/divine-milk-chocolate-advent-calendar
Happi Choc
If you're looking for the another one of best eco-friendly advent calendar to get your December mornings off to a good start, then look no further than HAPPi's plastic free, plant-based chocolate advent calendar, ideal for environmentally conscious chocoholics everywhere.
Following the success of its first 100% plastic-free advent calendar last year, HAPPi is bringing back the 24-piece Christmas countdown, but this time there are three delicious flavours that could be behind each door: Salted Caramel, Plain Milk and Orange.
HAPPi's new Advent Calendar (RRP £15.00) will be available to order online from 1st September from https://happichoc.com/.
Yankee candle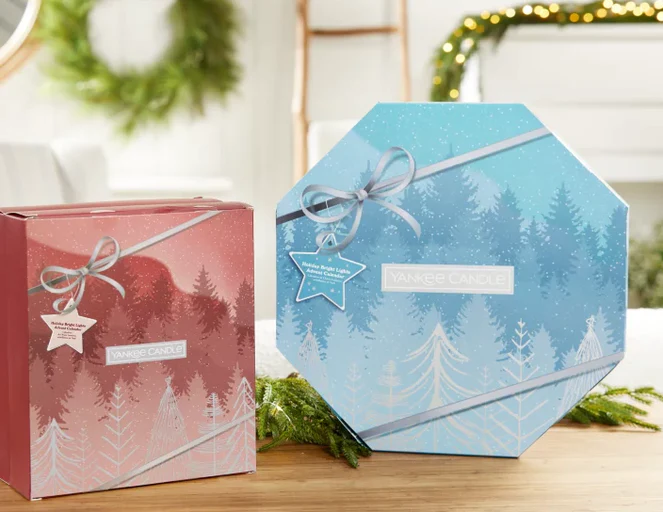 The newest Yankee Candle® festive gifting collection is designed to let you experience the enchantment of a dazzling winter night. The Bright Lights Gift Sets will invite you to bring magical holiday moments to life with designs featuring shimmering constellations, mystical winter-scapes, and delightful jewel tones. Let a kaleidoscope of sparkling Christmas lights inspire holiday cheer with perfectly curated sets of festive fragrances that your friends will love.
https://www.yankeecandle.co.uk/yankee-candle/gifts/candle-gift-sets/advent-book/ORCL_1738648E.html
Beauty
Lush
The Lush
Advent
Calendar and Christmas Buds
Advent
Calendar launched on the 24th of August and they're gorgeous. Both are available to buy online and in Lush shops nationwide.
Both reusable gift boxes are made from recycled board and the ribbons are made from recycled plastic bottles.
Lush

Advent

Calendar – £195

Features a carefully selected range of 25 vegan products, this year's Lush

Advent

Calendar is packaged in a limited edition box designed by Andre Williams from Intoart and features more retro and exclusive products than ever before that are not available to purchase anywhere else

Christmas Buds

Advent

Calendar – £125

Contains 25 carefully curated bathing treats that will leave the entire family feeling festive! Featuring Lush classics, as well as festive exclusives and returning retro favourites such as

Chocolate

Santa Bath Bomb, Snow Angel Bath Melt and Snowman Bubbleron
https://www.lush.com/uk/en/p/christmas-buds-advent-calendar
For the pets
PURE Dog Advent calendar
Pups across the nation can countdown to Christmas in style with Pure Pet Food's Feliz Navidog Advent Calendar for just £10.99. Filled with 24 delicious turkey and cranberry nibbles, each window is bursting with festive goodness that is both tasty and nutritious (with absolutely no nasties). What's more, owners can personalise with their dog's name, so even the naughtiest pooches are on the nice list this year from Santa Paws.
Available at www.purepetfood.com
For the kids or the young at heart
Plus Plus Advent Calendar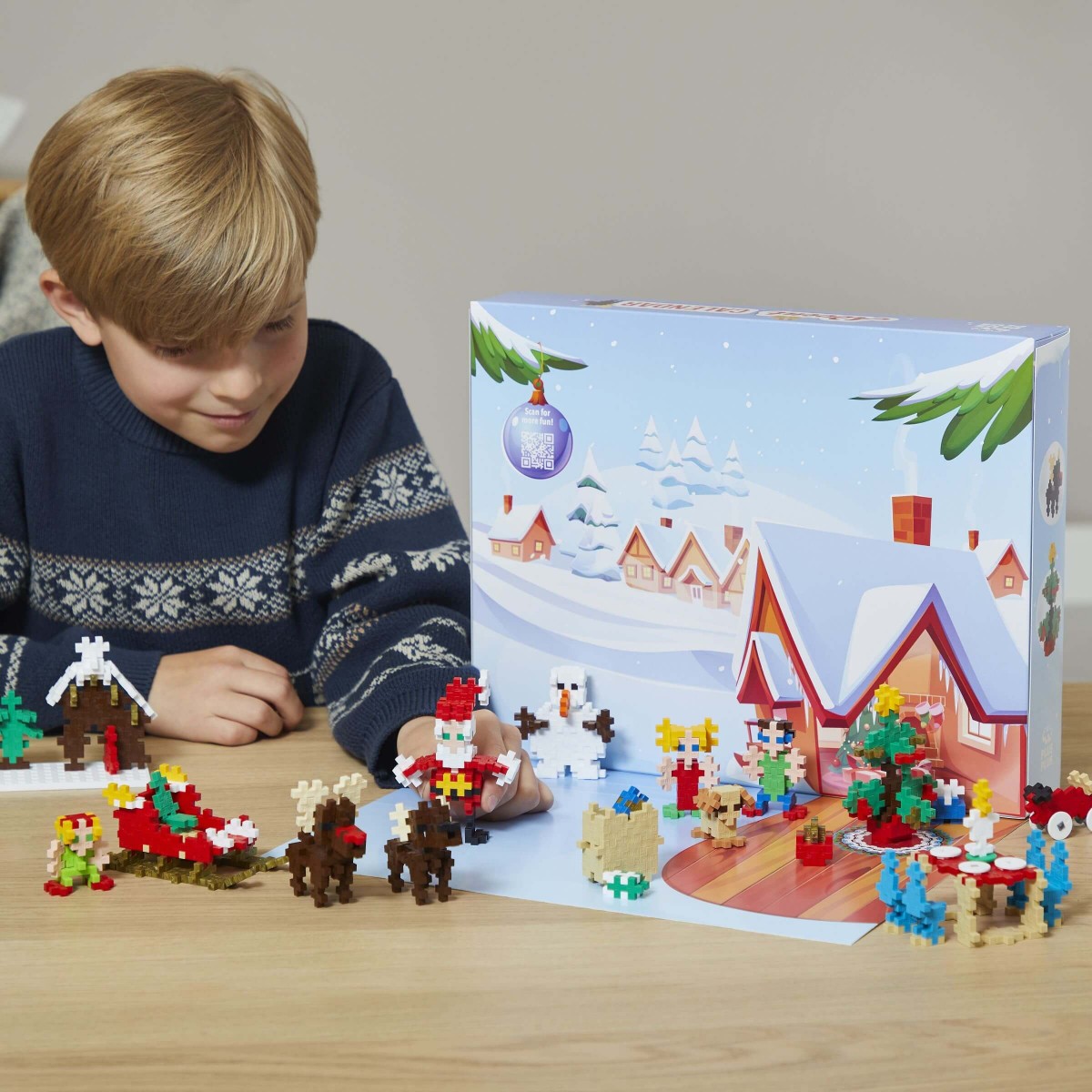 Packed with an exciting creative surprise to discover in each of the 25 windows, the 600-piece Advent Calendar (£29.99) is a fun way to count
down to the big day! Each day you'll receive a new construction project with instructions and complete the entire Christmas scene for display on
the snowy backdrop. There's also an added bonus of an extra project on Christmas Day.
Available at toysrus.co.uk and amazon.co.uk
Stockist hyperlinks:
https://www.toysrus.co.uk/search-results.php?search=plus-plus
https://www.amazon.co.uk/Plus-Plus-Calendar-Building-Construction-Developing/dp/B000CJGHJW/ref=sr_1_1?crid=WITMFKLI6NZC&keywords=B000CJGHJW&qid=1693824110&sprefix=b000cjghjw%2Caps%2C60&sr=8-1
Cartamundi Disney Advent Calendar
Bring some Disney magic to your Christmas with the Cartamundi Advent Calendar Game & Puzzle!
Collect your 24 surprises each day with this Disney Christmas Advent Calendar, featuring 16 of your favourite Disney Characters plus accessories. Piece together the puzzle to create a seasonal board game to play on Christmas Day! Move your set of figurines around the board and guide them into their rightful spots under the Christmas tree.
£29.99 with free delivery at WH Smith
Disney Advent Calendar | WHSmith
Danilo Musical Calendars
We love this range range of official licensed musical advent calendars. From The Snowman,
Disney's Frozen, Star Wars, Harry Potter and Only Fools and Horses, Peppa Pig to Liverpool Football Club… there's something for everyone!
With stickers and magnetic stand-up characters found behind each door, they really do create an enchanting Christmas decoration for the festive season. The characters on each calendar are magnetically attached to a moving mechanism in the base, which allows them to glide around the scene as the music plays.
All Danilo's musical calendars run on standard 3 x AAA standard batteries and can be enjoyed year after year. The full Danilo musical advent calendar range is available from www.danilo.com and at Amazon. Liverpool FC calendar at the Liverpool club shop. RRP £25.