2023 Valentine's Day Food And Drink Guide
We still have two gift guides to come this week but here's what should you be eating and drinking this Valentine's Day.
Knoops Hot Chocolate Valentine's hot chocolate gift set – £25.99
The perfect Valentine's hot chocolate gift, it's a classic combination of luxurious 43% Milk hot chocolate flakes with our special edition strawberry marshmallows. Treat your loved one to this best-selling Valentine's hot chocolate gift set.
The gift set includes:
43% Milk hot chocolate flakes
Limited edition strawberry marshmallows
Packaged in a black Knoops gift box with our Valentine's box band
Spread the love in the most tasteful way this Valentine's Day and discover the sensational world of gourmet liquorice, as the LAKRIDS BY BÜLOW LOVE collection returns for 2023. Avoid the classic conventions of chocolate and roses and delight that special someone in your life with LAKRIDS BY BÜLOW's decadent chocolate coated liquorice treats. Everyone knows that a full stomach is the key to a full heart, so spoil your significant other, or simply yourself, with the LOVE collection, available to purchase from 19th January 2023 from lakridsbybulow.co.uk and select retailers including Selfridges and Fenwick
With endless hours spent perfecting the liquorice, LAKRIDS BY BÜLOW's passion for craftsmanship shines through in the LOVE collection. Each individual chocolate coated treat features an affectionate heart-shaped liquorice core, guaranteed to surprise and delight loved ones. The first fruity flavour in the collection is STRAWBERRY & CREAM, a classic combination taken one delicious step further, offering a sweet synergy between tangy red strawberries, white soft cream and sweet heart-shaped liquorice. Brought together with a rich white chocolate coating , STRAWBERRY & CREAM serves an incredible taste experience of true Danish love, RRP £20.00 for 295g.
Alternatively, treat yourself to FRUITY CARAMEL and discover the irresistible combination of salty liquorice smothered in dulce chocolate with layers of sweet blackcurrant and crunchy pieces of liquorice. Crispy on the outside and soft on the inside, FRUITY CARAMEL is sure to melt the heart and leave it longing for more, RRP £20.00 for 295g.
https://lakridsbybulow.co.uk/all-products/ https://www.instagram.com/lakridsbybulow/
FrischSchoggi™ Sticks Heartbox max – £41.99
Love can be as supreme as this selection of 18 sticks of the most popular Läderach FrischSchoggi varieties, offered in an attractive heart-shaped packaging. Valentine's Day is the perfect opportunity to give this romantic gift to the one you love. (380g)
https://laderach.com/uk-en/frischschoggitm-sticks-packung-herz-max
Pralines assorted 15pcs heart box – £26.50
Filled with 15 heart pralinés, seasonal pralinés and pralinés from our standard product range, this romantic heart-shaped box is the ultimate gift to express your love and affection on Valentine's Day. (160g)
https://laderach.com/uk-en/pralines-assortiert-15er-herzbox
Trackelments Hot Chilli Jam
Give the gift of (HOT CHILLI) love this Valentine's Day with the NEW Tracklements Heart-Shaped Jar of award- winning Fresh Chilli Jam.
This addictive, sticky-sweet chilli jam smoulders with a gentle heat from fistfuls of fresh red chillies. Incredibly versatile, it's delish in Buddha Bowls, as a dipper for Thai Prawn Spring Rolls, with fish and meat, dolloped into any tomato-based sauce and last, but definitely not least, simply stunning alongside creamy cheeses.
Buy it for yourself or give it to the love who makes your heart flutter – the message will be clear.
And this gift of cleverly curated Fresh Chilli Jam doesn't stop giving even when the last spoonful has been yummed down. Recycle the glass jar into a cute little vase, as a new home for spice or herb mixes; pens and pencils or make-up brushes.
Tracklements Heart-Shaped Jar of Fresh Chilli Jam, RRP £6.80 for 350g, is available from fine food delis and farm shops nationwide and online at www.tracklements.co.uk.
www.tracklements.co.uk
@tracklements #tastytracklements #LifeandSoulofthePantry
Eden Mill Love Gin
Whether it's an intimate dinner for two, or a 'Galentine's Day' party with your closest friends, prepare to be completely smitten with Eden Mill's deliciously pink Love Gin this Valentine's Day.
Inspired by the legend of the White Lady of St. Andrews, who is believed to have died from a broken heart, this delicious gin celebrates love, with floral undertones and works perfectly within the Love Club cocktail which combines the sweet tones of vanilla, raspberry and meringue, with the sharp bang of citrus.
Eden Mill's Love Gin is available at www.edenmill.com with an RRP of £25.
Ballycastle Red Velvet Cupcake Cream Liquor
Spread the choco-love this Valentine's Day with Aldi's Ballycastle Red Velvet Cream Liqueur (£7.49, 70cl). Boasting a luxurious blend of alcohol, double cream and red velvet cake flavours that are sure to sweep shoppers off their feet! Available in stores from 29th January.
Didsbury Gin British Bramble
This versatile spirit can be drunk neat, as a gin & tonic or in your favourite cocktails and is the perfect addition to any drinks trolley. The gin is made using 100% real British fruit, no colourings or additives and vegan! It can be purchased via www.didsburygin.com at a special price of £19.95.
The perfect Bramble cocktail.
Recipe:
50ml Didsbury Gin British Bramble
25ml Lemon juice
1tbsp Simple syrup
1 tbsp Blackberry liqueur
Method:
Add 50ml Didsbury Gin British Bramble, lemon juice, sugar syrup and ice to a cocktail shaker and shake well
Strain into tumbler glass with crushed ice.
Drizzle liqueur over.
Garnish with lemon and blackberries.
Slingsby Rhubarb Gin (70cl) – RRP £30
London Dry Gin which is crafted using locally sourced botanicals is masterfully infused with the finest Yorkshire rhubarb sourced from the famous 'Rhubarb Triangle'. These unique ingredients are complemented with water drawn from the world-famous Harrogate aquifer, pure single grain spirit and a handful of the finest ingredients sourced from around the world.
RRP: £30 for a 70cl bottle
Stockist: www.spiritofharrogate.co.uk
The Perfect Pair Gift Tower – £39.90
Not just for Valentine's Day, the Perfect Pair Chocolate and Wine gift tower can be sent to say Thank You, Congratulations, Get Well Soon or Love You, the choice is yours.
Each set of keepsake gift boxes contains 4 of our freshly made cupcakes, a beautiful, completely edible White or Milk Chocolate Shoe, a selection of milk & white Belgian chocolate flowers, luxury chocolate dipped strawberries and a 250ml can of Award Winning, high quality White, Red, or Rose Wine. This impressive tower is approx 35cm tall and includes a free gift card.
https://www.bradfordsbakers.com/the-perfect-pair-gift-tower-1.html
Love Potion, from £6.70, birdandblendtea.com
A magical blend of chocolate, rose & strawberry loose tea with added candy love hearts, the perfect cup of Valentine's Tea (available from 22nd Jan)
Luxury Milk and White Chocolate Ganache Filled Hearts Gift Box, £35, farhi.co.uk
A delicious selection of both milk and white chocolate hearts, each is filled with a sumptuous Rhubarb Ganache. Presented in a luxury gift box, these sweet treats will make the perfect Valentine's Day gift
Vegan Jelly Hearts Gift Bag, £8, farhi.co.uk –
Handmade in Britain with natural ingredients and presented in an environmentally friendly biodegradable gift bag tied with ribbon, these vegan jelly heart sweets are a treat
Valentines Gift Box from £24.95 / available from https://www.sponge.co.uk/cakes/gifts/valentines-gift-boxes
If just one cake isn't enough for your special someone, how about 4 of Sponge.co.uk's fantastic Baby Sponges? Available in standard, gluten free or vegan, the cakes can be served with a Valentine's cocktail (or non-alcoholic cocktail) and mixer drink, a concertina card, a white rose, love heart chocolatesand even tea bags to complete your gift (vegan fudge instead of chocolates included in vegan option).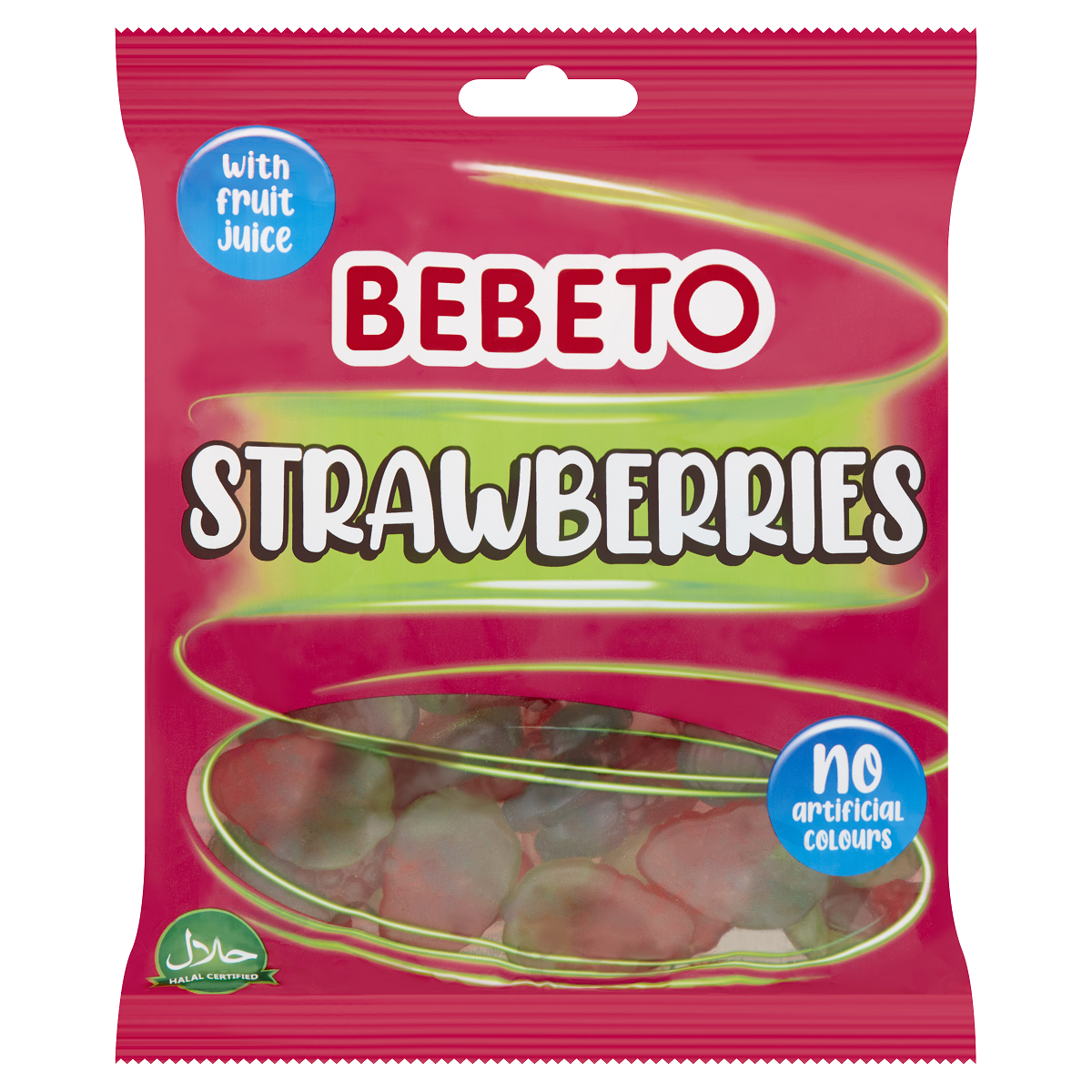 Confectionery is a great way to bulk out those personalised hampers we put together for loved ones, or to simply leave on someone's desk / pillow with a little love note.
Bebeto sweets are actually on offer in Morrison's too over the valentine's period:
25.1.23 – 14.2.23 –Strawberries 150g sharing bag – Normal RSP £1.00 – Promo £0.75p (halal approved, made with fruit juice and no artificial colours)
In store 15.2.23 – 7.3.23 – Strawberry Trunks, Strawberry Laces andStrawberry Pencils, all 220g – Normal RSP £1.00 – Promo £0.75 (all vegan and halal approved, made with fruit juice and no artificial colours).