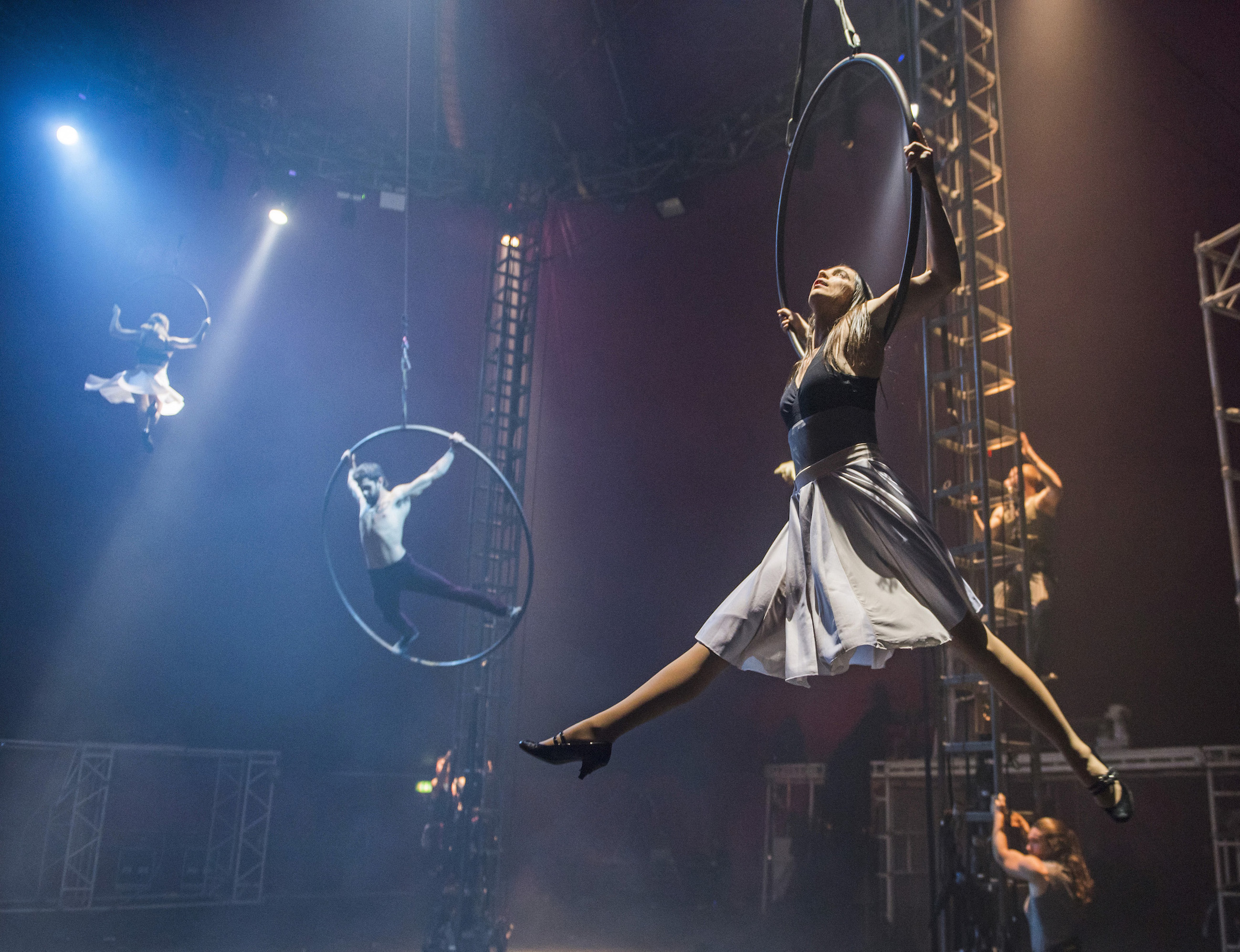 Looking for something a little different to do on a chilly London evening? Why not head down to Southbank Centre and check out UK's leading circus company NoFit State Circus.This is not your traditional circus. Set up in the centre of the tent are many scaffolding stages. This show makes you want to step back to your childhood for a few hours in trampoline world or tackle the challenging fun you had at gymnastic classes. It takes you back to the days where you were so carefree and brave (or stupid depending on who you're talking to) with the tricks and shows that you yourself would put on for family and friends. Of course it's nothing like this level of experience. These are the artists who never really gave up that childhood joy of doing something they loved so much. They pushed their boundaries and stepped into a new enticing world and dared to do more.
It is really hard to pinpoint my favourite act of the night. The show was enticing the entire way through. Heart stopping performances were made by most of the cast, whilst some give a more lighthearted comical entertainment. There was swinging, flying and jumping in rings held metres in the air, competitive games between performers and tightrope acts with jaw dropping techniques, including the spilts! There was even arial silk techniques with elegance and grace, giant trampoline with flips and multiple players and so much more.
The transition between the different sets was flawless. Throughout the night it is set up, knocked down and moved within minutes. Never once making it a painful pause. You are asked to move around as this is happening but you have plenty of opportunity to move from the back to the front as the evening progresses. It goes to show just how much time and effort goes into these details, proving that they have a strong team network.
You can see the precision that goes into each and every act. Offering you more than just a show. The creativity. Their whole being. It is just sensational. You will find exceptional performers providing you with unique talent. They are people with Pizazz, Passion, Creativity, Flare, Heart, Soul and Grace. It was just sensational. The human counterweights, however, were similarly mesmerizing. You see them climbing up, down, sideways and even upside down to move the performer attached to them to where they need to be in an effortless manor. Spiderman/woman in training. It is impeccable work in assisting the flow of the entertainer.
I thoroughly enjoyed my evening and recommend this as a must see in London. This show is standing only, however offers seating to those who are in need. Don't let that stop you from taking on this magical experience, just ensure wear comfortable footwear. Book now to see before it ends on the 22nd of January 2017.
Review by: Bec Brodie
Instagram: Beki_b
NoFit State's Big Top in Hungerford Car Park, Southbank Centre, Belvedere Road, London, SE1 8XX
http://www.nofitstate.org/bianco-southbank-centre
Twitter: @NoFitState @SouthbankCentre
#BIANCO