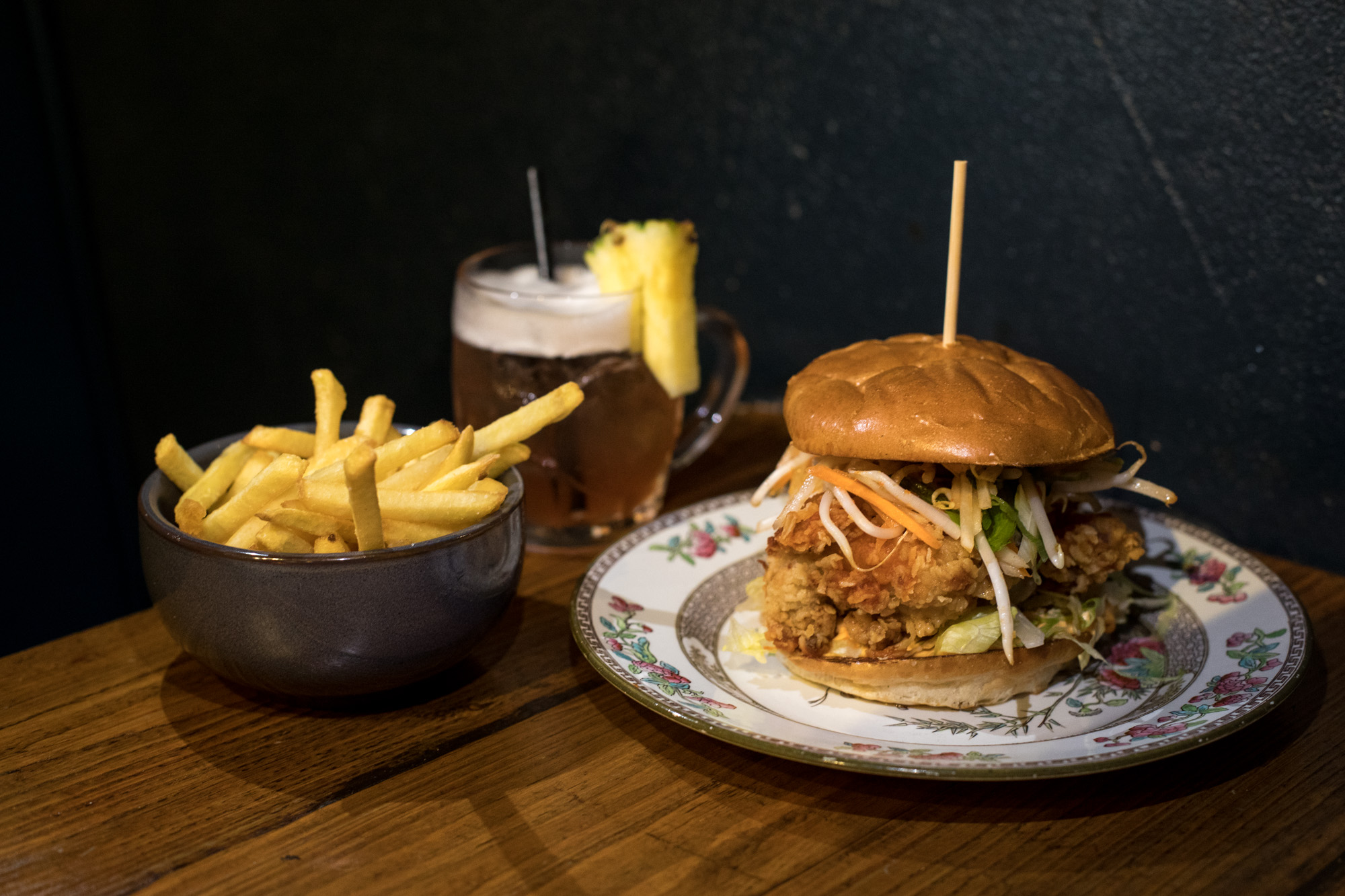 Chick 'n' Sours first made a name when it arrived in a Haggerston, being so far East, it catered for those that lived in the area and then of course the smart ones that were willing to travel down there. So of course the next step was to open up in Central London, these guys needed to share the love and what better place to open up their second branch than in Covent Garden's Seven Dials.
When we arrived, we were taken downstairs to be seated in their low lit basement, there was a little buzz among the diners, and I immediately liked the laid back vibe. 
For starters we ordered the Szechuan aubergine – which came in small chunks of aubergines in light batter, soaked in soy and black vinegar, with a generous sprinkle of red chilli and spring onion. The dish packed a lot of flavour and was a standout starter. We also ordered the disco wings – they were, sticky, sweet and sour with a nice amount of spice, no doubt we devoured the portion and quite frankly we could have easily ordered another portion. They were messy and every bit as delicious as sticky sweet and sour wings should taste.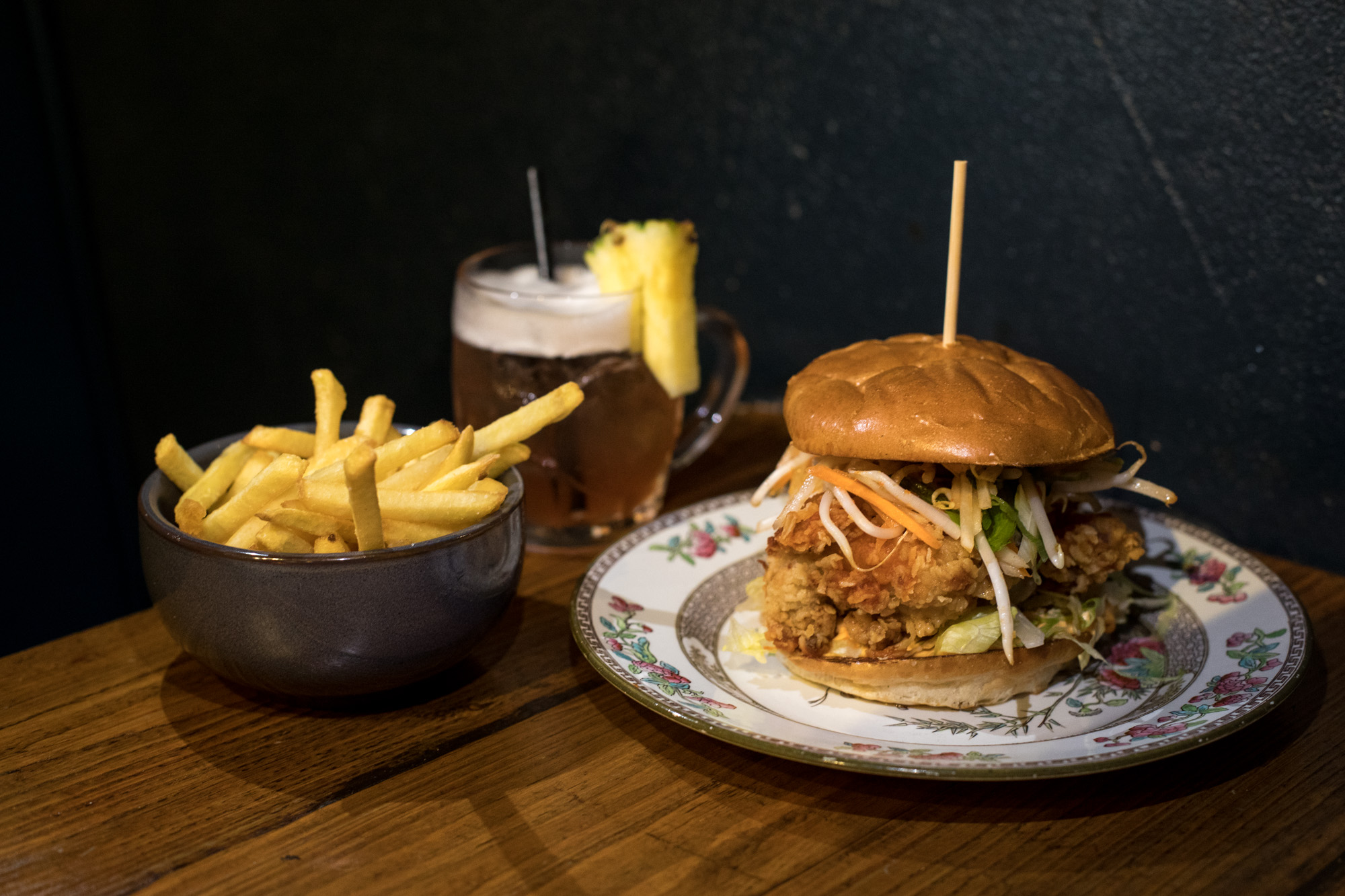 I ordered the K-Pop, which I was told was the signature dish. When the burger arrived I couldn't help but gawk at it, it was HUGE! I grabbed my knife and fork, patted it down with my hand and cut it in half, there was no way I would be able to fit that in my mouth whole. This burger lived up to its name, the fried buttermilk chicken was juicy and crunchy and coupled with the sriracha sour cream, gochujang mayo and Asian slaw, it was a chicken burger fit for a queen, well so I thought until I tasted my friends burger – the Bangkok Hilton burger, which featured on the specials menu.
The burger came with fried thigh chicken, tamarind chilli glaze, nuoc cham pickles, crispy shallots, coriander, mint. A combination that worked perfectly together, the flavour was immense, my taste buds didn't know what hit me, and all I kept thinking about was when I'll be in Seven Dials again, so I could come and dine here again. I need to spread the chicken love!
They also have an impressive drinks menu, so make sure you have a peek at the menu, it would be rude if you don't celebrate their Gawwwd dam delicious chicken with a cocktail! Now they don't offer desserts, but to be honest I didn't feel like we missed out, my taste buds were only interested in their buttermilk chicken, so no love lost there. 
On the menu they state that the free range chicken they offer is from Castlemead, a family owned farm in Somerset, they're buttermilk brined and pressure fried for that #NEXTLEVEL crunch. #NEXTLEVEL is a big statement, but after eating there I can certainly say they can own that statement proudly and yes that does mean they can plaster it on their menu, website and all over their social media.
See you next time Chick 'n' Sours!
Website: https://www.chicknsours.co.uk 
Address: Chick 'n' Sours, 1 Earlham Street, London, WC2H 9LL
Written by Nyla S.