Dirty Dancing the Classic Story On Stage kicked off it's 2021 UK tour at Richmond Theatre last night (Tuesday 5th October).
It's a faithful adaptation of the 1987 film starring Patrick Swayze and Jennifer Grey. For those who may be unfamiliar, Dirty Dancing is a classic coming of age story. Set in 1963, Francis 'Baby' Houseman and her family are on their first family vacation in six years, whist Johnny, a dancer instructor at the resort, is just trying to get through the summer and secure the next dance gig, however his dance partner has news that may put a halt to these plans. Soon Baby and Johnny, two young people from different worlds collide and Baby becomes his leading lady both on-and off stage. Will they overcome challenges and have the time of their lives?
The continued success of the movie convinced screenwriter Eleanor Bernstein, to write it for the stage as she could expand characters and add additional scenes and songs not in the movie. She was absolutely correct that the audience wanted to be more involved with the story.  We cheered as Baby and Johnny danced together, gasped with delight when the famous lift was completed, laughed at all the comic moments and catcalled when Michael O'Reilly's Johnny had a shirtless scene or two.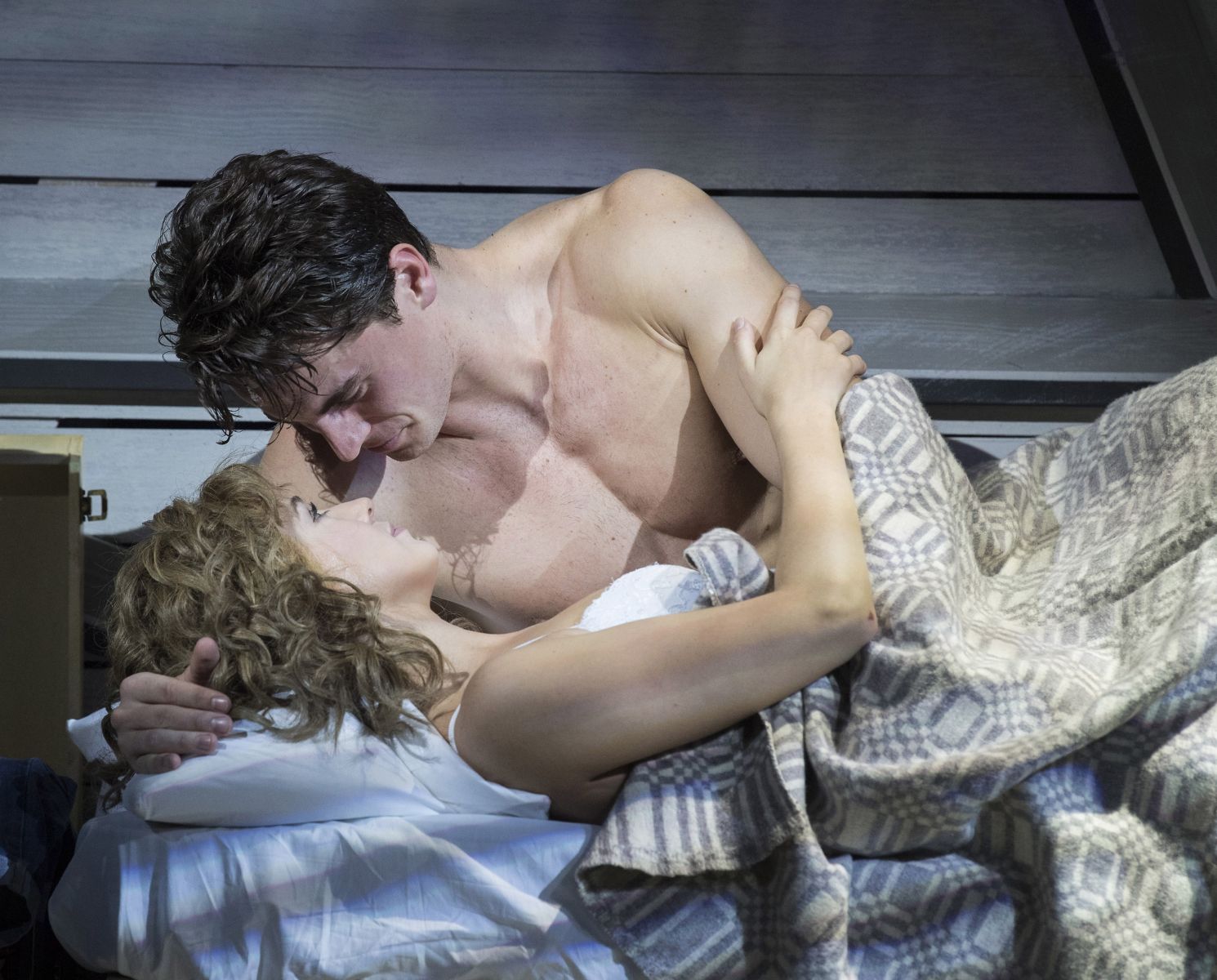 The casting is spot on with the leads even resembling Swayze and Grey. Michael O'Reily as Johnny has a magnetic stage presence while Kira Malou is fantastic as she transforms into a star dancer experiencing her sexual awakening. Together the two have great chemistry.
Featuring tunes you know and love – Hungry Eyes, Hey Baby, Do You Love Me? you'll want to be singing away. Amber Sylvia Edwards and Samuel Bailey are fantastic in the heart stopping (I've Had) The Time of My Life. The Kellerman band are frequently onstage, and could have been used more rather than using recorded tracks in some numbers.
Directed by Federico Bellone and choreographed by Austin Wilks it's a colourful, vibrant production filled with lifts, spins and swivelling hips. Overall, it's a faithful energetic production which fans of the movie will absolutely love. So grab your partner  and friends and have 'the time of (your) lives'.
Dirty Dancing is performing at Richmond theatre until 9th October 2021.  Tuesday to Thursday and Saturday at 19:30, Friday at 17:00 and 20:30, and Saturday matinee at 14:30. Run time is 2 hours 25minutes including interval. 
The production then tours to Birmingham, Hull, Carlisle, Coventry, Edinburgh, Dartford, Bradford, Killarney and Castlebar. For dates and prices please check the website.
Address: Richmond theatre, 1 Little Green, TW9 1QH.
Telephone: 0333 009 6690 (Richmond theatre) 
Website: https://www.dirtydancingontour.com 
Facebook: https://m.facebook.com/ddonstage
Instagram: https://youtube.com/dirtydancingonstage 
Twitter: DDOnStage 
YouTube: https://youtube.com/dirtydancingonstage
#dirtydancing 
Written by Caitlin Neal