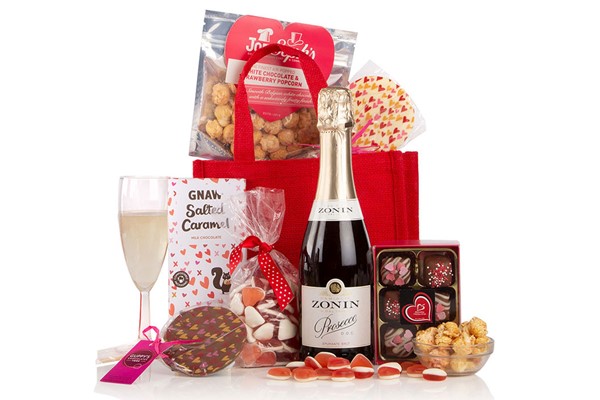 With Easter around the corner we have rounded up the best gifts, chocolate experiences and hampers available at Buyagift and Red Letter Days, to make Easter that little bit sweeter! From online experiences that you can enjoy from the comfort of your own home to chocolate making lessons you can look forward to once everything is a little bit more normal – we certainly have you covered!
PERSONALISED EASTER GIFTS
Make your gift stand out from the crowd!
Personalised Hoppy Easter Bone China Plate and Egg Cup, £19.99
On the hunt for an egg-cellent gift this Easter? If you're looking for an alternative to classic chocolate eggs, treat a special little one to a personalised breakfast set. Complete with a bone china plate and egg cup that features their name, a cute bunny rabbit and the fixed message 'Hoppy Easter', they'll love tucking into their favourite breakfast on Easter morning. It's a thoughtful gift that will be cherished for years to come.
The Easter Bunny Personalised Storybook, From £19.99
Celebrate Easter with a chocolate-alternative this year! A personalised storybook is the perfect gift for a little one. This A4 hardback book features beautiful illustrations and a fun rhyming story, telling how the Easter Bunny delivers eggs at Easter. You'll be taken on a journey through Bunny Land and children can enjoy spotting their name which features through the story, on the front cover and the title page. It's a wonderful bedtime story for Easter time!
ONLINE EXPERIENCES
Indulge and learn some new skills from the comfort of your own home
Online Chocolate Making Course with an Expert for One, Was £109, Now £95
Inspire your chocolate creativity and master expert techniques with this informative online course. You will be taught by talented chocolatier, Paul A. Young who has built his professional reputation as an artistic flavour alchemist. Learn how to create and decorate delicious chocolate truffles, explore the art of tempering, mould and fill your own chocolate shells and create alcohol and fruit ganache. You will also be lucky enough to learn Paul's secret recipe, the outstanding sea salted caramel truffle. At the end of the course, you will be awarded a certificate of completion.
Online Chocolate Making Course in a Virtual Classroom for One,
Was £29, Now £25
Ever dreamt of becoming a master chocolatier? This engaging online course will teach you how to make your own delicious chocolates from home. . This online experience will also teach you the art of tempering chocolate, the secrets to perfecting and layering caramel, how to mould chocolate, make elegant chocolate bars and more. Enter the wonderful world of chocolate and be taken on an exciting journey. Get top tips and advice and make chocolate to a professional standard in your own kitchen.
Online Chocolate Truffle Making Webinar and Truffle Kit for Two with My Chocolate, £31
Treat an aspiring chocolatier to this interactive online workshop. Follow the steps as a talented expert demonstrates how to make delicious cream truffles. Learn the tips and tricks of the trade and master the art of chocolate making. This hands-on webinar is a chance to discover how to mix ganache perfectly, pipe chocolate and create a mouth-watering flavour for the finishing product. Make tempting truffles and indulge in these sugar sweet treats knowing they have been crafted by hand from fresh ingredients.
CHOCOLATE MAKING EXPERIENCES
Learn the process of making chocolate from bean to bar and create some tempting treats with a chocolate making class
Chocolate and Cocktail Making Masterclass for Two,Was £150, Now, £105
Celebrate in style with an evening that combines two of your favourite indulgences – cocktails and chocolate! The workshop begins with a spellbinding cocktail demonstration. Learn the art of mixology and gain useful advice on professional bartending techniques, leaving you ready to mix up your own magic! Once the cocktails have been tried and tested, you'll be able to get creative as you dip your own rich chocolate truffles in herbs, oils and spices and decorate them with tempting toppings. Learn to make your own delicious cocktails and add tasty flavour to mouth-watering chocolate truffles. Return home with your own chocolate creations in a goody bag!
Chocolate Tasting Adventure for Two with Hotel Chocolat, £100
Ideal for a pair of real chocolate lovers, visit Hotel Chocolat at a choice of top locations UK wide, and journey into the exciting and tasty world of chocolate. With guidance from a resident Hotel Chocolat expert, gain inside knowledge and tasting tips, including how and when to taste. Also learn to understand the nuances of flavour, texture and factors such as cocoa, terroir and conching time. As well as the theory, enjoy tasting the delicious stuff – armed with glass of Prosecco each, work through a selection of 13 chocolates, all with different qualities, learning as you taste. At the end of the session, both take away a goody bag and receive an exclusive 10 percent discount on any purchases made.
Chocolate Making Workshop and Tapas Style Champagne Afternoon Tea for Two at MAP Maison, Was £178, Now £119
Treat someone with a sweet tooth to this indulgent package. Be creative in the kitchen and learn the art of becoming an expert chocolatier with a hands-on workshop for two. Delve into the history of this tasty treat and discover how to pipe, cut, dip and decorate! Sample a selection of delicious chocolates and then make your own truffles and a unique giant chocolate button. You will also be able to enjoy a mouth-watering afternoon tea for two at MAP Maison in Haggerston. Savour a selection of tapas style nibbles and raise a toast with a glass of Champagne each!
Chocolate and Macaroon Making Class at Giancarlo Caldesi's La Cucina Caldesi, £89
Join patisserie expert Stefano and his assistant at La Cucina Caldesi to create a selection of colourful, flavoured macaroons; along with eight mouth-watering chocolate truffles. Stefano also provides a small chocolate tasting, along with giving some riveting background information about working and cooking with chocolate. This course promises to be a real treat! A light lunch is also included and everyone gets to take home the goodies they have made during the class, so friends and family can taste all that creative handiwork too (if you choose to save any of course!).
Luxurious Chocolate Making Class for Two, Was £160, Now £90
Enjoy the ultimate sugar kick with this luxury chocolate-making class. Visit London for an afternoon of tempting treats. Sip a glass of prosecco on arrival and shake things up with the chance to make some chocolate martinis. Learn everything there is to know with an expert chocolatier on hand to teach the fascinating history of this tempting treat. Sample a range of tantalising chocolate before getting stuck into some chocolate-making mastery. Create a chocolate slab, craft some tasty cream truffles and make them unique with some decorations.
Luxury Chocolate Making Workshop with Prosecco for Two, Was £160, Now £90
This is the ultimate experience for any self-confessed chocoholic. Savour a glass of prosecco before being taught how to blend your very own chocolate martinis! A master chocolatier will take you through the history, whilst you sample tastings and enjoy some nibbles. You can then head to the workstation and create a chocolate slab, trying out different flavours. You will also learn to make fresh-cream truffles with a tipple of spiced rum, then dip and decorate them and marble and print your own design onto chocolate fudge. Leave the studio with 15 of your own homemade chocolates and a slab to indulge in as soon as you get home!
Brownie Making Experience for One at Melt Chocolates, £45
Visit the luxurious Melt Chocolates chocolate shop in Notting Hill for the chance to discover how to bake the perfect batch of brownies. Cook up a storm as you master new baking skills and learn everything there is to know from expert chocolatiers in this friendly and fun environment. Delight in beautiful views of the secret garden at the rear of the shop as you create some delicious chocolate brownies or a perfect Mississippi mud pie in Melt Chocolates' stylish professional kitchen. At the end of the class, take home your delightful and delicious hand-crafted treats in a stylish box and show off your new found skills to friends and family.
Hotel Chocolat's Children's Chocolate Workshop for Two, £40
A chocolate workshop at the renowned Hotel Chocolat is a dream come true for any child with a sweet tooth. At Hotel Chocolat's cocoa vaults in Leeds and Covent Garden your children can discover the enticing world of cocoa. A welcome drink will kick off the workshop alongside an introduction to the experience before the real fun begins! They'll be able to get stuck into a memorable chocolate decorating session with the guidance of an expert. Once they've completed their mouth-watering masterpiece, they'll package it up in a beautiful box, ready to take away and feast upon at home!
HAMPERS & GIFTS
Give something sweet to your loved ones this Easter
Chocolate Indulgence Food Hamper, £32.50
This indulgent food hamper is a chocoholic's dream! Savour an assortment of mouth-watering nibbles beautifully presented in a handy black wire basket. Tuck into Joe and Seph's Double Chocolate Caramel Gourmet Popcorn, delicious honeycomb shards and GNAW Milk Chocolate. Plus, enjoy divine chocolate flavour fudge, a delightful mini chocolate cake, Maclean's chocolate and ginger biscuits and an orange hot chocolate stirring spoon. Treat someone to this scrumptious selection of sweet treats.
On the hunt for a chocolatey treat? This Love Chocolate hamper is bursting with moreish goodies. Filled with a deluxe selection of chocolate-based snacks and beautifully presented in a stylish gold bag, this hamper makes a delightful birthday gift, special thank you or a little pick-me-up for a loved one. Delve into a devilish chocolate cake with salted caramel, Joe and Seph's chocolate popcorn, dark chocolate and praline hot chocolate spoon, fruit and nut chocolate bar and more. Indulge in a piece of chocolate heaven.
Champagne and Chocolates Hamper, £48.50
Is there a finer pairing than Champagne and chocolates? We think not. This luxury gift box includes a bottle of Baron De Marck Brut Champagne, which is refreshingly dry and perfectly paired with a box of Linden Lady assorted truffles. Whether you're looking for a gift for a birthday, anniversary or Christmas or want to say, 'thank you', 'well done' or 'congratulations', this decadent duo is truly special.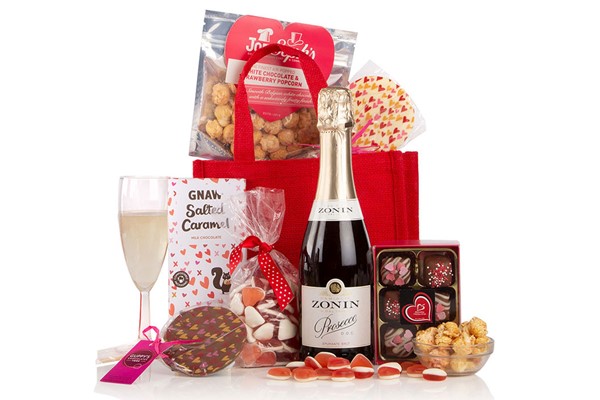 A gift that says, 'I love you'. Show your loved one just how much you care with a heartfelt gift that's brimming with sweet treats, chocolate and a bottle of prosecco for good measure. Your lucky lover will receive a delightful red tray filled with Joe & Seph's White Chocolate and Strawberry Popcorn, a generous bag of Haribo Heart Throbs, Guppy's milk and white chocolate lollies and more. Raise a glass and celebrate your love for each other along with some delicious snacks.
It's a Chocolate Kind of Day Chocolate Truffles with Personalisation, £19.99
Know a chocolate fiend who deserves a treat? This gorgeous box of luxurious chocolate truffles is sure to put a smile on their face, whether it's for their birthday, an anniversary or just a special surprise! Add a touch of personalisation with a message of up to 60 characters, which will be printed below the playful 'it's a chocolate kind of day' message. When they receive this lovely box of white, dark and milk chocolate truffles, it's sure to make their day!
Personalised Bottle of Prosecco with Chocolate Truffles Gift Box, £42.50
Tempt someone to all their favourite flavours, packaged up in one luxury gift box. This generous gift includes a bespoke bottle of Botter Prosecco, which can be personalised with a name and message of choice. So, once the bubbles have gone, the bottle can be cherished forever. They'll also enjoy a box of deliciously smooth chocolate truffles – each of which are handmade and complement the fresh-fruit flavours of fizz beautifully. It's a match made in sweet, sweet heaven.