Evans and Peel's Detective Agency Review
We recently visited Evans & Peel, the Detective Agency which opened in 2012 in Chelsea and had an absolute fabulous time from start to finish. Entering through The Detective Agency through a secret entrance to find a detective waiting, really set the scene for our first experience here. Known for their innovative cocktails, The Detective Agency has added Smokehouse menu featuring a selection of southern American dishes all made daily using their own in-house smoker, as well as a small plate menu. So now not only will your drink cravings be satisfied, your stomachs will be too.
The Smokehouse menu consists of BBQ dishes which include Carolina style pulled pork, St Louis with cut pork spare ribs, Texas style brisket, and Pulled eggplant and mushroom brisket. All dishes are served with pickles, buttermilk potatoes, BBQ beans and slaw, as well as house sauces and are priced at £15.00. We chose the Texas style brisket and the Carolina style pulled pork. Now I couldn't have been happier with my pulled pork, however, my friend found the brisket a little tough. The side dishes were divine, though we both weren't fans of the BBQ beans. I definitely could have gone second and third helpings of the buttermilk potatoes – they were the way to my heart for sure!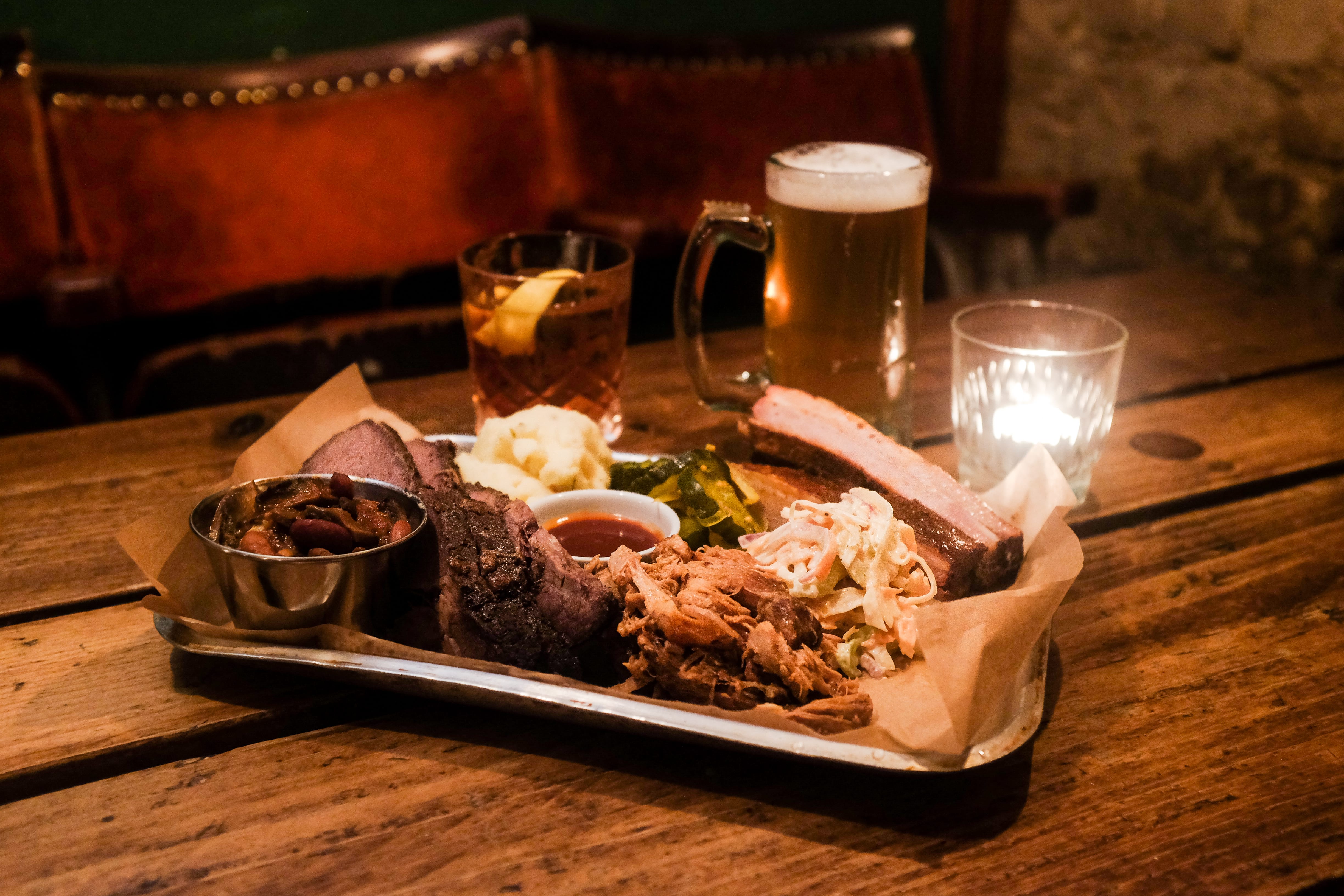 I don't know how we found room for more food, but we did, especially with the garlic mayo fries and the Mac 'n' Cheese just begging to be ordered. We managed to get through most of these dishes and they were just the comfort food we needed.
All our food was washed down with beautifully crafted cocktails in the form of 'Not Your Average Joe Martini' (Buffalo Trace Bourbon, Coffee Liqueur, Tonka Bean, Benedictine and Cold Brew Coffee), [Insert Pun Here] (basil vodka, forest frits, and tounge tingling foam) and the Aviation Rhubarb Remix (gin, rhubarb bitter, lemon and violette). We would have been happy sitting here all night talking and drinking our way through the cocktail menu. There's a range to suit everyone's drink tastes and staff were happy to help us out when we weren't too sure of what to order.
The dimly lit ambience of Evans and Peel's The Detective Agency is perfect for intimate date nights or quiet nights out with friends. You'll certainly be whisked away to an era of 1920's American prohibition with the quirky props and original vintage furniture while enjoying your evening dining and drinking your way through the menus.
The Detective Agency will be serving the Smokehouse menu from 7pm-10pm and a bar menu from 5pm-10pm.The Pharmacy will also be serving small plates of the smokehouse menu and a bar menu from 5pm-10pm. So what are you waiting for, hurry up and book an 'appointment' now. Plus if you visit the website, you'll find some 'cases' to solve which will help you get rewards such as free cocktails at the bar.

Website: www.evansandpeel.com
Evans & Peel Detective Agency
310c Earls Court Road
Evans & Peel Pharmacy
42 Devonshire Road
London
SW5 9BA
Chiswick
W4 2HD
Twitter and Instagram: @EvansandPeel