Views in London come at a premium, and in Mayfair they are less prevalent as the old buildings don't allow for high rise glory. Step into the London Hilton at Park Lane, ride the lift to the 28th floor and when it opens you will be greeted by Galvin at Windows, the Michelin starred restaurant. Modern decor, white tablecloths and windows on every side help cement the feeling of opulence.
I went into the bar area to wait, and with the slightly more relaxed atmosphere it was filled with couples and business meetings, all taking a moment to appreciate the views. I ordered a very beautiful looking cocktail – called fruit cake, which was sweet and delicious, with a gorgeous flower top that made it as insta worthy as the scenery outside. 
Moving to the restaurant we were seated next to the window, by one of the many helpful and polite staff.
Head Chef, Joo Won's menu mixes French, British and Korean flavours in what appears an effortless fusion.
In true Pride style, we opted for the two limited-edition technicolour dishes (available now until 7th July – to coincide with the 2019 London Pride celebrations.
We were first greeted by a colourful cured salmon dish, which came in generous portion. The horseradish cream gave a kick to the fish, and the colourful vegetables added a crunch. The staff were very happy to accommodate dietary requirements switching in an avocado puree for my fellow diner. 
For the main, I picked the Lobster tail, served with a medley of fish making it far more than just lobster. The scallop and seam bream added a salty flavour, and the bisque added the French twist, with a soup like feel. The fish was well cooked, and the lobster was the star of this show. 
My dining partner opted for the lamp rump, which she happily tucked into, I would advise opting for sides if you're very hungry.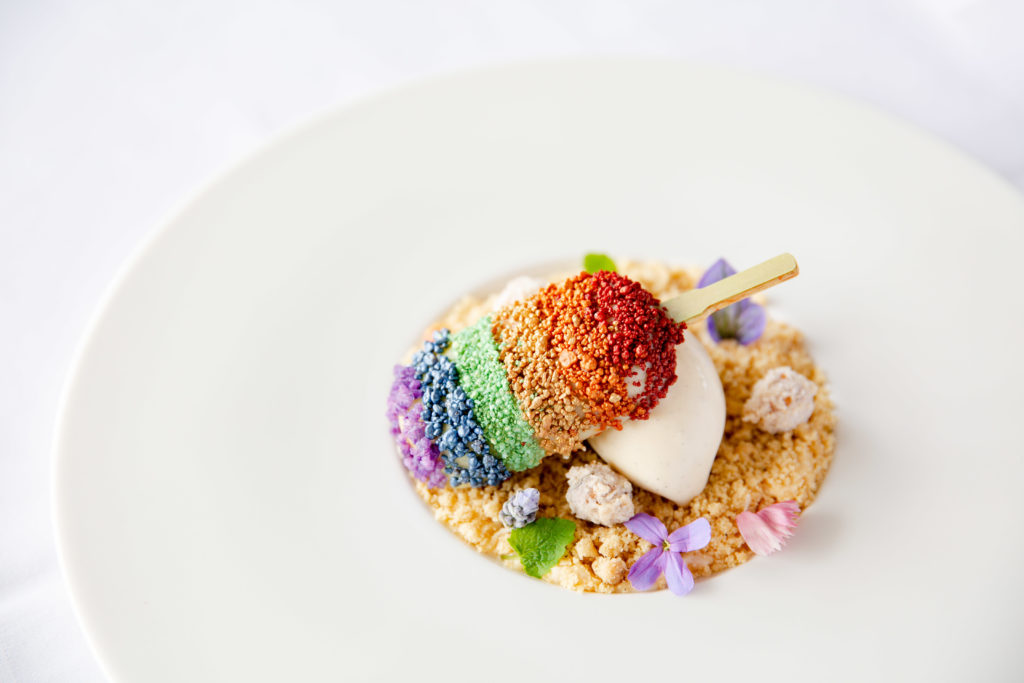 We didn't regret not filling up on mains, as we wanted to leave space for the Pride dessert. When it arrived at the table our mouths dropped, it was a colourful and beautifully presented chocolate and hazelnut lolly bar, served leaning on vanilla ice cream and noisette crumbles. Breaking into it was almost a crime, but how long can you stare at your food for? For those who are lactose intolerant (like my dining partner), you will be pleasantly surprised to find a dairy free chocolate alternative, which was made to look just as pretty with raspberry sorbet and an array of colourful fruit. 
The only disappointment of this meal, was that we didn't get to see General Manager, Fred Sirieix (First Dates Maître D) who we wanted to quiz not only about love, but the delicious cocktails we sipped throughout our meal! We highly recommend the Lovey Dovey cocktail, for all you believers out there! 
Website: http://www.galvinatwindows.com
Address: London Hilton on Park lane, 2 Park Ln, Mayfair, London W1K 1BE
Written by Polly Robin