Get Your Body Ready This Summer
With the weather London has been having lately we'd be amiss to not do a summer body ready guide! From hair removal to tanning to skin care… we have you covered. It doesn't matter your size or shape… this guide is all about feeling good inside and out!
Starting with the inside…
Unbeelievable Bee Energised (RRP £11.99) 
Researched and created by nutritional experts, Bee Energisedcombines organic bee pollen, sustainably sourced from an organic farm in the Galician hills. Did you know that bee pollen is known to be the richest source of vitamins found in nature in a single food?  With health enhancing plant metabolites (tocopherol, niacin, thiamine, biotin and folic acid, polyphenols, carotenoid pigments, phytosterols), it's a great way to nourish and regenerate the skin so you are summer body ready!
Lisa Snowdon x Correxiko Glow Box (RRP £69.00)
If your skin is feeling dry and dull, and generally missing your glow, reach for the Lisa Snowdon X Correxiko Glow Boxfrom one of UK's top collagen brands, to give your skin a much needed boost this Summer. After all, glowing skin comes from within…Containing all of Lisa's favourite products for her glowing skin, the Lisa Snowdon X Correxiko Glow Box includes: Marine Collagen Powder, Marine Collagen Capsules, Ultra Omega 3, Collagen Smoothies Recipe Book, Super Scoop, Super Whisk, Welcome Pack and 2 of Lisa's recipes. In just 30 days of using the Correxiko products in this box, you will experience more radiance and vitality from the inside out including improved skin hydration and plumpness, fine lines decreased, hair growth to name but a few benefits.
Doctor Seaweed Beauty+ (RRP £29.95)
Doctor Seaweed's Beauty+ contains a wholefood and natural source of essential iodine – from sustainable Scottish seaweed – and this has been enhanced with the addition of natural, plant-based sources – including Indian gooseberry, moringa, holy basil, green tea, shiitake and oyster mushrooms, coconut and marigold – providing vitamins A, B2, B3, C, E, Biotin, Selenium and Zinc. Each of these carefully selected ingredients work in synergy to create glowing, healthy skin so you can be body confident this Summer!
Rejuvenated is a pioneering market leader within the beauty and health industry. Their cutting-edge formulas contain a unique blend of natural and active ingredients to ensure maximum efficacy from the inside out.  Each supplement is formulated with 100% traceable and ethically sourced ingredients. 
Re-set combines potent herbs, adaptogens, iodine and chromium to promote a healthy cellular metabolism.  This 100% natural food supplement supports weight management, boosts energy and promotes longevity. RRP £24.95
 Rejuvenated is stocked at rejuvenated.com, Cult Beauty, Skinstore, Skincity, Face The Future and more.

IMARAÏS is a new vegan, sustainable skin and hair supplement/gummy brand which is the FIRST gummy brand to attain PETA accreditation. Originating in Canada, the UK launch range will consist of the hero product, Glow skincare gummies, and the Nourish hair gummies. In as little as one month, skin will appear glowing and more radiant with Glow, whilst Nourish will improve scalp health and reduce hair shedding in as little as 2 months. The brand has been founded by wellness mega-influencer, Sommer Ray, with a following of 40million+ across social.
On the outside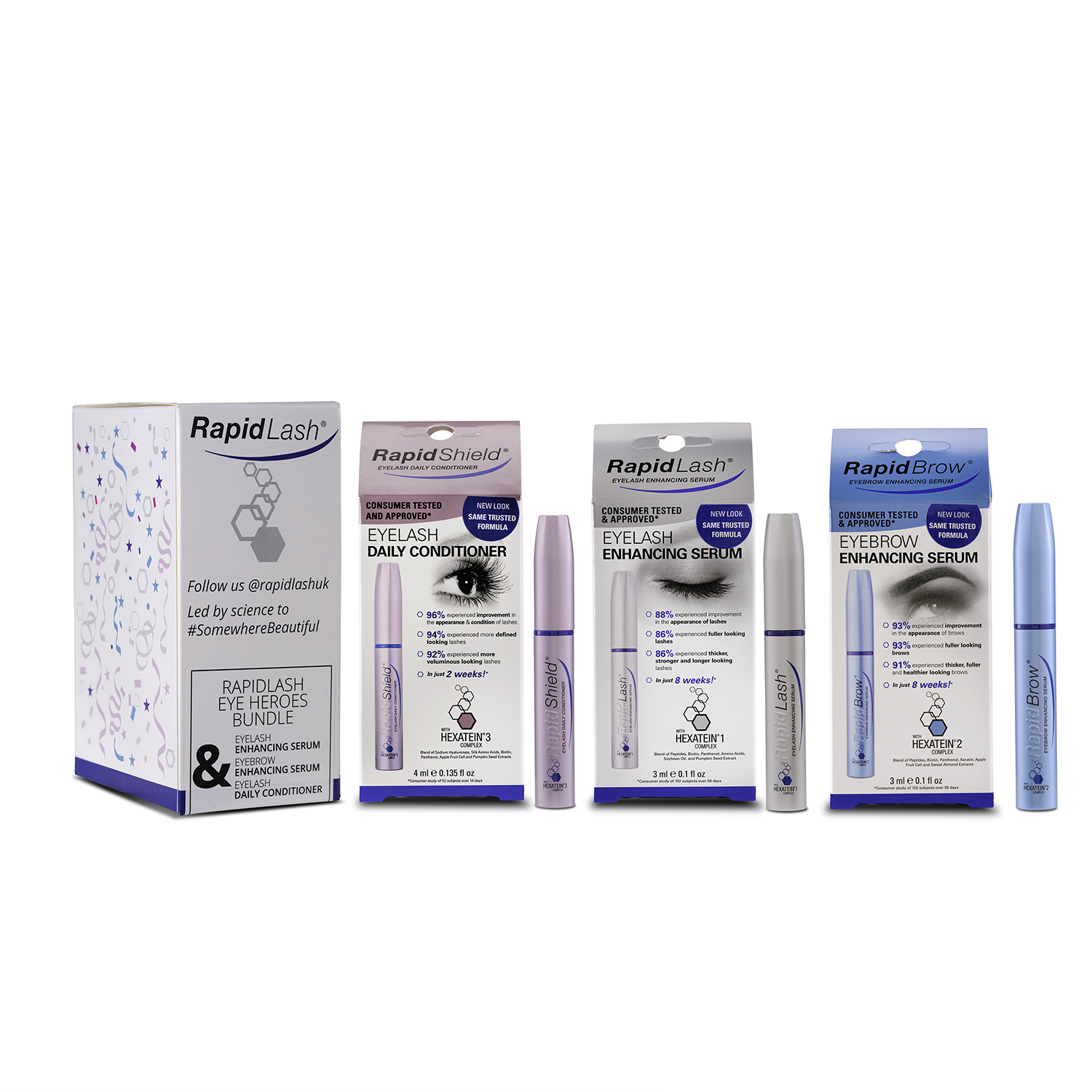 RapidLash® Eyelash Enhancing Serum is an award-winning, consumer-tested and approved formula that helps boost the appearance of eyelashes, with 86% of users* experiencing fuller-looking, thicker-looking and longer-looking lashes in as little as 8 weeks (*consumer study of 102 subjects over 56 days). RapidLash® is applied once daily before bed to the base of upper eyelashes using the fine-tip applicator brush. It's formulated with our unique Hexatein® 1 Complex, an exclusive blend of conditioning and fortifying ingredients, to promote lash durability, shine, sheen and overall healthier-looking appearance.
RRP is £40.00 and best retailer is lookfantastic.com
RapidBrow® is an innovative eyebrow enhancing serum with the exclusive Hexatein® 2 Complex formula that conditions and enhances the appearance of brows as quickly as 60 days – 93% experienced fuller-looking brows in as little as 8 weeks (consumer study of 102 subjects over 56 days).
RRP is £37.00 and best retailer is lookfantastic.com

Hifas da Terra Mico-Repair CBD Serum (RRP £30.00)
Summer can be a stressful time for our skin causing dryness, irritation, heat rashes and sunburn, and those with existing skin disorders may find the heat and high humidity causes even more irritation than normal. Hifas Da Terra Mico-Repair CBD is a powerful antioxidant-repairing serum recommended for the prevention and treatment of skin disorders and irritated skin. The serum is formulated with medicinal mushroom extracts of Cordyceps and Reishi, and contains powerful natural active ingredients. Reishi and Cordyceps contain high concentrations of active biomolecules such as B-glucans, natural antioxidants, B vitamins, essential amino acids, trace elements and minerals such as iron, selenium and zinc.
We've featured Olverum products in our guides before and we love them… so it's no surprise we're featuring the Body Polish. This enables you to enjoy the benefits of a luxurious spa-quality treatment at home. Gliding on smoothly, this soufflé-feel dual-action exfoliator gently but effectively buffs skin to velvet smoothness. A nourishing blend of sumptuous essential oils then brighten skin, bestowing a toned sensation and naturally radiant appearance.

Simply applying Olverum Body Polish with firm circular motions for as little as five minutes boosts circulation, maximising its effects, encouraging cell renewal, and stimulating the lymphatic system to give skin a naturally healthy glow.

Angela Langford's hydrating & refreshing tonic in rose, orange blossom & aloe vera – 100ml
Angela says… "This is perfect for dry, dehydrated & sensitive skin. This is your recipe for a natural tonic that leaves skin feeling fresh, clean & hydrated."
I've been keeping this refreshing tonic in my handbag to keep my skin hydrated, calm & fresh throughout the day. And at only £14… it's great.
https://www.angelalangford.com/natural-face-toner/15-freshen-up.html
Olay Collagen Peptide24 day cream helps reveal strong and glowing skin in 14 days. Its unique formula contains Collagen Peptide and Vitamin B3 and intensely hydrates skin for 24 hours, smoothes skin texture & restores skin's protection barrier. We also love that it contains no artificial dyes, perfumes and oils and is suitable for daily use.
https://olay.co.uk/skin-care-products/face-moisturiser/collagen-peptide24-day-face-cream-with-collagen
Another Olay favourite is the Niacinamide +SPF 30 as it helps defy the 10 signs of ageing: Dryness, Uneven Texture, Uneven tone, Fine Lines, Wrinkles, Dullness, Sagging, Lack of elasticity, Noticeable pores, Blotchy skin. Your skin is smoother & appears rejuvenated in 1 day. It's a win for us!
https://olay.co.uk/skin-care-products/face-cream-spf/niacinamide-face-cream-spf-30
The Jojoba Company – Jojoba Glow
£28.00, thejojobacompany.co.uk
A luxurious Australian Jojoba based moisturiser with illuminating mica for face and body which instantly hydrates while adding a subtle glow to the skin. Enriched with a combination of antioxidant rich jasmine and mandarin essential oils, your skin will be left feeling smooth with a youthful, radiant and luminous appearance. Jojoba shares the same molecular structure as the natural wax esters found in healthy human skin, making it more receptive to receive vital nutrients and antioxidants, restoring balance, and helping your skin behave as it was always designed to do. Sustainably sourced Mica minerals have natural glittering properties creating the illusion of a smoother, softer and more radiant skin tone that is perfect for all skin tones and types. These two ingredients combined are a Glazed Donut Skin match made in heaven.
SOS Serum – SOS Night 50ml
£15.50, Amazon or £15.00, sosserum.co.uk
SOS Night is a unique and patented formulation that contains three Bio-Active ingredients with inter-related sleep time activation, to work individually and collectively during your nightly triptic stages of skin cell regeneration.
LipQ Liquorice Balm: The cold sore virus lies dormant in the skin around the lip area and direct sun and heat are the main triggers for activating it. Before a cold sore actually appears, usually the area of skin around the lips or under the nose becomes hot and very itchy. There are not many preventative treatments for cold sores, however one that has been trialled by the Herpes Virus Association is Lip Q Liquorice Balm (lipq.co.uk) which was found in the trial to reduce the severity and duration of cold sore outbreaks as well as increase the duration between outbreaks if used regularly and especially during periods of increased sun exposure. Liquorice Balm is 100% natural and is FREE from MI, SLS, parabens and perfumes. The Liquorice Balm is available from LipQ at £9.50 for 30g visit www.lipq.co.uk
Kalme Day Defence SPF25
A multi-actionday cream with a pure micronized zinc oxide SPF and anti-inflammatory ingredient Derma Sensitive formulated from young caper buds plus a super antioxidant and free from perfumes, SLS and MI. This cream does everything in one for ultimate protection against UV as well as controlling inflammation and sensitivity and will also even reduce spots too if you are prone to them. It can be worn under make up.
KALME Day Defence SPF25 is FREE from parabens, perfumes, SLS and MI and is suitable for use on very sensitive skin.
The KALME Day Defence SPF25 costs £21.95 (50ml). Available from www.kalme.co.uk
COSRX – Aloe Soothing Sun Cream SPF50
£22.00 Sephora UK
Nourishing and hydrating, this Aloe Soothing Sun Cream is a hit, with searches up by 50% this week! Harnessing the powers of Aloe, this ultra-hydrating sunscreen absorbs quickly into skin to defend against sun damage and environmental aggressors, whilst delivering long-lasting moisture and hydration to leave skin smooth, comfortable and replenished. Provides superior protection without greasy or sticky residue.
Malibu Sun, a British sun care brand dedicated to creating quality and affordable sun protection for every body. The daily use of sunscreen is set to become one of the biggest skincare trends of 2023. Whatever the time of year, sun care is non-negotiable. For sun cream, after sun or face protection for anyone, look no further than Malibu. Products range from SPF 10 to 50 and help protect skin against harmful UVA and UVB rays. From lotions and sprays to SPF face creams, lip balms and hair & scalp protectors, Malibu goes further to provide full body protection.
It is summer and you can never have enough sun protection so another brand we love is from Altruist. It's made by consultant dermatologist and skin cancer expert, Dr Andrew Birnie from Kent, who is on a mission to reduce skin cancer cases by creating a great quality sunscreen people can afford to use. Not only is it affordable, it's dermatology approved and has added benefits of Vitamin E.
Pharmaceris S – Protective Dry Oil SPF 50+ Duo-Active Formula
This effective sunscreen in the form of a nourishing oil is an alternative to traditional cream products.
It can be conveniently applied, leaving a nourishing satin finish on the skin, without making it feel sticky.
The oil contains photo-stable UVA and UVB filters which absorb sunrays. It provides top protection against intense solar radiation and harmful external agents. It also contains vitamin E with a strong anti-oxidising effect, which strengthens the lipid barrier of the skin while nourishing and regenerating the epidermis. The oil provides intense skin hydration, preventing excessive dryness.
It restores the smoothness and softness of the skin.
RRP £30.00 / 200ml / Available at Sephora
Hair Removal 
Introducing the ultimate shaving experience, everything you need for silky smooth skin neatly packaged in one box. Their 3 step shave systems contain ingredients known to fight blocked pores, reduce irritation and hydrate your skin. Weighted reusable handle and long-lasting blades ensure effortless glide for the smoothest shave. Plus it's a stunning kit so looks great in the shower and is better for the environment than disposable razors.
https://www.ffs.co.uk/products/full-shaving-set
Rubis – Classic Slanted Tweezers
£25.30, Amazon
Rust and corrosion resistant, these tweezers have a non-slip grip, and the slanted tips provide the utmost accuracy for brow shaping and hair removal. They are designed by experts, and aim to provide comfortable use without compromising on their effectiveness.
Sarah Louisa is an eco-conscious luxury self-care brand that showcases its popular product the IngrownOut tweezer ®.
The 5-star reviewed IngrownOut tweezer ® was designed by Sarah Louisa with great care to achieve precision and effective results to prevent damage to the skin whilst having a glamourous look and feel with its gold-coloured coating. It tweezes the shortest hairs and its hook can remove ingrown hairs with ease and can also be used to shape eyebrows.
For longer lasting hair removal, we love the Philips Lumea BRI923/00 Advanced IPL Hair Removal Device for Face and Body with 3 Attachments and a Satin Compact Pen Trimmer. 
Philips Lumea uses an innovative light based technology called Intense Pulsed Light (IPL) to break the cycle of hair regrowth. Gentle pulses of light are applied at the root and, after several treatments, hair is prevented from growing back.
Derived from salon professional IPL technology, Philips Lumea makes it possible to remove hair safely, effectively and easily. Lumea is the culmination of 14 years of research and is clinically tested and developed with dermatologists for easy and effective treatment, from the comfort of your own home. Use with confidence to remove hair on face (upper lip, chin and sideburns) and body parts including legs, underarms, bikini area, stomach and arms. Treat both lower legs in just 15 minutes, bikini area in 4 minutes and facial area in only 2 minutes!
https://www.philips.co.uk/c-p/BRI923_00/lumea-advanced-ipl-hair-removal-device
Finishing off the Look!
Your holiday may be over but your tan doesn't have to be! Keep that tan glowing with the FFS gradual tan so you can build your tan up slowly over time perfecting a natural looking radiance. The tan doesn't transfer and it's animal free vegan formula contains Shea butter for moisture enriching and smooth skin, and cocoa for that all round smouldering healthy looking skin. The smell is lovely too!!
https://www.ffs.co.uk/products/gradual-tan-lotion

Modibodi – the gloabal leaks apparel brand – has just launched their new leak-proof swimwear collection. This collection is a travel essential for this summer. Not only will it have you feeling cute, but it will keep you protected from all kinds of leaks thanks to Modibodi's super absorbent technology. The absorbent lining is undetectable, whilst still being able to absorb 1-2 tampons worth of blood.
We've used Modibodi's period underwear before and love it so having period swimwear was a game changer for us. The new collection comes in two gorgeous colours: Lavender and Midnight Tropic Print.
The new range includes:
Recycled Swimwear Brazilian Brief (RRP: £28.00)
Recycled Swimwear Hi-Waist Bikini Brief (RRP: £29.00)
Recycled Swimwear Tie Side Bikini Brief (RRP: £37.00)
Recycled Swimwear Reversible Triangle Top (RRP: £42.00)
Reversible Recycled Swimwear Crop Top (RRP: £37.00)
Recycled Swimwear One-Shoulder One Piece (RRP: 59.00)
Recycled Swimwear Tie Front Cut Out One Piece (RRP: £62.00)
https://www.modibodi.co.uk/collections/swim
Onin.London wishes everyone the best summer! Tweet us your summer must haves and we'll trial them out too!