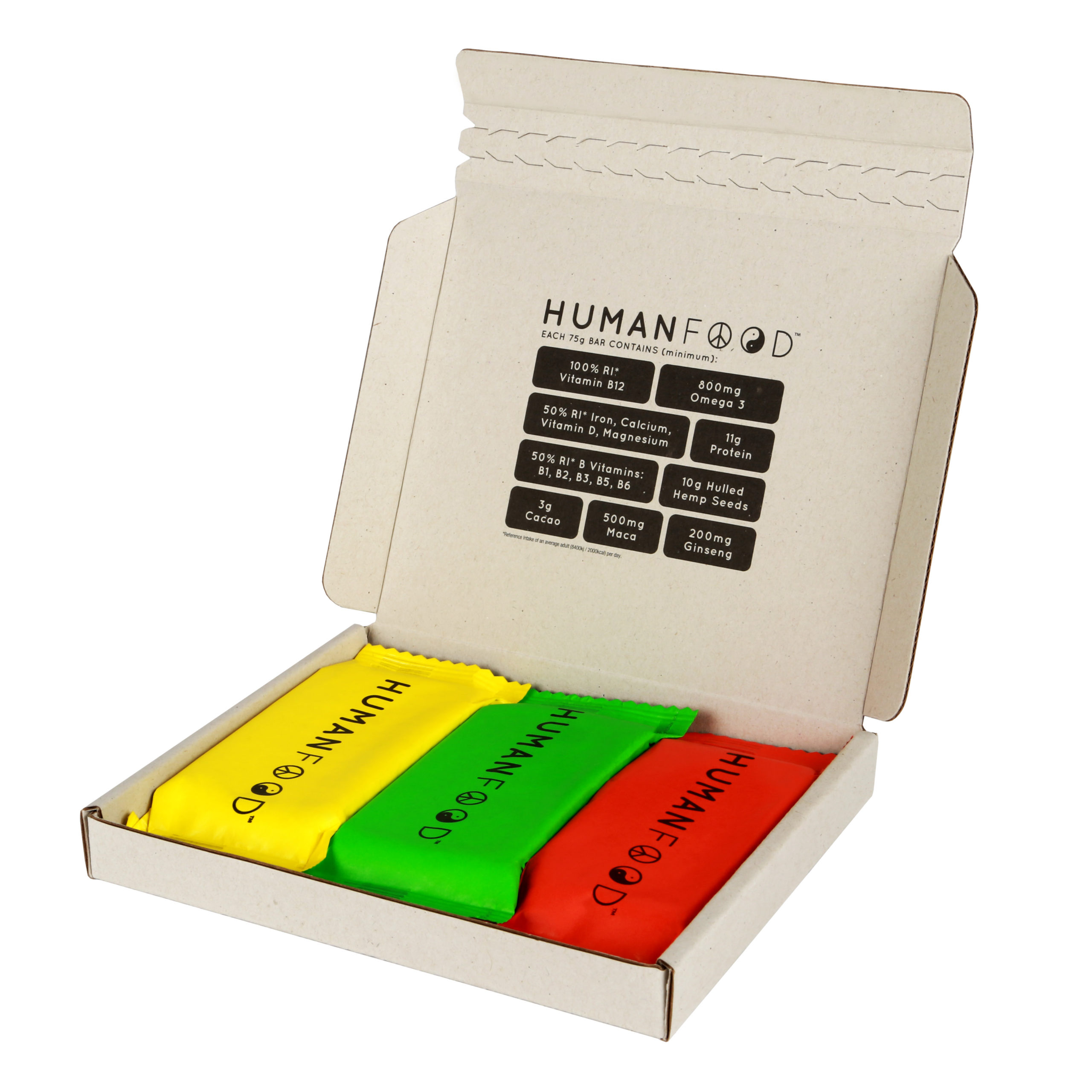 Human Food Organic Daily Nutrition Bars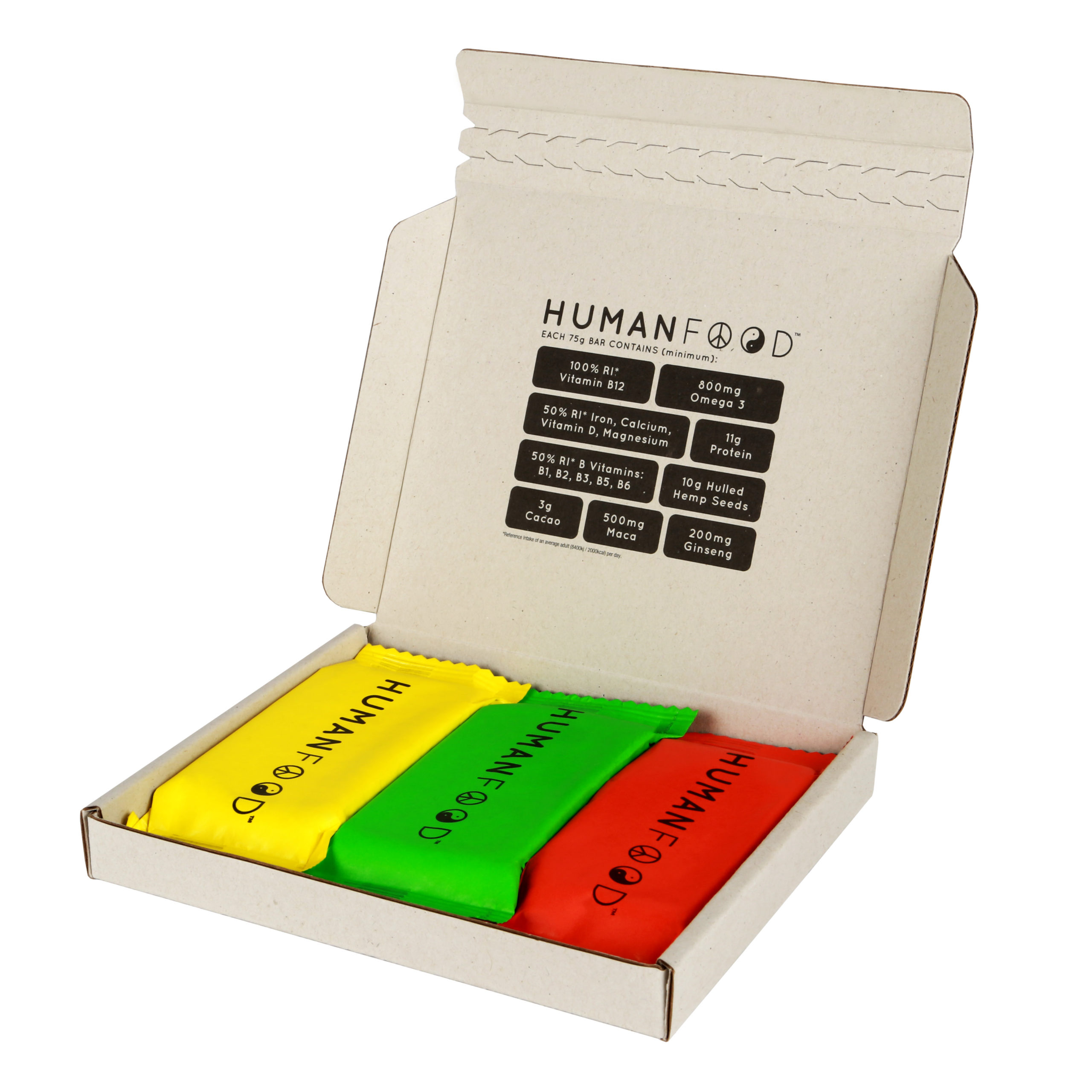 Human Food (https://humanfood.bio/) has created a range of vegan Organic Daily Nutrition Bars that make it as simple as possible for individuals to get the very best nutrition in order to support their overall wellbeing, boost immunity and increase cognitive function. Unlike other brands, Human Food deliversall of these benefits from whole foods, without the need for synthetic nutrients.
The brand's Organic Daily Nutrition Bars are the world's most nutritionally-dense organic food. Developed by a team of nutritionists and doctors, the bars combine 20 organic whole foods and whole food extracts, which have been carefully selected to provide the maximum functional benefits. Indeed, recent clinical trials by Swansea University have proved that Human Food's Yellow Bar, which contains 500mg of organic turmeric, can improve reaction times and decision making by 10%.
Human Food recommends enjoying one of its Organic Daily Nutrition Bars every day to provide a solid foundation from which to complete an optimal diet. The bars can be delivered directly to consumers' doorsteps and are hugely versatile and a quick, nutritious solution that is ideal at any time of day, whether as a snack to help sharpen the mind, stay focussed and increase productivity whilst working from home, or enjoyed crumbled on top of Bircher muesli or porridge as a nourishing breakfast.
Each bar provides:
•
100% RI Vitamin B12
– Human Food's
Organic
Daily Nutrition Bars
are the only products in the world to contain 100% organic, whole food-derived B12, as opposed to the Vitamin in a synthetic form.
•
50% RI Iron, Calcium, Magnesium, and Vitamins B1, B2, B3, B5, B6 and D
•
Other essential vitamins, minerals and nutrients, including:
Potassium, Phosphorus, Copper, Zinc, Manganese, Vitamin E, Vitamin C, Folic Acid, Omega 6 and Omega 9
Human Food's Organic Daily Nutrition Bars are available in three delicious and satiating editions: A fruity Red Bar, with organic Goji Berries, a subtly spicy Yellow Bar, infused with organic Turmeric, and a power-packed Green Bar, containingorganic Spirulina.
Human Food only uses 100% whole food–derived nutrients in its products, as these are packed with essential phytonutrients that are required for optimal absorption by the body. Wholefood nutrients are typically more bioavailable than synthetic equivalents; wholefood Vitamin E, for example, is absorbed by the body at over seven times the rate of its synthetic counterpart.
The Organic Daily Nutrition Bars contain no added sugar, sweeteners, preservatives, flavourings, synthetic nutrients, soy, grains, wheat, dairy or GMO's, are allergen-free and each one has all of its seeds whole to protect against oxidisation, which causes degradation in taste and nutrition.  
Human Food's Organic Daily Nutrition Bars (RRP: £3.30 per bar) are available to order directly to consumers' doorsteps via the brand's website (https://humanfood.bio/) and can bepurchased individually, as a two-week trial pack (RRP: £33.00) or as part of a monthly subscription (RRP: £66.00 for 20 bars).
Human Food are also currently offering 50% off to NHS and blue light emergency staff for the foreseeable future.
Website: https://humanfood.bio/
Instagram: @_humanfood_