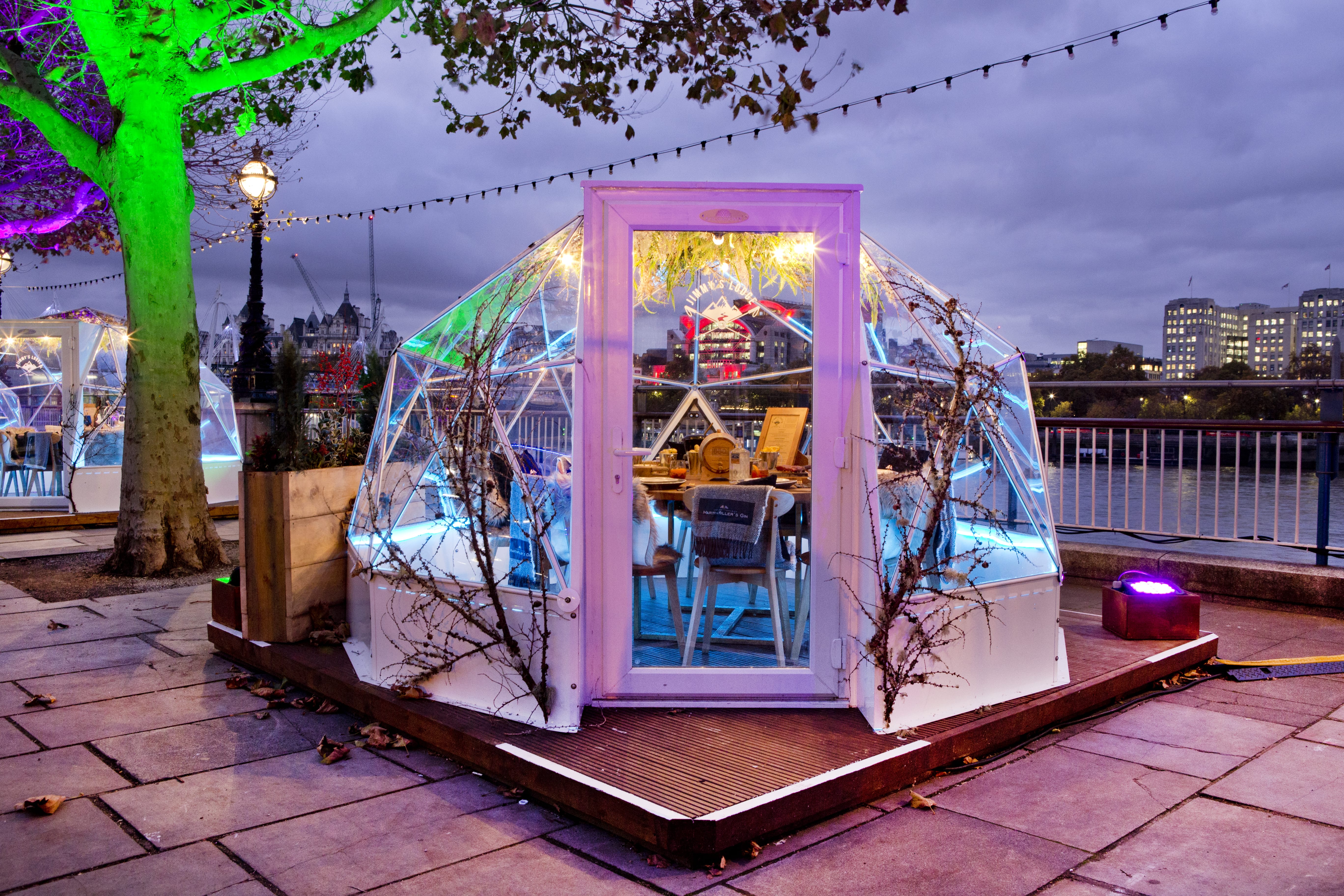 Jimmy Garcia's The Lodge with Martin Miller's Gin Review
OnIn.London's favourite winter restaurant Jimmy Garcia's 'The Lodge' is back! We were luckily enough to visit The Lodge for the third year running at the press dinner to experience what Jimmy has cooked up for us in 2019. This year, the experience is even more magical as they partnered with Martin Miller's Gin to install a gorgeous Northern Lights display. It is really stunning and for those who can't see the real thing themselves, it's the next best thing.
The display will also transport diners to Iceland from London with beautifully decorated private igloos in Icelandic textures to really bring the brand's provenance to life, topped off with appropriately themed cocktails.
There are four ways to enjoy Jimmy's Lodge and Martin Miller's Gin this winter with guests being able to dine in The Igloos or The Refuge Restaurant or eat and drink from the Alpine Bar and Chalet Snack Bar.
The Igloos – each hold a private dining experience for up to 10 guests to enjoy all the while relishing in the stunning views of the capital's South Bank. The perfect choice for Christmas parties and social get-togethers, guests will even be able to plug in their own playlist as they feast on the mouth-wateringly good menu.
The Refuge Restaurant is a cosy wooden cabin which seats up to 30 with unparalleled views across the Thames. Here guests can enjoy sharing flasks of hot cocktails, the gooiest fondue and the steak sharer options, which they can cook to their liking on hot stones before enjoying with a range of delicious homemade sauces and accompaniments. This is where we had the pleasure of eating and OMG! The food is incredible – splurge and go the full winter feast! You will not be disappointed. The steak itself is phenomenal.
Downstairs there's a relaxed vibe with the Alpine Bar serving up drinks including Martin Miller's Gin winter warmers and the Chalet Snack Bar. Snacks include festive street food such as the not to be missed Lodge Raclette Burger.
Given how amazing The lodge on the river is, it does sell out fast every year so book fast to avoid disappointment. To reserve your table please visit for more information and to book tickets please visit www.jimmyspopup.com
SOCIAL Instagram + Facebook @jimmyspopup #jimmyslodge @martinmillersgin_uk #beyondexpectation