Longflint and Wine & Rind's Cheese Pairing Review
Last Tuesday, we attended the first collaboration between Longflint and Wine N Rind https://onin.london/the-longflint-drinks-co-x-wine-rind/ 
We learnt all about Longflint Drinks Co. which was founded by Mark O'Reilly and James Law, along with brewer Shane McNamara. All three used to work together at Crate Brewery in Hackney Wick. The mixers are a hand-made range of tonics, seltzers and sodas, which are then matched with their favourite craft gins, rums, vodkas and mezcals. 
Each of the drinks were then matched with Wine & Rind Cheese in a delicious cheese and cocktail pairing masterclass!
The Longflint range we tried included:
Rose Hip & Gin Fizz: Rose hip, the fruit of the Rosa Canina (dog rose), provides citrus and greengage notes to this slightly bitter G&T. It's paired with Kew Organic Gin, made by the London Distillery Company using the finest organic botanicals and Longflint's house tonic #1 with natural quinine. This was the first drink we started with so it was matched with a goat's curd soffle chip canapé. The bold flavours of the cheese mixed with the amazingly unique kiwi jam was to die for. We were so glad extras were made of these as we couldn't stop eating them. 
Ginger & Rum Fuego: Along with a pressed ginger juice and Longflint's own dried red chilli tincture Rumbullion! This was one of our favourite drinks of the night. This was matched with Cooleeney Cow's Milk, Soft & Bloomy Rind Cheese.  It's the Irish version of Camembert with a bitter rind. 
Hibiscus, Gin Tonic: Cold brewed hibiscus flowers make a beautiful Spanish style gin and tonic packed full of red stone fruit flavours like plum and cherry. Featuring Longflint's house tonic #2, made with house-made lime water and natural quinine. This was my favourite gin based cocktail of the night. Super sweet and easy to drink – this would be the cocktail I could have drank all night. This was matched with @Ashlynn Goat's Milk Ash Rind Cheese. Weirdly enough if you drank the Hibiscus G&T with the cheese in your mouth, it tasted like cranberry Christmas cheese.
Grapefruit, Sour Cherry & Mezcal Paloma: QuiQuiRiQui mezcal provides the complex smoky base to Longflint's take on the Paloma. Blended with a cold pressed grapefruit juice and their thyme and rosemary vodka maceration. Mezcal is Tequila's smokey sister. It's not usually my go to drink, yet Long Flint's take on the Paloma was divine. Incredibly smooth and refreshing.  This was mixed with Petit Langres, Cow's Milk Washed Rind Cheese from France. Very strong cheese, that matched with the bold and acidic flavours of the Paloma. 
Negroni Sbagliato: Longflint's take on the Negroni is inspired by the longer, lighter Negroni Sbagliato where prosecco is used instead of gin. Longflint went further and added Sicilian blood orange juice to make this 'session Negroni' a little fruitier. My kind of Negroni to be honest. This was matched with Old Winchester, Cow's Milk Cheese from England. This was my plus one's favourite cheese of the night and she would have happily eaten more of this on the night.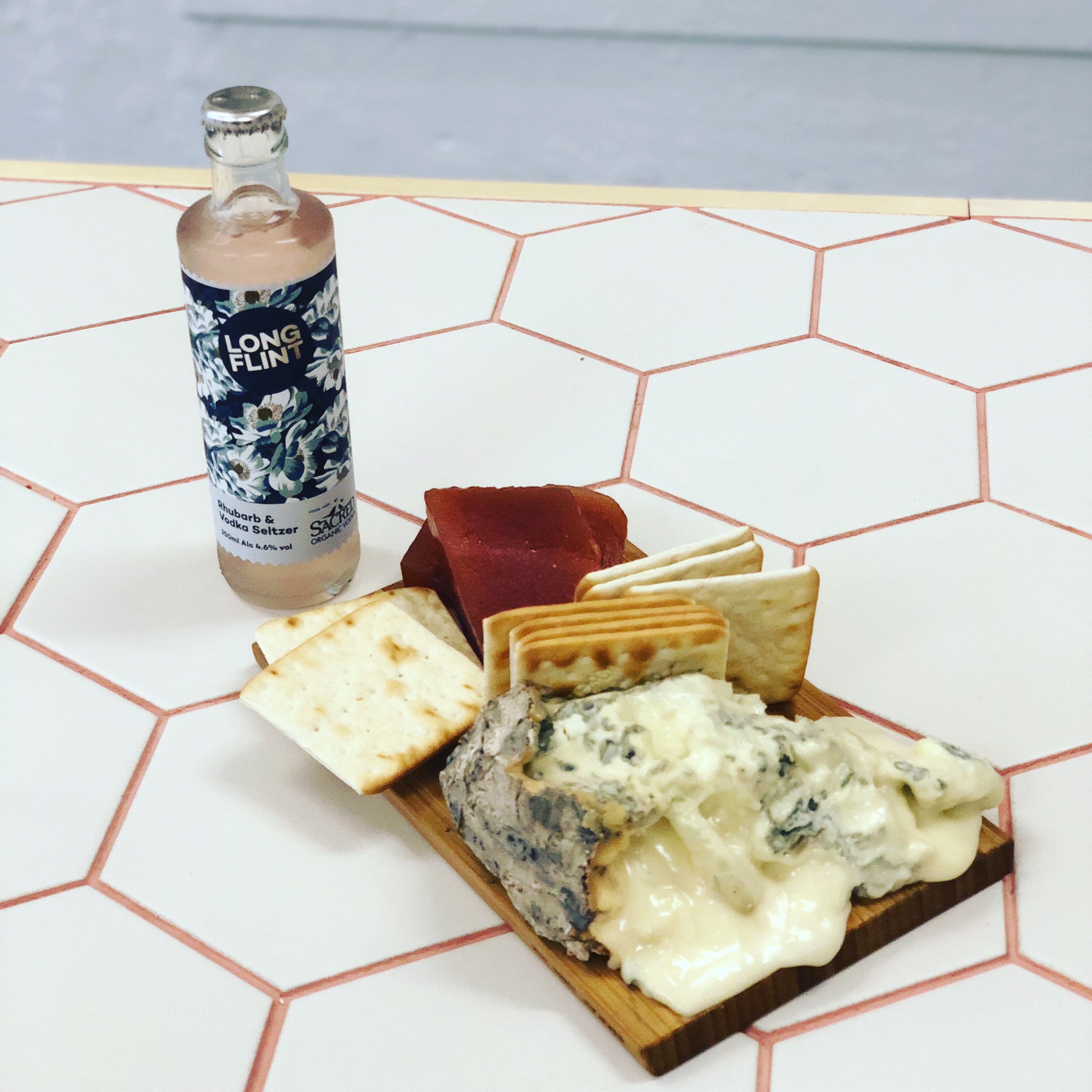 Rhubarb & Vodka Seltzer: Longflint's blends a pure British rhubarb juice with house-made vanilla tincture before combining with organic vodka from the Sacred Spirits Co. from Highgate in North London. Now this was matched with my favourite cheese of the night, a delightful and gooey Blue Gorgonzola Dolce from Italy with quince jam. It was amazing. I think I devoured most of it. 
To end the night we got to enjoy Holly's amazingly cheesy Cacio e Pepe toastie! I'm a sucker for a cheese toastie and this was so full of cheesy goodness and pepper, I was in heaven. We left with with a take home pack with a bottle of my favourite Longflint, a bag of Soffle chips. All this costs only £30 – pretty decent price!
The Longflint residency is on until the 1st of August 2018. There's two more cheese master classes available today and next Tuesday. Get booking now as they're well worth checking out – especially at £30 for the experience. You'll also be able to sample all these drinks at £5 per drink otherwise Longflint's range is available for purchase at Whole Foods, Selfridges, Mother Kelly's as well as in the tap rooms of Beavertown and Camden Brewery, and pubs like the People's Park Tavern in Victoria Park. Longflint is also available online via Amazon and directly from the website. 
Address: No.2 Rivington Street, Shoreditch
Longflint
Website: longflint.com
Event website: www.longflintsummer.com
Instagram: @longflint
Twitter: @longflint
written by Tegan LeBon
twitter and Instagram: @toogs1