PocketSquare Skyline and Terrace in East London is London's newest rooftop bar. 
Just minutes from Shoreditch, Brick Lane and Spitalfields, it's marketed as 'where the City meets the East'.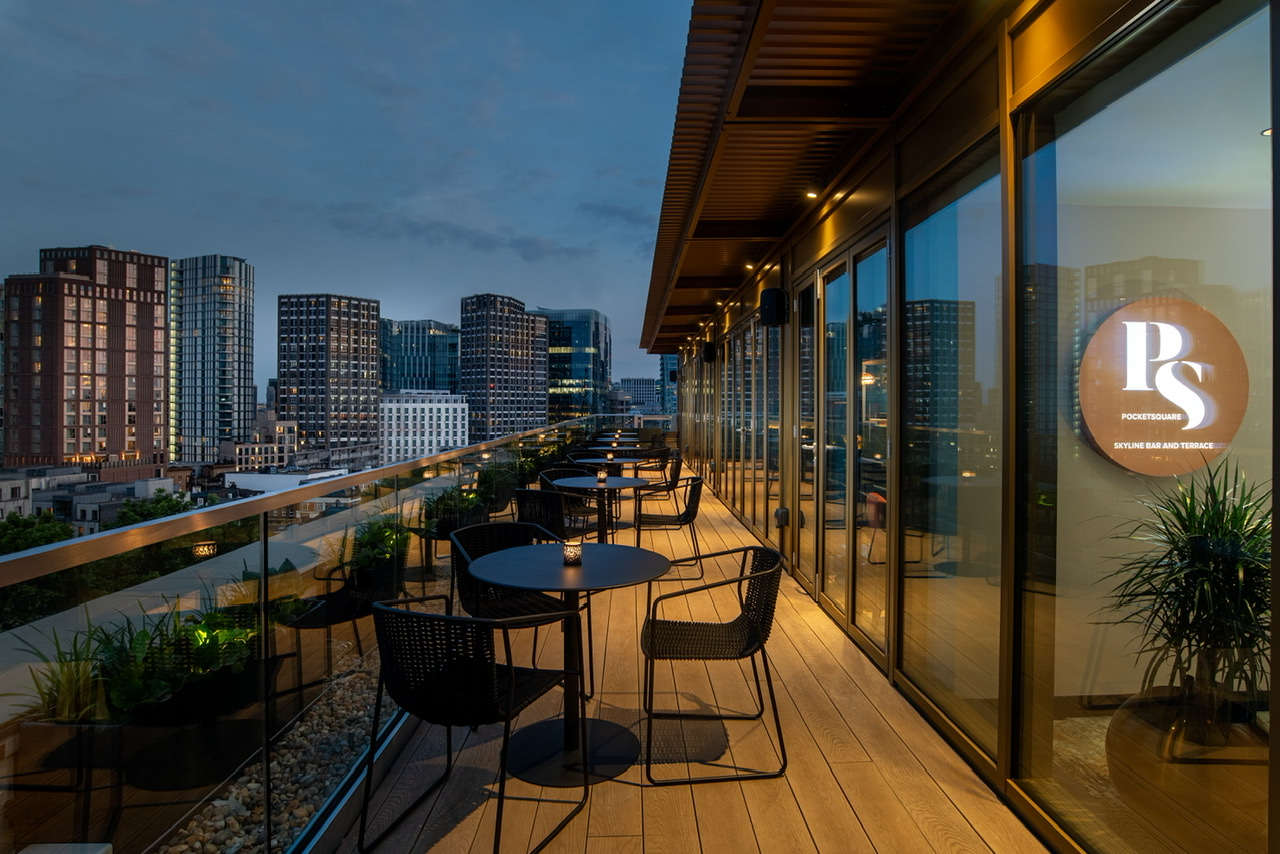 There are eight crafted signature cocktails  created in their own cocktail lab. All focus on the history and connection of where the city meets the East. For example 'Sedition' (£16) is a nod to the Navy, while 'Pepys Gold' (£16) is a nod to the famous diarist. The cocktails are unique, for example transforming pineapple leaves to bitters in 'Marketa' (£14), a whiskey based cocktail. 
Out of the eight cocktails, we sampled three. The first was 'Aqua Vita' (£14) comprised of Sauvelle vodka, banana liqueur and strawberry bitters. It takes its inspiration from Oscar Wilde's novel, The Picture of Dorian Gray. This was a strong, smooth cocktail. 'Mi Ire' (£14) features Appleton rum, Jamaican kombucha, orgeat (a sweet syrup) and lime.
Those who read ONIN regularly know we love our gin, so it's no surprise that our favourite was 'Taiyo' (£15). This features  Roku gin- a Japanese gin, Yuzu and plum wine. The name means sun or big ocean in Japanese and the cocktail was inspired by navigator William Adams, the 17th century's first Western samurai, whose  office at East India Company was located nearby.
Each cocktail is suggested to be paired with bite size food which also focuses on PocketSquare's location. For example Plantain chips with spicy tomato chutney (£4) are paired with 'Mi Ire'. The chips were a tasty snack to kick off the evening. For something a little more filling, try the salt beef sliders with beer onion chutney, blue cheese and rocket (£7). We really enjoyed the muddled meringue (£7). This dessert features fennel, lemon verbena,  raspberries and strawberries. It was light and fruity, and a great way to end the evening. It's suggested to be paired with 'Anonymous' (£16), a Campari based cocktail. Other food menu items include: tempura oyster, tiger prawn bao bun, candied bacon, vodka-infused salmon, and smoked cheese. For the full list of the cocktail and food pairings please visit PocketSquare London's website. 
The venue is open plan terrace with wood, copper, mirrors, velvet and coloured patterns which create an elegant, sophisticated look. London-based artist, Jay Kaes artwork adorns the walls. Located on the ninth floor of the Hyatt Place London City East, it's a lovely place to watch the city skyline of The Gherkin, 02 and towards Canary Wharf darken from evening to night. Its central location is great for after work drinks or relaxing weekend vibes. PocketSquare is also available for private hire for up to 80 guests.
PocketSquare is open Tuesday to Friday: 5pm – midnight And Saturday: 3pm – midnight. It is closed Sunday and Monday. From Thursdays through Saturdays there is a resident DJ and musicians. Access to the bar is on a first come first serves basis on the day, while tables can be booked for above five people in advance. 
Address: PocketSquare Skyline Bar and Terrace, 9th Floor, Hyatt Place London City East, 45 Whitechapel Road
Website: https://pocketsquare.london
Instagram @pocketsquarelondon
Email:  [email protected]london.
Phone: 020 8159 1234
Written by Caitlin Neal