Rabbies Tour – Oxford & The Traditional Cotswold Villages
Travelling around in the countryside can be idyllic, but lets face it, it can also be pretty stressful when you're on a day trip from London and you want to cover as much as you can in a small time frame, and not sure where to start… That's where the tours led by Rabbies can come in handy.
We got ourselves booked into an Oxford & Traditional Cotswold Villages – one-day tour with Rabbies, last month. We met our group at Victoria and boarded a 16 seat mini-coach, I was pleased that the group wasn't too big and also enjoyed the fact we weren't getting on a packed train to Oxford. Having a guide to drive us around and recommend all the best places to see, meant any stress was being taken out of our hands from the very beginning. Its also not the type of tour company where the tour guide holds an umbrella at the front of the group (they are the worse…)
Our guide, Peter, welcomed us with a smile at the Green line coach station in Victoria, he excitedly explained how the day would go when we were seated, and while driving through London, he gave us some interesting facts about the city and some of the buildings we passed. Once we got on the motorway, me and my friend had a nice little snooze. To then be woken up in the Cotswolds.
BURFORD
We arrived at Burford, which is very picturesque, we were dropped off near their high street, where we wondered up and down, visiting a traditional sweet shop, known as the Burford sweet shop, and the Huffkins bakery. If you walk away from the high street, you will come across some beautiful cottages and waterways. At this point we couldn't stop admiring at what we saw, it was truly beautiful. You can also visit St John the Baptist church, which is also off the high street.
BIBURY
In Bibury we came across a beautiful hotel, called The Swan hotel and then acres of beautifully greenery, bridges and lakes. I highly recommend you pack yourself a camera and go explore and take as many photos as you can, your memory card will thank you for it…
BAMPTON
Next stop was Bampton, any Downton Abbey fans will love this place, as they filmed some of the wedding scenes here. I've never seen an episode, but that didn't stop me from marvelling at St Mary's church. We only stayed here a short time to see the church, as there wasn't a huge amount going on in this part of Bampton. We then got back on the coach and headed to Oxford.
OXFORD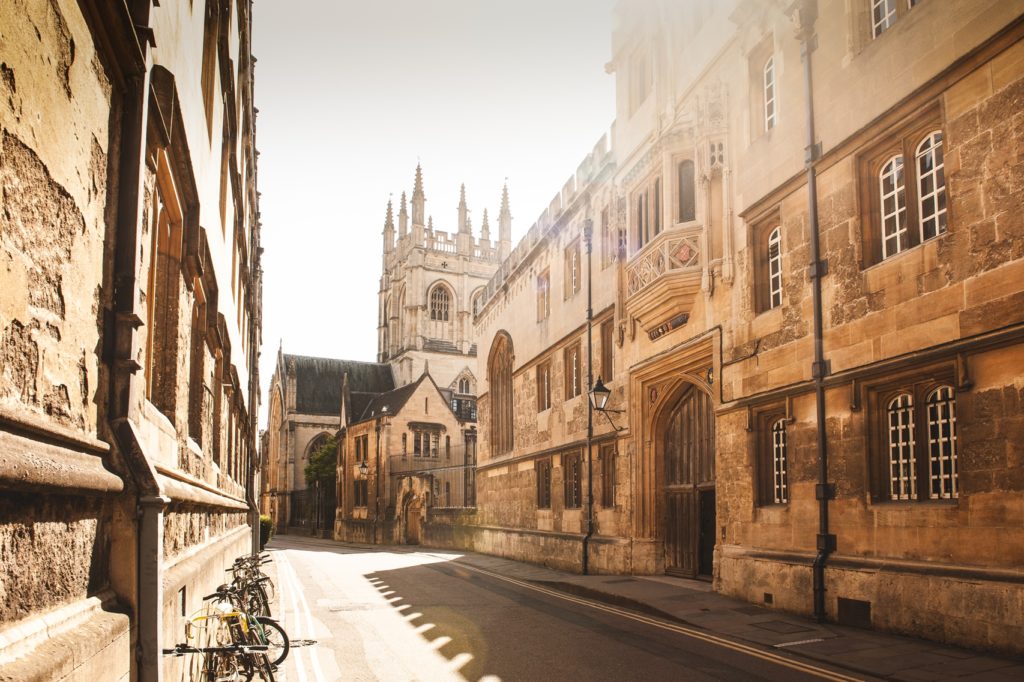 Our last stop was in Oxford, where we had over two hours to walk around and go see the sights. There is a lot to see and do in Oxford, so we had to be selective at what we wanted to see. At this point we were pretty hungry, so our first stop was a Thai restaurant called Thai street kitchen. I must say I was blown away by how delicious the vegetarian Thai Green curry tasted. This standard of food was a lot higher than some of the Thai restaurants I've eaten in London.
We then headed to the Great Hall of Christ Church collage, which is very impressive, its the only collage in the world that's also a cathedral, so definitely worth a look. The Bodleian library is just a short walk away, where we had a look from the outside. We also walked along the high street and came across an indoor market, trying to pack in as much as we could.
Other sights to see include: Oxford university, they do book walking tours but with a short two hour stop, I'm not sure you would want to spend your whole time walking around oxford university, so perhaps that tour can be for another day.
Although we didn't get to see the following, here are just a few suggestions on places you may want to visit: Ashmolean museum, Pitt Rivers museum, and Keble collage. At around 5pm we were back on the mini-coach and heading back to London. Our guide was informative the whole trip, friendly and very knowledgeable on all areas. It was a very enjoyable day, and to be honest, we were a little sad it was coming to an end… I guess next time we need to book ourselves into a longer trip with Rabbies.
Take the stress out of your trip and get yourself booked in with Rabbies, I will also add, at no time, did we feel tied to the group, once the coach doors opened we were free to explore freely and were not tied to walking in a group.
Price: From £52 per person
To book online, visit: https://www.rabbies.com/en/england-tours/from-london/day-tours/oxford-traditional-cotswold-villages-day-tour
Written by Nyla S.