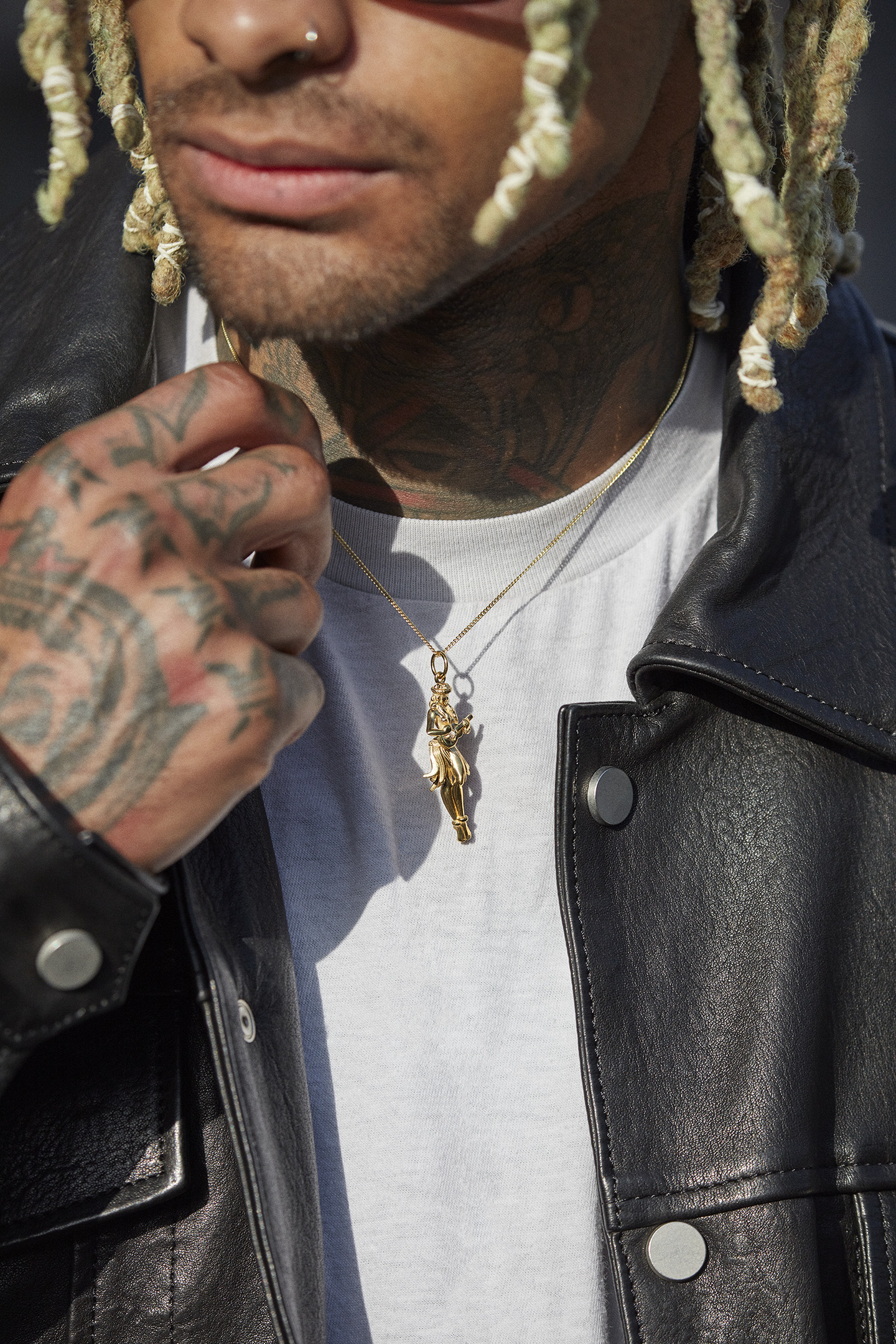 SAILOR JERRY AND HATTON LABS PAY HOMAGE TO THE LEGACY OF NORMAN COLLINS
Sailor Jerry x Hatton Labs capsule collection is live online. The highly exclusive and limited line honours the legacy of Norman 'Sailor Jerry' Collins.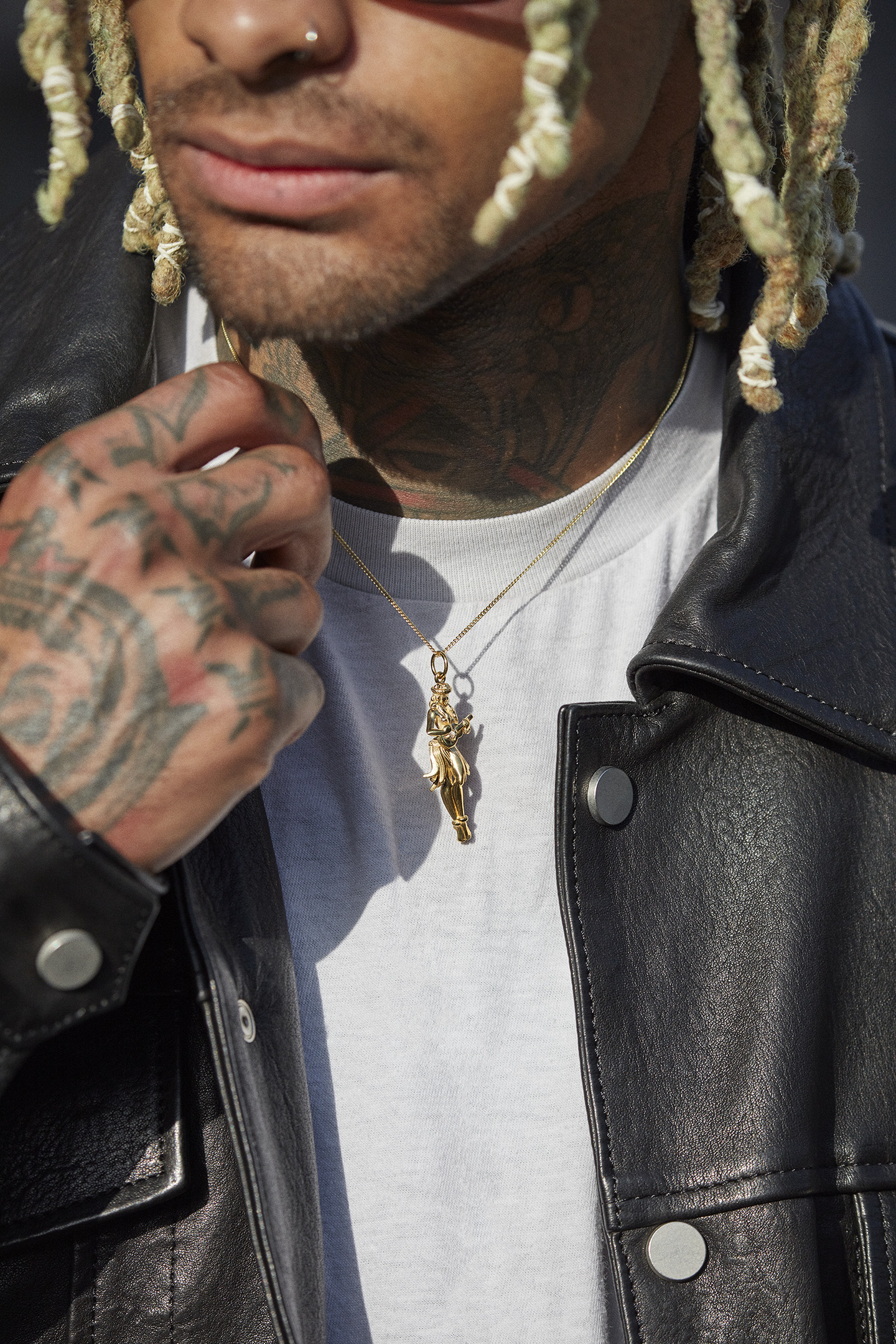 Through his refined, stylistic and iconic work from 1940-1970, Sailor Jerry combined vivid colour, bold iconography and sheer artistic ambition to create a new kind of tattooing. These notions have been emulated wholeheartedly by London-based jewellery brand, Hatton Labs, for a limited-edition capsule collection.
The set of unisex pendants, rings and earrings feature five of Sailor Jerry flash icons cast in precious metals and set with opulent coloured gemstones. Sharp 18k Rose Gold pieces are starkly contrasted with gentle Blue Topaz. Warm 18k Gold pieces are set with vibrant, juicy Watermelon Tourmalines – a gemstone newly added to the Hatton Labs portfolio for the collection.
Finally, soft Sterling Silver pieces are finished with rich Amethysts – a nod to Sailor Jerry's innovation and creation of purple ink in the tattooing world. Archives reveal that, in a bit to show up a rival artist, Sailor Jerry worked with an inking company to create, for the first time, Carbazole Violet; the first purple ink. The ink was only used on those he felt could be trusted with the secret of its origin, making it an exclusive addition to any body and an elusive story to tell.
Each flash icon in the jewellery collection has been meticulously selected by Hatton Labs from hundreds of Sailor Jerry archive iconography images and photographs to encapsulate classic Americana culture whilst also nodding to the underground, modern day subcultures that are prevalent today. Old-school tattoos are rooted in the American serviceman's interpretation of traditions and symbols that go back thousands of years. Every tattoo or 'Flash' is a personal statement, but there are certain common meanings.
The Hula Girl, emblem of Sailor Jerry and recognised icon all around the world has been finished as a jewellery piece with exquisite detail. From her traditional Hawaiian Lei to her Ti leaf grass skirt and guitar, set with a gemstone at its heart, the piece nods to Collin's time living on Hawaii from 1930 and building his tattooing legacy.
The Monkey, named 'Romeo', is actually inspired by Sailor Jerry's own pet monkey of the same name. Romeo was part of Sailor Jerry's life as a sailor, stemming from the tradition of bringing home exotic pets from distant lands. Romeo was a constant source of entertainment to artists and guests, with an unsavoury habit of bending over and 'mooning' customers as they walked in, hence his cheeky gemstone placement.
The Pin-up Girls each clasp a stone in their hands and wear killer heels, dangling delicately from a long pendant. Pin-up girls represent the ideal and extremes of femininity — from maidenly perfection to vixen-ish temptation. The woman inked on a sailor's arm would be the only feminine form he would see for months. Sailor Jerry's bold, refined style of the pin-up is iconic the world over, and reimagined here in tough, solid metals.
The Shark Pendant and Shark Ring are the weightiest of the collection, cast in solid metal and featuring a huge emerald-cut gemstone bared in its enlarged jaw. Animal tattoos are about taking on its traits. A lion shows you're brave, a panther shows you're tough. But a shark is more about what you overcome and that you're willing to stand your ground. It says you're not about to become someone else's seafood.
The Shark Pendant will be the only icon continued into early 2021, sold via www.hattonlabs.com.
The Sailor Jerry x Hatton Labs collection is available to purchase from www.sailorjerryxhattonlabs.com. Prices range between £185.00 to £7,500.00
Key pieces with semi-precious gemstones
• Sterling Silver icons with Purple Amethyst – £185.00
• 18k Yellow Gold plated icons with Watermelon Tourmaline – £215.00
• 18k Rose Gold plated icons with Blue Topaz – £215.00
One-of-a-kind featuring precious gemstones
• 18k Solid White Gold Hula Girl with White Diamond Sound hole – £2,500
• 18k Solid White Gold Shark with White Diamond eyes and Emerald Baguette jaw – £7,500.00