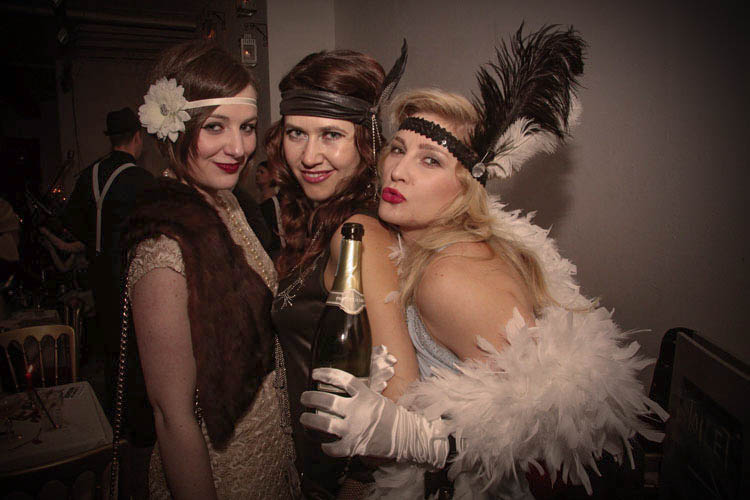 It's the Roaring 20's again so Onin.London thought it was time to learn more about London's secret 1920s party. The Candlelight Club is a pop-up Prohibition-era speakeasy in a secret London venue completely lit by candles. The parties move around the city at different locations and each event offers an elegant cocktail menu, dining options, dancing to live jazz bands, retro-DJs and cabaret performances. And everyone dresses the part.
The parties began in the summer of 2010, when Clayton Hartley was throwing a party for retro-dandies of the New Sheridan Club, a home for eccentric vintage enthusiasts, when he met an American man with a background in hospitality.
This opportunity allowed Clayton to begin hosting parties with an emphasis on cocktails, changing the menu each time and in keeping with the speakeasy theme the parties would be held at a secret location, revealed to guests two days beforehand. The venue happened to have a lot of candlesticks which gave them the idea of lighting the place entirely by candles—as a makeshift warehouse speakeasy might have no electric lighting. The first time they light the candles and turn off the lights they have no idea if you'll even be able to see in there, but the effect is amazingly atmospheric.
Now in its ninth year, the Candlelight Club continues to offer the chance to step back into the glamour of the Gatsby world for one night. Award-winning mixologist David Hamilton Boyd is now in charge of food and drink and the experience continues to evolve. The Candlelight Club's jazz and swing bands have now been joined a growing element of cabaret, featuring London's wonderful network of fantastic singers, dancers, burlesque artists, acrobats, jugglers, magicians and more—all dedicated to giving you a night of up-close vintage entertainment.
OnIn.London will be attending the March 14th The Candlelight Club event so keep an eye out on the site for our thoughts after we visit. To buy tickets visit https://www.thecandlelightclub.com 
Ticket prices range start at £25 and there are a range of drink and food package options available.
Written by Tegan LeBon