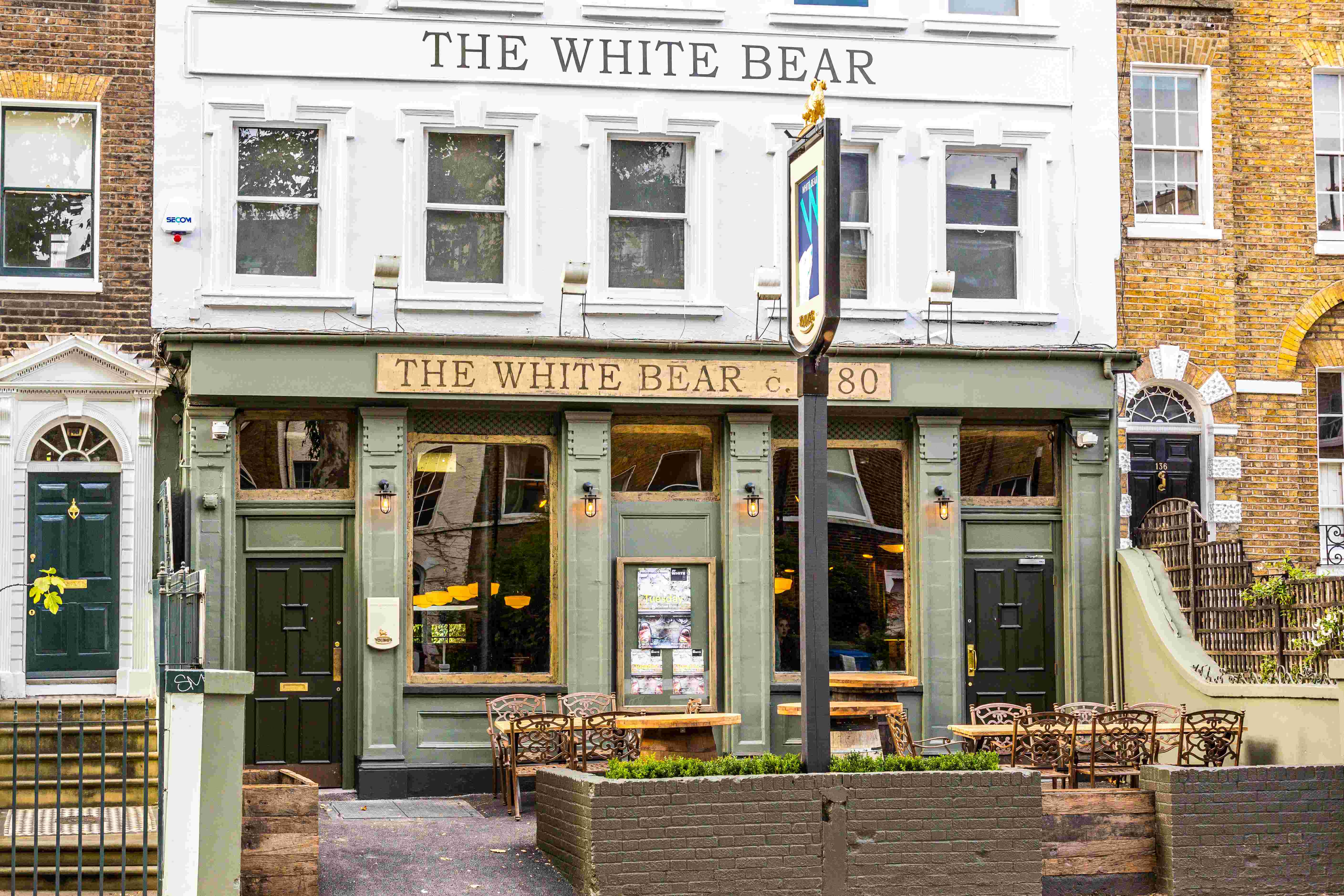 The White Bear in Kennington Review
After a long Monday at work, I was looking forward to nothing more than a hearty British Pub meal. So to be invited down to The White Bear in Kennington was an absolute blessing. Before dinner I got to meet the manager who informed me that the venue has a theatre upstairs and the pub will be starting a quiz night soon. This is pretty cool as the venue is fantastic. Now I've been to a few of Young's Pubs lately and it always amazes me how different each of the venues are.
In this case, The White Bear features an eclectic mix of antiques, royal memorabilia and intriguing artefacts. My friend and I enjoyed looking around the pub while we sipped the utterly delicious White Rabbit Riesling and waited for our meals. I know I really should try a different wine whenever I'm out but the White Rabbit is fantastic.
As my friend is celiac so luckily our helpful waiter provided him with the different he could had. There wasn't a great deal of options but he did manage to find a starter, main and a dessert. For our starters, we both went with something light as we knew our mains were going to be huge. I ordered the Salt beef croquettes with pickled cabbage and my friend ordered the Smoked Mackerel and Beetroot Salad with apple and horseradish. Now I loved my Salt Beef Croquettes. They were the perfect creamy bite size morsels of goodness. While my friend enjoyed his salad, it did have a very strong fish flavour. Not unusual because it's Mackerel but he felt that it overwhelmed the other ingredients in the salad.
Our mains were definitely the winning meals of the night and as predicted absolutely massive. I'm surprised we could both walk out of the pub after eating them. My friend ordered the Black Angus sirloin, mushrooms and tomatoes, chips, Béarnaise sauce and he couldn't get over how big his steak was. There was so much food on his plate. he was in steak heaven for sure.
I've never had Beef Wellington but as the manager recommended it and it's what The White Bear is famous for, I thought I better give it a go. When asked how I wanted it cooked, medium or well done… this is where I struggled a bit. I'm often told off for over cooking red meat, so I put on my brave face and ordered the Beef Wellington Medium. It was a decision I did not regret. It wasn't hard to see why it's a popular dish on the menu. It was so full of flavour, cooked to perfection and had the right amount of pepper that gave it that something special. I'd definitely recommend a side of mash to go with it though and I wish I'd thought of it before I'd eaten it all.
For dessert, I went with the Banoffee Pot, though the Bakewell Tart was calling my name. You can't go past any dessert that serves up caramel, chocolate ice cream, shortbread and cream with a slice of banana cake. It was pure decadence and totally ruined my New Year's resolutions to diet. My friend had to go a little less adventurous given most of the dessert menu, he couldn't eat and went with chocolate ice cream. Though even if he could eat everything on the dessert menu, he would have chosen the ice cream anyway. It's his favourite dessert.
If you're looking for superb pub food, impeccable service and a chilled relaxed atmosphere, look no further than The White Bear. I'm already wanting to head back in summer to have drinks in their beer garden. It's only a short walk from Kennington Station, Oval Station or Elephant and Castle Station so there's no excuse not to visit.
Reporter: Tegan LeBon
Twitter and Instagram: @toogs1
The White Bear
138 Kennington Park Road, Kennington, London SE11 4DJ
020 7735 8664
whitebear@youngs.co.uk
https://www.facebook.com/se11whitebear/
https://www.instagram.com/SE11whitebear/