A season of fresh handmade Lush floristry events are coming to London! 
From September through to December, Lush's largest London shop on Oxford Street will be hosting an array of seasonal floristry events with their in-house florist, Harriet. Events will include Halloween bouquets, Autumn wreath making and their highly anticipated Christmas wreath making workshop!
All of the flowers featured in the Lush Oxford Street florist are seasonal, local, traceable and responsibly packaged using 100% compostable packaging. All events will be hosted in Lush's largest London shop on Oxford Street, which spans over three floors and includes a plant-based Cafe, a luxurious Lush Spa offering 12 different treatments and their locally sourced flower shop.
Flower power is the force behind much of what Lush does and an abundance of blooms go into making their fresh products that work more effectively thanks to Mother Nature. So it was only natural that eventually things would blossom into the world of bouquets.
Book and find further information here. 
Prices start from £35
DATES FOR YOUR DIARY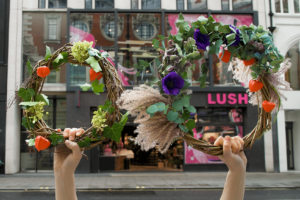 Lush Oxford Street B.Y.O.V (Bring Your Own Vessel) Flower Bouquet Workshop
Date: Saturday 10th September at 11am, 1pm, 3pm
Price: £35
Lush Oxford Street Halloween Flower Bouquet Workshop
Date: Saturday 29th October at 11am, 1pm, 3pm
Price: £35
Lush Oxford Street Autumn Flower Wreath Making
Date: Saturday 12th November at 11am, 1pm, 3pm
Price: £45
Lush Oxford Street Autumnal Flower Bouquet Workshop
Date: Saturday 26th November 11am, 1pm, 3pm
Price: £35
Lush Oxford Street Christmas Flower Wreath Making
Date: Saturday 17th December at 11am, 1pm, & 3pm
Price: £45