Christmas is looking mighty savoury this year – here are some fantastic CHEESE-themed goodies to try
Feeling more savioury than sweet when it comes to Christmas snacks?
If cheese is what you're after, Snowdonia is where you'll find it. The brand, run by sons of third-generation farmers, offer some of the most delectable cheddar and Red Leicester cheeses in the UK, made in North Wales.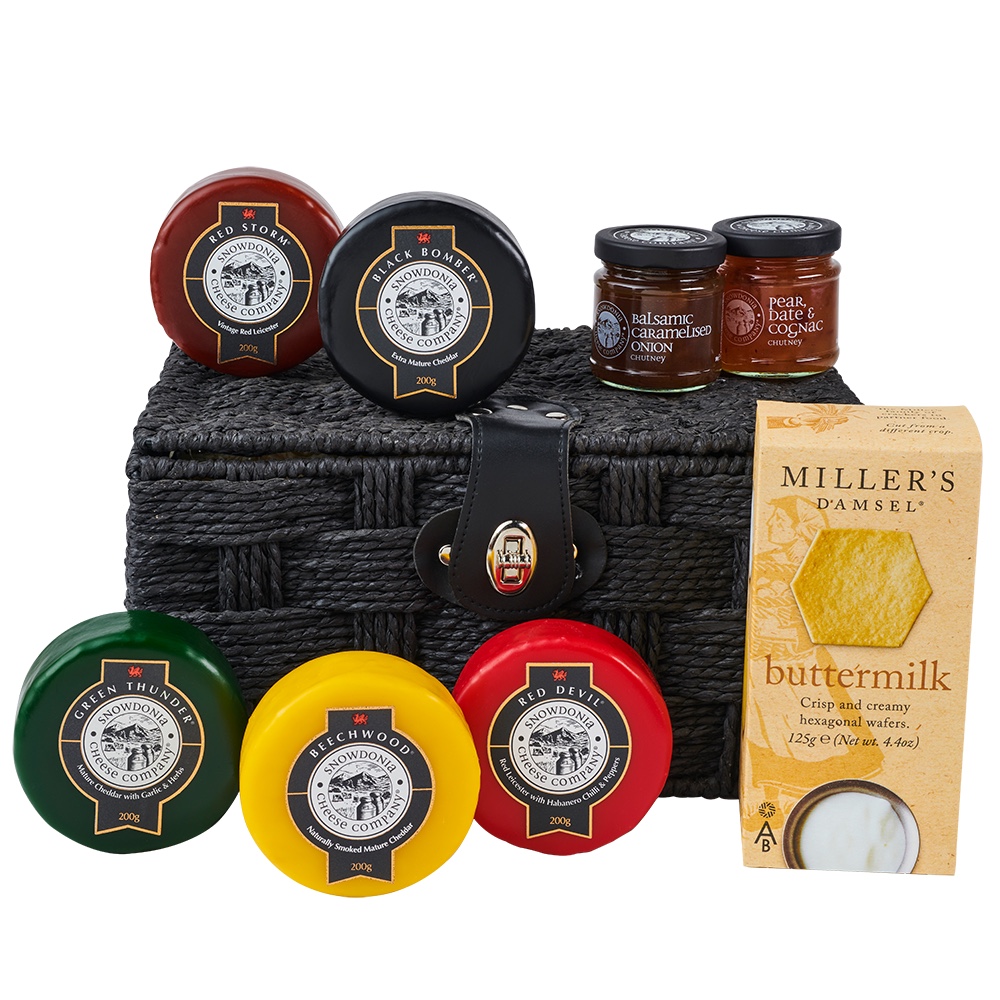 In 2021, you are spoilt for choice with multiple hampers up for grabs – and they're offered at decent prices too, ranging up to £150.
Let's start with the cheapest, dubbed the Quintessential Hamper.
At £40, it's a nice option filled with four classics: Black Bomber (extra mature cheddar), Red Storm (vintage Red Leicester), Beechwood (smoked mature cheddar) and Red Devil (Red Leicester with habanero chillies and peppers). Plus chutneys and a box of buttermilk crackers, presented in a stylish black hamper.
No muss, no fuss, but plenty of flavour.
For something a tad fancier and for the vegetarians of the household, there's the Vegetarian Christmas Star Hamper (£75). A luxury hamper, you'll find plenty of fromage inside, such as Rock Star – a new vintage cave-aged cheddar – olives, crackers and caramel truffles.
Pair your treats with a glass of Casa Silva Los Lingues Carmenère Reserva 2019 from Chile (there's a full-sized bottle included).
Finally, if you really want to go all out with the cheese theme for the holidays, we recommend the Luxury Festive Champagne Hamper. Priced at £150, it's a little expensive but not when you consider the contents.
As the name suggests, there's bubbly included – a bottle of Gardet Brut Tradition Champagne – as well as the finest cheeses Snowdonia has to offer, from Black Bomber to Truffle Trove (we've tried it, it'll melt in your mouth), Rock Star to Cropwell Bishop Blue Stilton.
Slather Rhubarb & Gin or Fig & Apple chutney onto your Gavino Olive Oil Biscuits with Rosemary & Salt, before digging into the The London Honey Co. Pure Honey British Summer Honeycomb.
There's even a slate board included, alongside plenty more goodies.
Snowdonia isn't the only brand bringing the cheese vibes for Christmas. Let us introduce Cartwright & Butler – best known for its biscuits, confectionery, preserves and tea – but for this year, we'd like to highlight the brand's fromage items.
Let's start with the actual cheese. For just £12, you can munch on Sunday Best Farmhouse Lancashire, Blacksticks Blue and Button Mill – share with the family if you're feeling the festive spirit or be a greedy Grinch (we won't judge).
Of course, no cheese board is complete without crackers and a glass of red.
Opt for the Cheese & Wine Night Selection hamper, filled with goodies such as cheese seeded flatbread crackers, water biscuits with sea salt & black pepper, onion chutney, Roquefort melt bites, baked & salted mixed nuts and a bottle of Cielo del Sur Merlot.
More cheese too, obviously – a tasty Godminster organic cheddar cheese.
If you feel like splurging, there's also the Ultimate Cheeseboard Hamper with White Wine. The name is pretty self-explanatory but let us give you some detail.
Inside, you'll find Gouda cheese melts, seeded beetroot flatbread, wafters for cheese with sea salt & black pepper, cheddar cheese biscuits, cheddar cheese straws, red onion chutney, tomato & chilli chutney and mint imperial sweets – just in case you need something to cut through all that cheesy goodness.
Not to leave vegans out, Cartwright & Butler has also added the Ultimate Vegan Gift Hamper (£42) featuring both savoury (seeded flatbread beetroot crackers and caramelised onion chutney) and sweet (rhubarb & custard sweets, dark chocolate drinking chocolate and strawberry preserve) snacks.
There's plenty more from both brands to try, have a gander of their respective websites to find your favourites.
Whether you go all out or try just a few bits, in 2021, have yourself a very cheesy Christmas.
Find cheese here: https://www.snowdoniacheese.co.uk/product-category/christmas/
Find crackers and other bits here:https://www.cartwrightandbutler.co.uk/christmas