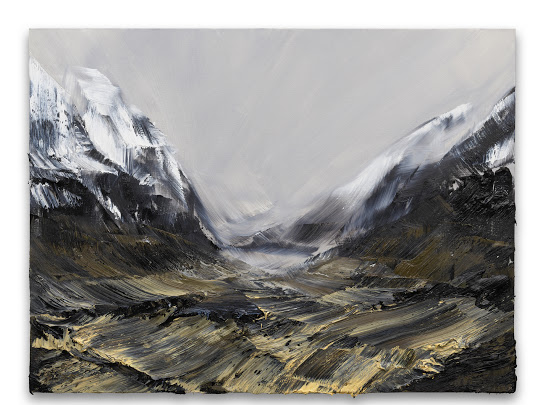 Conrad Jon Godly's To See is Not to Speak Exhibition At Mayfair's JD Malat Gallery.
Celebrated Swiss painter, ​Conrad Jon Godly brings the majestic alps to London from Friday 25th January – Saturday 2nd March 2019 with his first UK solo show, To See is Not to Speak at Mayfair's JD Malat Gallery.
Godly was born in Davos, Switzerland and studied as a painter at the ​Basel School of Art from 1981 until 1986. Having recently been to Basel, I probably saw some of his art work displayed in some of the galleries and museums we visited. Especially as Godly has exhibited all over the world, from Asia to Europe and has important collections at the Swiss National Bank, UBS Bank, Credit Suisse, Julius Bar Bank ​and​ DAVOS Collection.
The Exhibition at JD Malat Gallery showcases 15 stunningly beautiful pieces of abstract and hyperreal photo-realistic mountains. Up close, viewers can enjoy Conrad's thick and heavy impasto marks, with frosty pols mixed with turpentine and his trademark wide, sculptural brushstrokes. But step back, and you might be looking at a photograph, staring down a misty precipice or gazing up at snow-capped peaks.
Godly lives between his native Switzerland and Japan, where he learned the art of mindful appreciation. This has had a huge impact on his art and inspired the title of the exhibition ​To See Is Not To Speak ​taken from Japanese author, Kobayashi Hideo's quote: "To see is not to speak, because words could distract your eyes."
Music also has an integral part of Conrad's meditative painting process, setting the mood and tone. Each piece is completed within a day, with quick, energetic brushstrokes and this exhibition of 15 pieces – ranging from 150cm by 130cm to 200cm by 250cm – took two months to complete. The thick paint lends a powerful, 3D sculptural quality to the pieces, interacting with the light in the room, and allowing gravity to pull the oil into icicle-like drips at the base of the canvas.
To visit the exhibition, head down to Mayfair now.