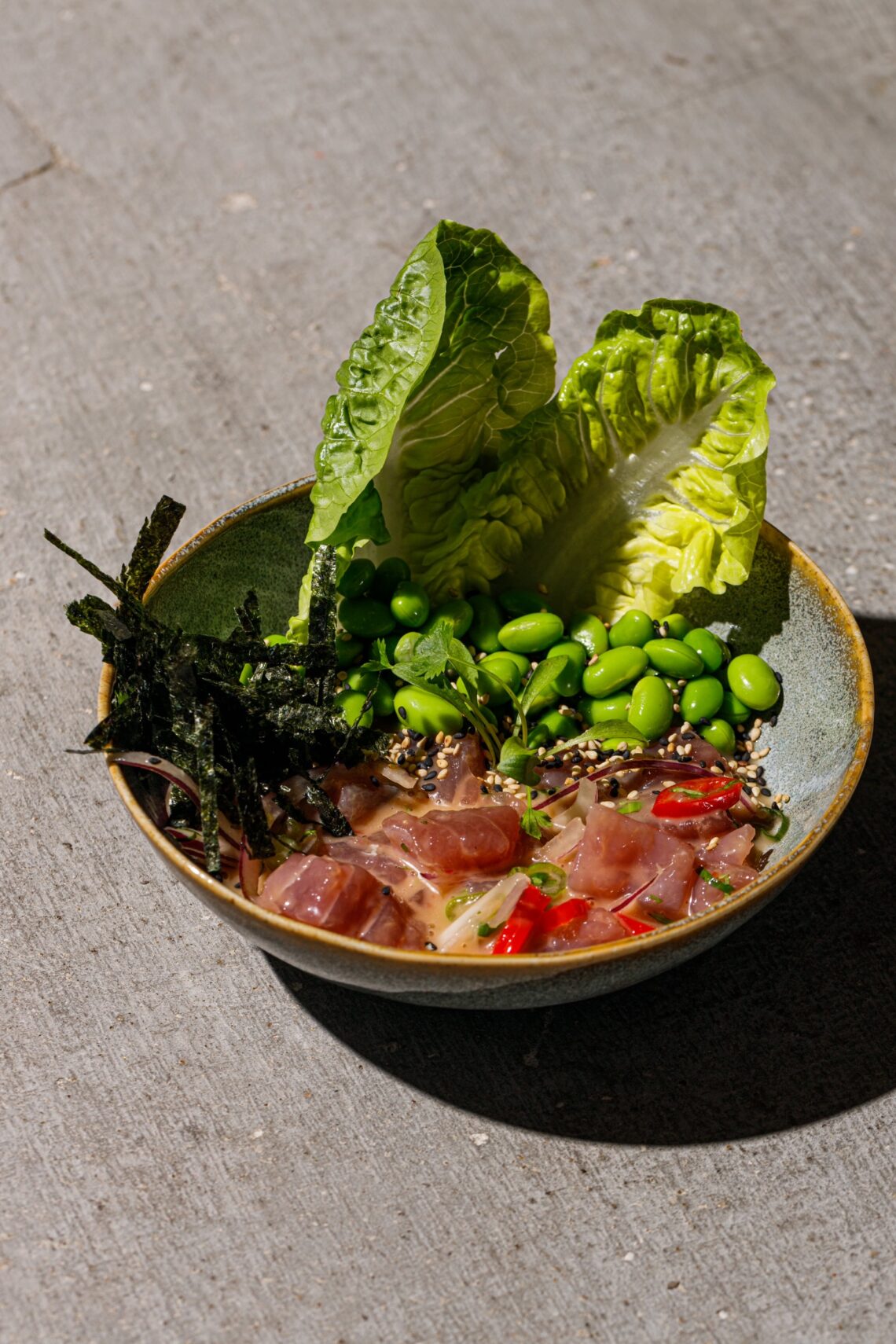 Crudo Fitzrovia: A standout Cevicheria experience
Ceviche maestros, Crudo, recently announced the moving of their Riding Street location to central and glamourous Fitzrovia. The move marks more dining space, as well as an addition of a small wine shop on-site.
Ideal for on-the-go lunches, and a perfect first date spot, the simplistic design of the interior, complemented with light woods and minimalistic design touches, creates a really atmospheric setting.
On arrival, we were greeted by the restaurant manager who gave us a tour of the compact, but neat space. The highlight was the tiny downstairs kitchen. We were blown away by the creativity and taste of the dishes, emphasising chefs don't need lots of room to make magic happen!
The menu is a delicate mix of snacks, small plates, cevichesand tiraditos which guests are encouraged to share. Alternatively, you can order ceviche bowls for a larger dish experience.
We decided to order a mix of dishes from each section of the menu and settled on Guacamole & Chips and Avocado & Beetroot Tartare to start. The Beetroot Tartare was a real spotlight stealer. A delicate mix of crushed avocado and cubed beetroot on a bed of beetroot jus. The dish was light and fresh as well as beautifully presented.
From the ceviche options, we chose a Sea Bass Ceviche with tradicional leche de tigre, edamame & nori seaweed, as well as a Salmon Ceviche with ponzu leche de tigre, jalapeño, cucumber, avocado and cherry tomatoes. Both were incredibly delicious, colourful and again extravagantly presented. These are dishes you would be proud to order to make a good first impression.
Next up were the tiraditos and we decided on the Octopus Tiradito with Peruvian criolla sauce, lime & La Vera Valley smoked paprika, as well as the Tuna Tiradito with orange-ponzu sauce, red chilli and crispy quinoa. One thing that really stood out about these dishes were the incredibly reasonable prices given the size of the plates. The Octopus was gorgeously presented with a soft smoky taste and likewise, we had no complaints about the Tuna which was zingy and fresh.
We wouldn't normally go into too much detail about a simpleside dish, but there is nothing simple about the Roasted Sweet Potato. This dish is baked and salted in a aji panca butter and is naughtily indulgent in all the right ways.
It would be frowned upon to visit a Cevicheria and not indulge in some epic cocktails. During our visit we tried the classic Pisco Sour (one of the best I've had) and a Smoky Jalapeño Paloma which really pulled out the flavours of the raw fish. Full from the big portions, instead of dessert we opted for a Mezcal Negroni which was really delicious. I can sometimes find Mezcal overwhelming, but this was the perfect smoky, deep and sexy post-dinner drink.
A range of cerzeza and soft drinks are also available, but the best way to lead your visit to Crudo, is by paying a visit to the small wine shop in the back of the restaurant. The pride and joy of co-owner Maria, the tiny wine shop is filled with wines from across the globe. Her trusted suppliers include Wanderlust and Pure Wines who specialise in organic and natural wines. With refined, high quality wines starting from £10, guests only have to cover corkage to enjoy in-restaurant, or why not take a bottle home with you?
Crudo, Fitzrovia
Monday – Saturday 12:00 – 10:00 pm
written by Kara Buffrey