Cymru am byth: Disney+ and Uber Eats give Welsh dishes the Hollywood treatment for 'Welcome to Wrexham' S2
Uber Eats has teamed up with Disney+ to create the world's first Welsh x Hollywood fusion menu, 'The Wrexham Tastecourse', in celebration of the return of Welcome to Wrexham to UK screens. 
'The Wrexham Tastecourse' will offer a seven-course tasting menu to share, bringing together traditional Welsh dishes fused with Hollywood glamour, with its name drawing from the club's historic football ground and inspired by Ryan Reynolds and Rob McIlhenney's Hollywood attitudes.

Available while stocks last, the free tasting menu dishes include a Leek Cleanse – Welsh Coast pâté made with smoked oyster & laverbread, to the Glamorgan Glam-Dog – a fusion of the American corn dog and Welsh Glamorgan sausage featuring Welsh leeks and lamb and served with truffle mayo. Also on offer are a Welsh wagyu steak & champagne pie topped with Welsh wine caviar, savoury Rarebit Cheesecake, gourmet Bara Brith and a mocktail aptly titled 'The Sweet Taste of Promotion' to finish – 'lechyd da' to that!
From 28th September, Wrexham fans in London, Manchester, Bristol and the (recently crowned) city of Wrexham itself can order the 'tidy' tasting menu via the Uber Eats app.
Wrexham's start to the season has seen the team adjust to their time back in the football league. With some high-scoring games under their belt, so far the club have definitely delivered when it comes to entertainment. The Red Dragons are leaning into their Hollywood fame with new blockbuster signing, Steven Fletcher, who fans will be hoping can produce some box office performances.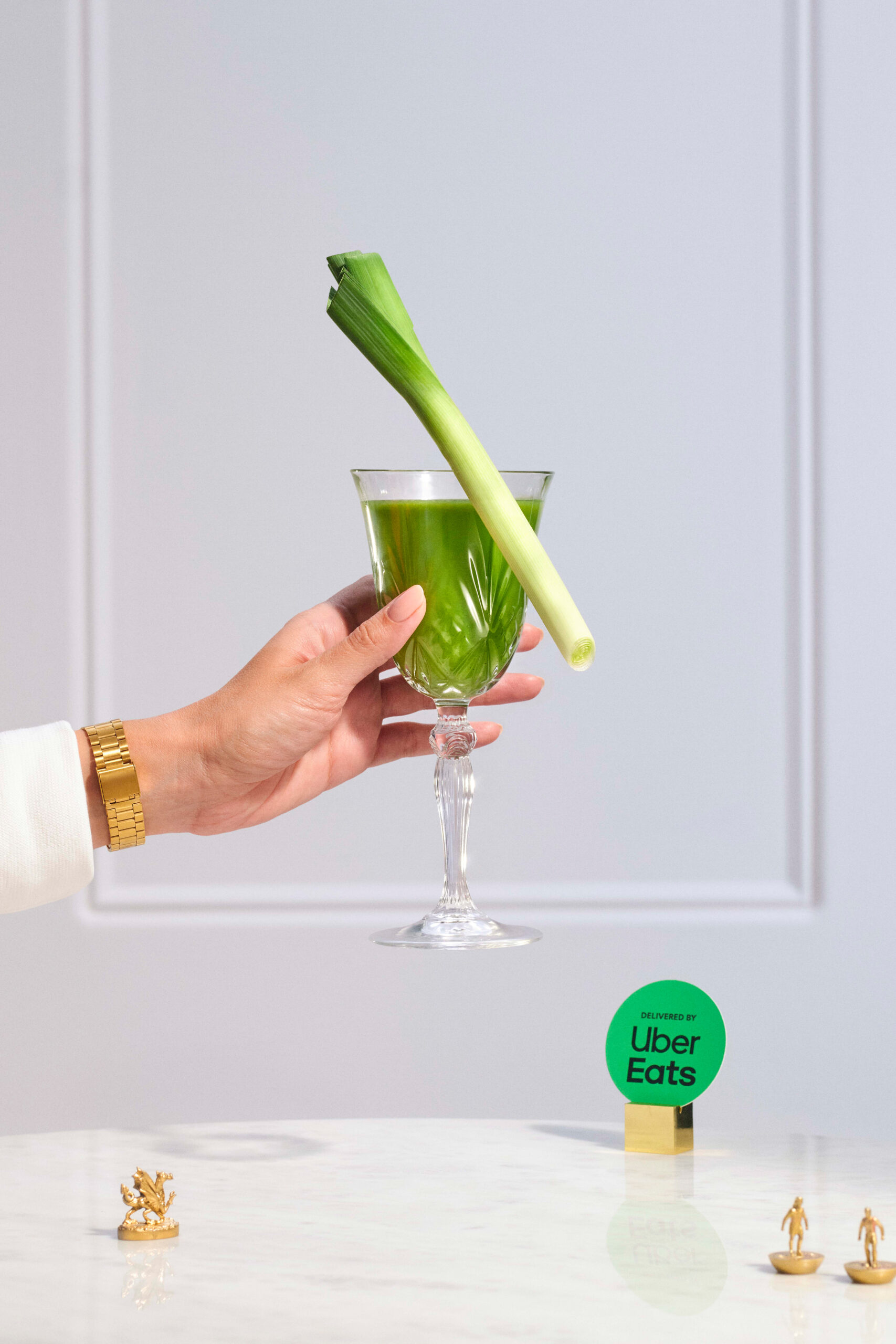 Matthew Price, Regional General Manager of Uber Eats in UKI and Northern Europe said: "The Wrexham Tastecourse delivers some Hollywood flare to Uber Eats customers, delivering the ultimate culture clash to their doors. We know our customers love to watch Disney+ while enjoying their deliveries and I hope this new offering makes for the perfect meal to watch Rob and Ryan. "
Uber Eats also teamed up with Man vs Food gastronaut and football fan Adam Richman, who visited Wrexham to taste-test the menu next to the very stadium that inspired it – the Wrexham Racecourse. 
Adam Richman, Presenter of Man Vs Food said  "I was a huge fan of Rob's and Ryan's before they ever got involved with Wrexham. As an American, who both loves the beautiful game, and has invested in clubs abroad myself – I loved Welcome to Wrexham & jumped at the chance to bring my food expertise to the Race Course & help Uber Eats promote their incredibly clever Hollywood/Welsh fusion menu, "The Wrexham Tastecourse." It was a great introduction to the unique and delicious flavors of Wales, and I double dare anybody not to love the steak pie!"