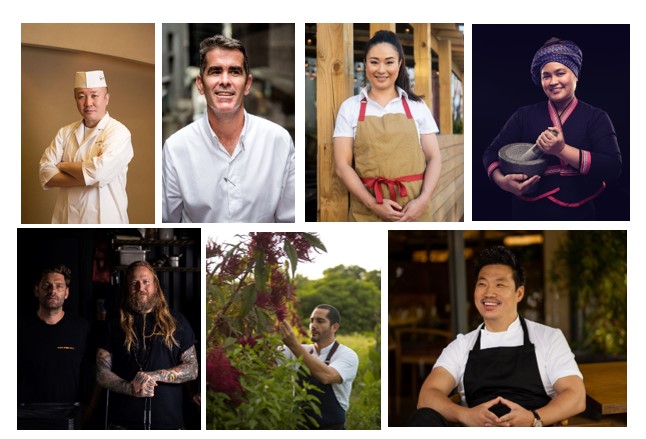 INTERNATIONAL CHEF EXCHANGE RECOGNISES GLOBAL CULINARY EXCELLENCE IN CELEBRATION OF CANADA'S RICH GASTRONOMY
CANADA'S 50 BEST RESTAURATEUR AND TV PERSONALITY, CHEF DARREN MACLEAN, TO HOST A PLETHORA OF GLOBAL CULINARY TALENT IN CALGARY, CANADA
Critically acclaimed Chef, Darren MacLean, and founder of three of Canada's Top 100 Best Restaurants –Shokunin, EIGHT and NUPO – is gearing up to welcome leading culinary talent from across the world to collaborate in its annual International Chef Exchange, hosted in Calgary, Canada. The exchange seeks to actively promote Alberta's and Canada's culinary background and cross-cultural character around the globe, while learning about other country's cooking styles and practices.
Kicking off this week, MacLean will host the below key and internationally renowned chefs, welcoming them to explore Canada's rich multicultural mosaic. During their visit, each chef will participate in local foraging and fishing, heading to secluded streams by helicopter, to collect the country's finest and freshest seasonal ingredients.
MacLean then works alongside the chefs to create varied and innovative, cross-collaborative menus, bringing together each chef's diverse experience and finesse. The menus are then served across two ticketed dinners during each chef exchange. The first is one hosted at Shokunin MacLean's flagship restaurant and Calgary's first yakitoria. On the second night, there will be two sittings for an intimate and exclusive dinner at EIGHT, a unique Omakase experience that is not defined only by location, culture and circumstance, but by the chaotic conflation of the three, taking guests on a journey, eight seats at a time.
Chef Darren MacLean comments on the International Chef Exchange: "We're pumped to be entering our second year of the Chef Exchange. Throughout its existence, we've invited in talented friends from across the globe as an exercise in cultural diplomacy – it's the best way for us to learn more about ourselves, whilst learning from each other. Food is ordinarily the first interaction we have when exploring new cultures. The exchange is not only a discussion on what Canada has to offer, but rather fostering a catalyst of creativity and collaboration."
30th May – 4th June 2023: Masako Morishita and Shin Tagaki
Chef Darren MacLean will be joined by top Japanese chefs, Shin Tagaki and Masako Morishita to create an innovative and enticing menu celebrating Japanese cuisine. Tagaki is the chef and proprietor of Zeniya, a two Michelin-starred kaiseki restaurant in Kanasawa. Chef Takagi has a masterful talent for cooking, which he combines with well-honed practical experience and a sense of true hospitality at heart.
Originally from Kobe, Japan, Masako Morishita grew up in her family's 89-year-old bar and restaurant. Masako spent her childhood helping her family, learning to cook Japanese comfort food from her grandmother and mother—both of whom are chefs. Since Masako's arrival to the U.S., her goal has been always to introduce Japanese culture through her cooking. She is currently Executive Chef at Perry's in Washington DC.
3rd July – 12th July 2023: Shane Osborn
Australian chef, Shane Osborn, will then join chef MacLean to create a rich and diverse hospitality experience. Osborn has worked in many acclaimed kitchens, including L'oranger in London that garnered a Michelin-star in 1996, and Pied à Terre which won a second star in 2003. Since 2014, Osborn runs his own restaurants in Hong Kong, Arcane, which holds one star for its seasonal fare that blends the cuisines of Japan, the United Kingdom, and France, and the recently opened Cornerstone in Hollywood.
21st August – 27th August 2023: Rodrigo Pacheco and Nuit Regular
Visiting from Ecuador, Rodrigo Pacheco promotes ethnobotany in cooking, a practice he maintains in his Boca Valdivia restaurant. Pacheco has expanded his mind with ancestral research to design dishes with ingredients that may be ignored today but were used by pre-Hispanic cultures.
Both MacLean and Pacheco will collaborate with Canadian chef Nuit Regular. She is the Executive Chef and Co-Owner of PAI, Kiin, By Chef Nuit, and Sukhothai, as well as the Executive Chef of Selva. Chef Nuit has transformed the Thai food scene in Toronto through the distinct flavours of Northern Thai cuisine and hospitality. This merging of South American and Thai cuisine with Canadian produce is sure to create a distinctive and memorable dining experience.
1st October – 8th October: Andrew Clarke and Daniel Watkins
Next in the series is the arrival of British chefs, Andrew Clarke and Daniel Watkins. They first met at Shoreditch's St Leonards and immediately bonded over the intricacy and theatre of live fire cookery. Together the chefs opened famed London restaurant, Acme Fire Cult, where the whole menu is cooked over coals.
Clarke is an award-winning chef and figure in the London and UK food scene. He is best known for cooking in London restaurants, Brunswick House and St Leonards, and now for his own restaurant Acme Fire Cult, whilst consulting for the newly opened Stereo in London's Covent Garden. He is also a regular face at Meatopia and live fire events where he is often joined by Watkins. With Canada's rich livestock offering and Chef MacLean's extensive experience in Japanese-style Robata grilling, the collaboration is a match not to missed. 
23rd October – 29th October: Andrew Wong
Another British chef to cross the pond and join Chef MacLean in his kitchen, Andrew Wong is the proprietor of two Michelin-starred A. Wong in London. A. Wong is the home to award-winning cuisine. One of the most exciting chefs in London, Andrew's years of meticulous research has created a cuisine that celebrates the diversity of China's vast food culture held within its 14 national borders.
A true craftsman, his dishes are contemporary and artistic interpretations of traditional dishes and ancient recipes, paying homage to authentic tastes and flavours and the dedicated skill and applied techniques developed throughout Chinese culinary history. The combination of two critically-acclaimed chefs aims to build on the rich diversity of food, and concludes the programme, celebrating top international talent and the combining of experience.
The International Chef Exchange is in its second year of running, having hosted a plethora of chef talent in previous years including Mark Best, Amanda Cohen and Timothy Hollingsworth. This year's programme is supported and sponsored by Alt Hotels which will provide accommodation for each chef during their stay; Calgary-based global airline partner, WestJet, and global technology company, Square. The Chef Exchange is also developed in partnership with Food Tourism Strategies.
Chef Darren MacLean is one of Canada's most acclaimed and outspoken chefs, restaurateurs, and environmental advocates. Seeking to showcase Canada's culinary scene to international audiences, MacLean was Canada's sole contender and a finalist on Netflix's global cooking competition The Final Table. He is also the first-ever Canadian chef invited aboard to consult and collaborate with Princess Cruises. MacLean created the International Chef Exchange programme through a desire to showcase Canada's rich mosaic of culture and culinary, whilst collaborating and taking inspiration from top chef talent from across the world.
Tickets for the International Chef Exchange dinners are available on a first-come-first serve basis and can be purchased via EIGHT and Shokunin's Tock.