19 tipples to get you in the festive spirit
There's still time to stock up your booze cupboards before the big day. Here are some of our favourite tipples to get you in the festive spirit…
Coastal Juniper, Sea Arch
There is something for everyone – even the non-drinkers – with Sea Arch's calorie-free and vegan-friendly non-alcoholic spirit. The alternative to gin is inspired by the sea and features over 12 botanical extracts to ensure your beverage is bursting with freshness.
£15.95 for 25CL, seaarchdrinks.com
Cranes Cranberry Gin
Sweeten up your G&T with Cranes Cranberry Gin – handcrafted to perfection in small batches, this spirit uses over 50 of the finest cranberries in just one 70CL bottle. Using natural ingredients, Cranes Gin is sharp and unusually fruity but stays true to the origins of a London Dry Gin.
£32 for 70CL, drinkcranes.shop or most supermarkets
The Wasabi Company vodka
Now we bet you haven't heard of this before: wasabi vodka. Made in small batches with fresh, English wasabi, this take on the classic spirit is pungent and bursting with bold flavours. Serve on the rocks and sip slowly to savour the heat.
£29 for 50CL, thewasabicompany.co.uk/wasabi-vodka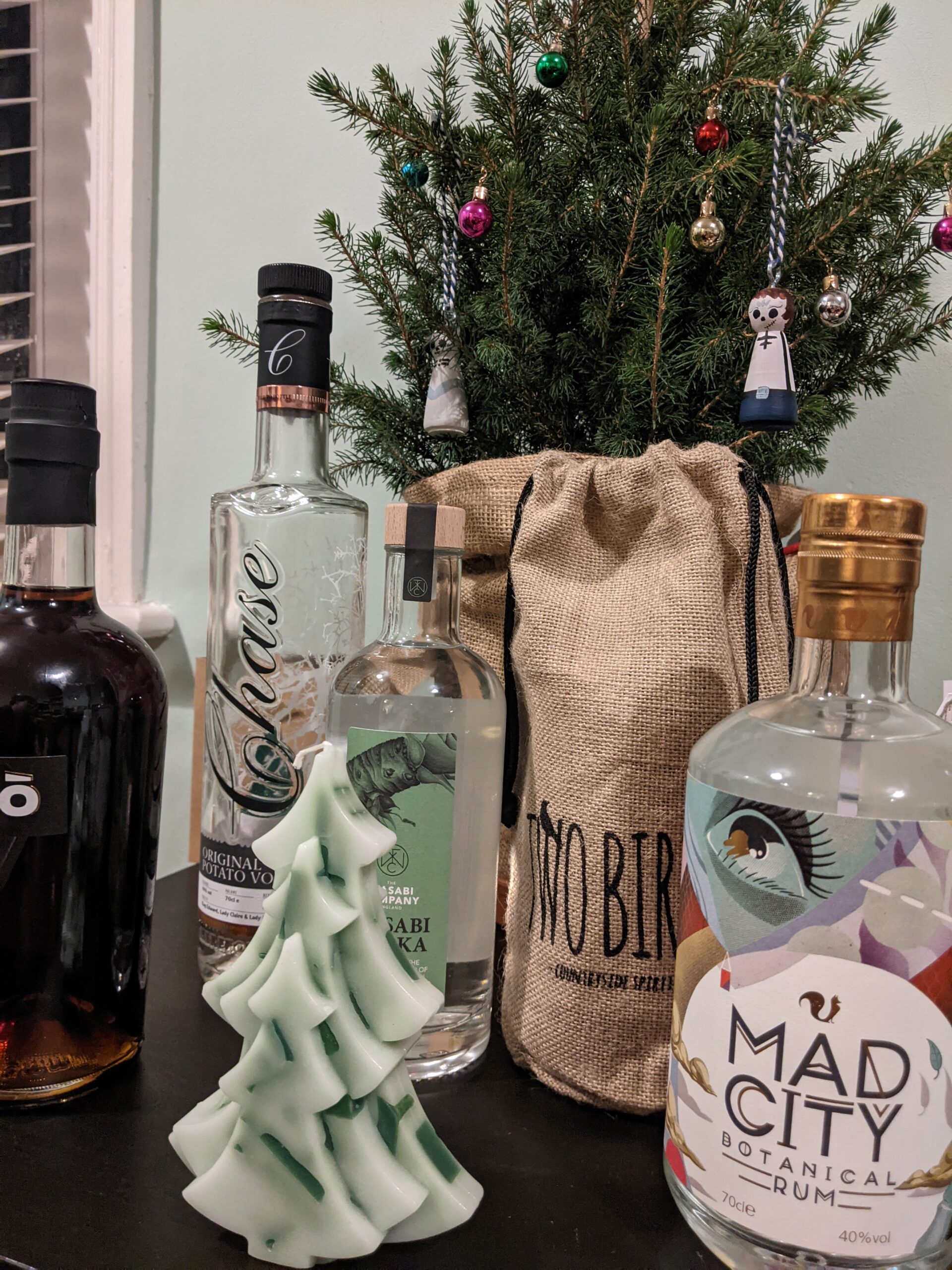 Bladnoch 10-year- old single malt
Bladnoch, one of the oldest Scotch Whisky distilleries, have re-imagined the single malt. The 10-year-old – after being matured in ex-Bourbon casks – is sweet and surprisingly refreshing for a whisky with spice, sweet oak and vanilla aromas.
£65 for 700ml, bladnoch.com
Ealing Dry Gin
The self-described Queen of London Dry Gin has surpassed itself with the gorgeous Ealing Dry Gin. The premium gin is presented in a unique, art deco-style bottle – a nod to Ealing's notable architecture. It is hand-crafted in small batches right in the heart of London, and is a sophisticated spirit for the classic G&T this Christmas.
£46.75 for 70CL, ealingdistillery.co.uk
Matti Cream Liqueur
This strawberry cream liqueur, with a splash of tequila, by Matti is absolutely delectable and perfect for Christmas and New Year Zoom parties. It is a bargain, too, and definitely one of our favourites. The boozy tequila liqueur tastes like strawberry cheesecake in a glass – well, they do say tequila makes you happy!
£9.99 for 700ml, Home Bargains
Mad City botanical white rum
Mad City are making waves in the spirit world for their unique take on creating top-notch tipples out of waste. Created with discarded sugar cane molasses from as far as Jamaica and Barbados, it is 100% Fairtrade certified. The cool, urban artwork represents its bold, distinct flavours making it perfect for Mojitos with Christmas dinner.
£30 for 70CL, foxholespirits.com
Teeling Whiskey Small Batch
Teeling Whiskey present an unconventional take on the Irish Whiskey, and with over 200 awards under their belt we're willing to play ball! Blended in small batches and matured in bourbon and rum casks, Teeling Small Batch offers sweet notes of vanilla, spices and rum. It is perfect for an Irish take on an Old Fashioned.
£32.75 – £34.95 for 70CL, Master of Malt and The Whiskey Exchange
East London Liquor Company Gin
The trendy and hip East London Liquor Company has their shot at the classic London Dry Gin – and succeeded. With juniper berries, cardamom, spicy coriander seeds and lemon and pink grapefruit peel, it's a refreshing spirit perfect for the go-to G&T this Christmas.
£21.95 for 70CL, eastlondonliquorcompany.com
Glen Scotia 11-year-old
This 11-year-old has a velvety, rich mouth-feel thanks to a Sherry Double Cask finish – straight from the barrels of Campbeltown, Scotland. The finish is nutty and lasting, with delectable notes of cinnamon, clove and vanilla. It really is a gorgeous whisky.
£65 for 70CL, glenscotia.com
Glen Grant 12-year-old
Can you tell we like whisky? This 12-year-old single malt is divine, bright and pure liquid gold. With a nose of almond and citrus, the taste is remarkably like apple pie, vanilla and caramel. It lingers and leaves you wanting more.
£41.90 for 70CL, Master of Malt
Ver-mò Vermouth di Torino Rosso
The founders of Ver-mò are determined to bring vermouth back into the spotlight with this modern take on the classic. This Italian aperitivo is bitter, but addictive, with inviting lemon and ginger notes. This distinct tipple is perfect on the rocks with citrus garnish or in a Manhattan.
£27.75 for 750ml, The Whisky Exchange
Tamdhu Whisky
Tamdhu's Batch Strength No 005 has roots in Spain, as its Speyside creators source the finest rare Oloroso sherry casks from the Spanish bodegas of Jerez. It is Christmas on the nose, with brazil nuts and cinnamon, but the deep copper-coloured liquid reveals berries and double cream notes.
£74.99 for gift set, tamdhu.com
Tobermory Gin
Inspired by the beautiful Isle of Mull, this premium gin company won the coveted Best Scottish Classic Gin award of 2020 and it certainly doesn't disappoint. It is fresh with sweet notes of orange, lemon and malt, balanced perfectly with heather, rosehip, juniper and coriander. Ideal for cocktails.
£34 for 70CL, tobermorydistillery.com
Chase Potato Vodka
This classic spirit is created from field to farm in the heart of Hertfordshire – this family-made vodka boasts a whopping 250 potatoes in every bottle. The palate is creamy and results in a smooth, sharp finish – there's no wonder it won 'World's Best Tasting Vodka' at the San Francisco World Spirits Competition. Perfect for Espresso Martinis, too – cheers to that!
£32 for 70CL, chasedistillery.co.uk
Old Pulteney 12-year-old
This exquisite 12-year-old single malt was defined as 'unashamedly excellent' and, quite frankly, we agree. Possibly our favourite whisky on this list, Old Pulteney matures in hand-picked bourbon casks for a distinct copper hue and vanilla, citrus finish.
£32 for 70CL, Tesco
Pink Marmalade Colour Changing Gin
Now, this is a Christmas party-trick if ever we did see one! Thanks to the magical Butterfly Pea flower, this gin goes from cool blue to rose pink once tonic is added. The zesty, refreshing gin is fun and sure to be an ice-breaker at any Christmas dinner table, or Zoom New Year drinks.
£30 for 50CL, pinkmarmaladegin.co.uk
Haig Club whisky
A must-drink when it comes to classic Scotch. Presented in a glorious, ocean-blue bottle, Haig Club is distinctive in both tasting notes, and appearance. That first fruity sniff is followed by a tangy citrus, and it leaves woody, vanilla notes on the tongue.
£44.99 for 70CL, haigwhisky.com
Two Birds Christmas Spiced Vodka
And last, but certainly not least, is this divine Christmas Spiced English Vodka. With nutmeg, cinnamon, dried fruits and star anise – it is genuinely like liquid mince pies in a glass. It is unique, gorgeous and perfectly Christmas. Perfect over the rocks, or for Christmas takes on classic vodka cocktails. Merry Christmas, all!
£39 for 70CL, twobirdsspirits.co.uk
Words by Emmie Harrison-West
@emmieehw