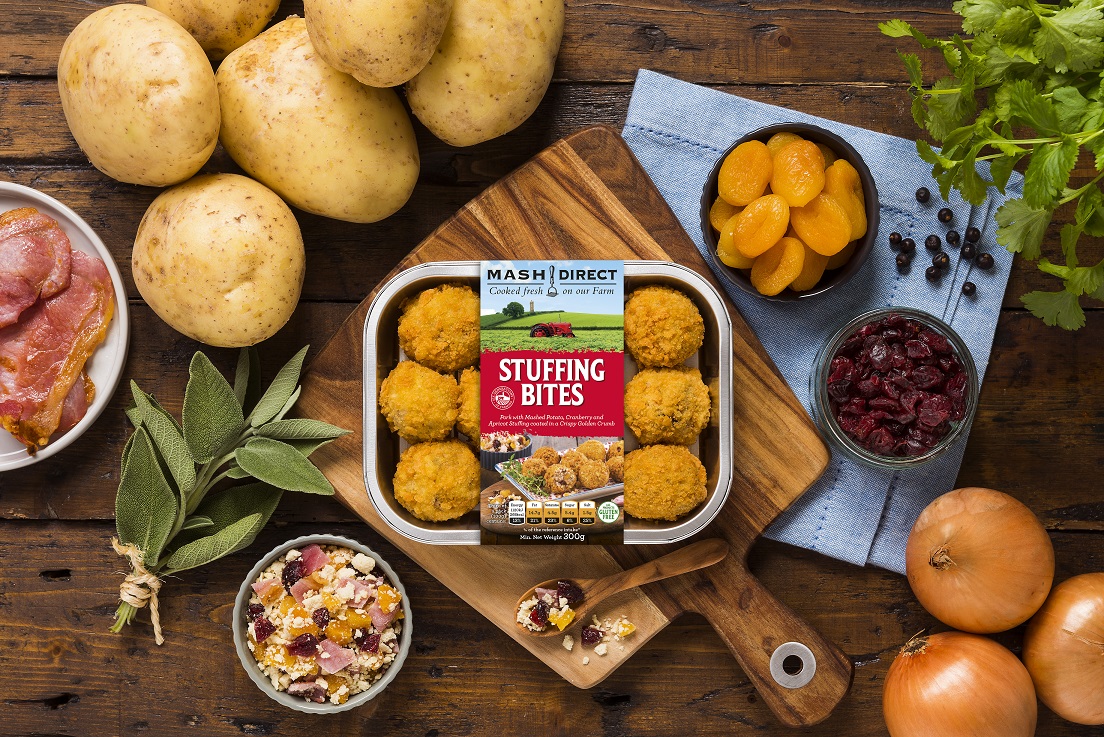 Add these dishes and drinks to your Christmas meal!
Award-winning brand Mash Direct has created a mouth-watering 'field-to-fork' range of vegetable accompaniments that are perfect when catering for last-minute and unaccounted guests over the Christmas season, helping cooks to save hours in the kitchen prepping vegetables. Homemade fresh on the family farm in County Down in Northern Ireland, the brand combines six generation of the Hamilton family's farming expertise to create award-winning dishes that are both nutritious and delicious.
For naturally delicious antioxidant-rich and anti-inflammatory sweetness, The Groovy Food Company's Squeezy Organic Fine Blossom Honey is the perfect all-rounder this festive season!
Ideal to glaze vegetables, pigs in blankets and to create Christmas bakes, this fine sweet nectar is light amber in colour and delivers an understated sweetness with a neutral edge. Honey is not only tasty but functional too and is famous for natural healing benefits such as fighting bacteria, boosting energy and aiding digestion. A simple spoonful a day is perfect for fighting off the cold this Christmas and giving skin an extra glow.
Lo Bros Blueberry Lemonade CBD Kombucha is the perfect drink to relax our mind over the Christmas festivities.The new drink contains 15mg of active CBD, which can help promote a feeling of calm and balance. The drink combines these positive effects with the gut-balancing benefits that come from the living cultures in the kombucha, creating a delicious and refreshing product that can support the overall wellbeing of the body and mind.
Nutty Bruce, the plant-based brand giving people a short-cut to wellness with its nutritious, delicious and convenient products, is the perfect m*lk for your Christmas festivities. The brand has extended its range of dairy-free m*lks with the launch of Oaty Bruce Unsweetened Oat M*lk. The creamiest, smoothest oat milk. Oaty Bruce Unsweetened Oat M*lk is a nutritious and delicious plant-powered, non-dairy milk and is made from just two natural ingredients: whole grain organic oats and water. It's that simple.
Holy Moly's Original Guacamole is a the perfect culinary staple that can be enjoyed on its own, or used as an ingredient as part of a larger dish over your lunches and dinner for your festivities. Each pot contains around two sun-ripened Hass avocados, which are grown, hand-picked and hand-scooped on a four-generation family farm in rural Mexico. Unlike other guacamoles, it is also free from dairy, preservatives, additives, gluten, is kosher, suitable for vegans and has no added sugar.
 The Groovy Food Companyhas expanded its range of convenient one calorie cooking sprays with three BRAND NEW editions, including Organic Butter Flavour Cooking Spray, Organic Extra Virgin Olive Oil Cooking Spray and Organic Sunflower Oil Cooking Spray, the perfect additions to your Christmas table !
Exclusively available at Waitrose for just £2.00, the oils are produced by blending the finest plant-based ingredients and are a nutrient-rich and a low-calorie alternative to butter, olive and vegetable oil and are also certified organic, kosher and are vegan. The easy spray format makes them ideal to use in the kitchen in daily life!!
Nush(www.nushfoods.co.uk), the award-winning Ch*ese, is available in two mouth-watering varieties: Natural and Chive. Made from the finest almond m*lk, containing 30% pure almonds, it is the perfect addition to any Christmas cheeseboard, whether its the only dairy-free option or the star of a vegan selection.
Cru8 (www.cru8foods.co.uk), a multi-award-winning British brand, has a tasty range of healthy snacks that are great for grazing platters and can be served as starters/nibbles when guests arrive. They also make great gifting options for foodies and are fab for keeping energy levels up whilst cooks rush around the kitchen to get everything ready in time!
Cru8's range of delicious and nutritious, plant-based alternatives to processed and nutrient-empty foods, have tangible benefits for health and wellbeing, including being anti-inflammatory, pro-microbiome and productivity-promoting. Products include Keto Vegan Buns, Raw Keto Crackers and there's also a variety of Paleo Vegan Sweet Treats for dessert. Pair them together to create the ultimate Christmas Keto Bundle!
Body and Mind Botanicals (www.bodyandmindbotanicals.com), the British brand founded by a team of cannabis experts on a mission to bring the incredible health and wellbeing benefits of legal cannabis to as many people as possible, has launched its cannabis Christmas collection of bespoke hampers and a unique stocking filler.
The Christmas range is perfect to gift friends, family or colleagues and is designed to support wellbeing, relieve stress and anxiety and to deliver the intrinsic health and wellbeing benefits of legal cannabis, all without the high. It is available to order online via the brand's website and can be delivered directly to consumers' doorsteps.