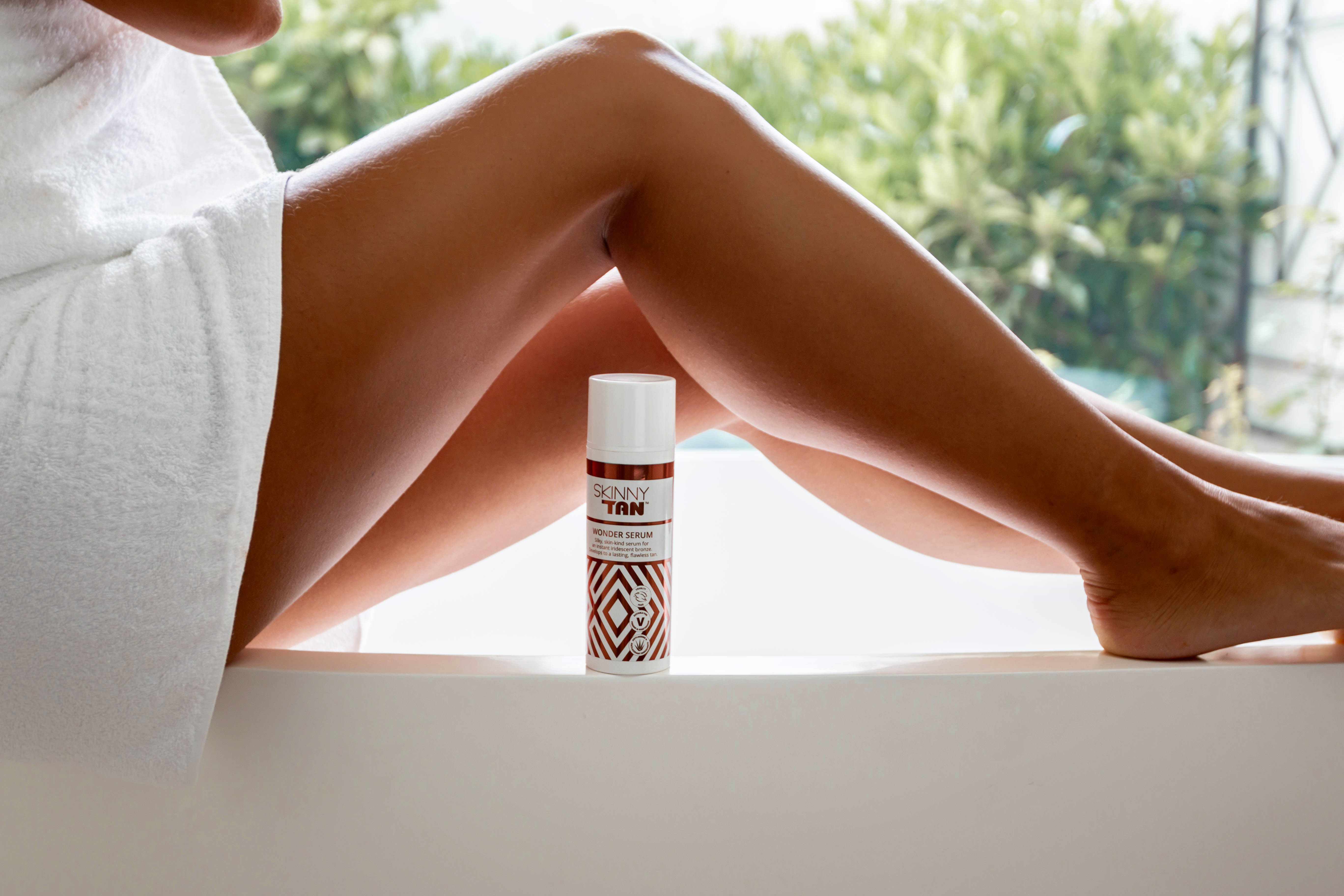 Fake Every Day Brighter With Skinny Tan.
You know here at OnIn.London, we are huge fans of Skinny Tan products already asSkinny Tan is a vegan, cruelty-free brand which combines of a natural tanning active and natural derived skin smoothing actives to tan, contour and reduce the visible appearance of cellulite. Though they've definitely upped their game with the introduction of 'Pro Tan Moisture Mousse', 'Wonder Serum' and 'Protect & Glow' Suncare Range High Skin Protection with a Built-in Tanner. We attended the launch on the 24th April to try some of the new products and then were able to take some of the products at home to try really get our tan on.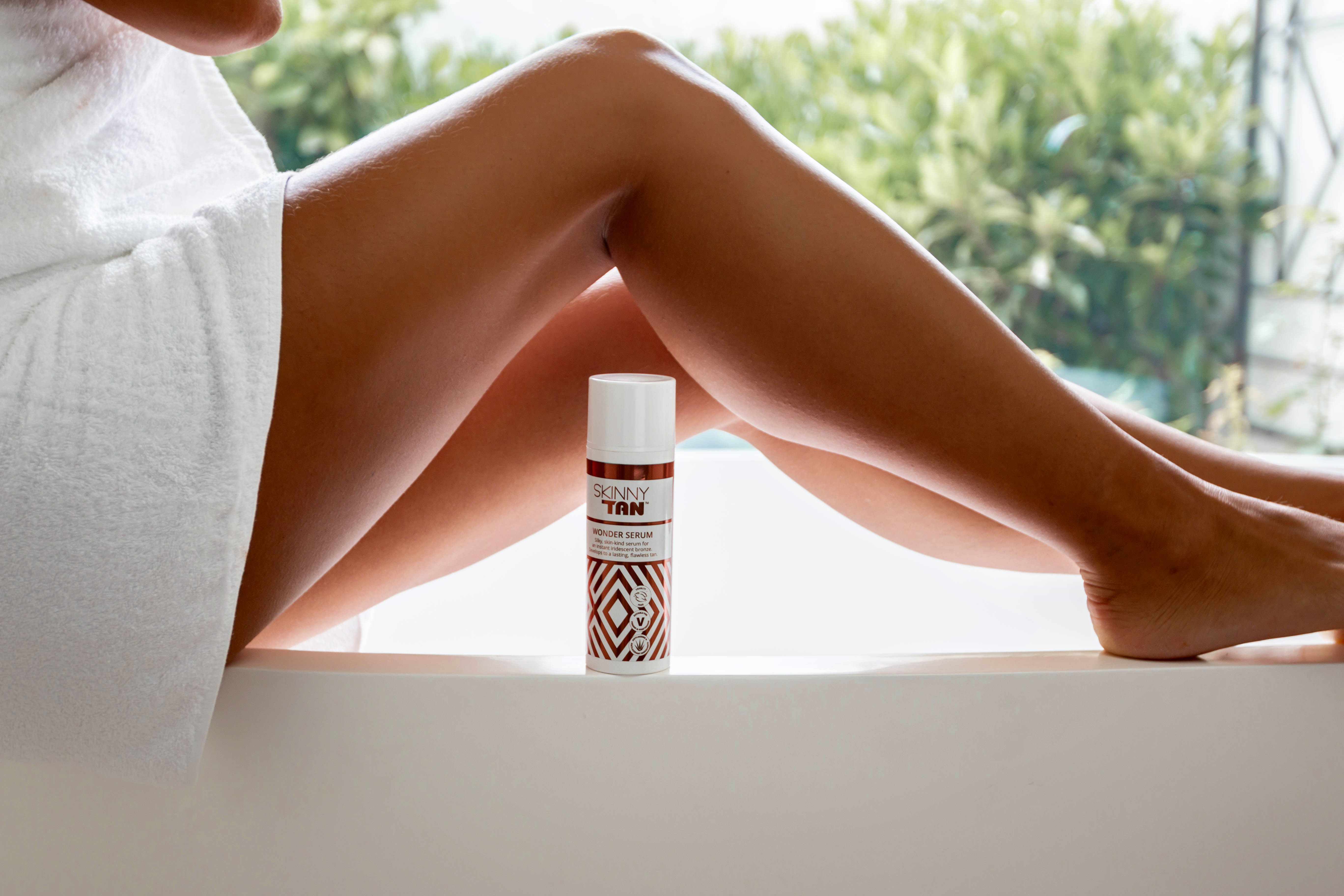 My favourite is definitely ​Wonder Serum! A simple self tanner which nourishes skin without compromising a streak-free, natural bronze. Wonder Serum ​is available to purchase from the Skinny Tan Online shop (
www.skinnytan.com​
) and from Boots stores nationwide and online for £29.99.
Wonder serum couples optimum self tanning technology with ingredients holding anti-aging and antioxidant properties. It strives to sustain skin whilst achieving a flawless bronze coverage which lasts up to 10 days!
My housemate helped me apply Skinny Tan's ​Wonder Serum and we found it ​really does glide effortlessly onto skin. It definitely developed into an even and lasting tan overnight. Wasn't streaky or orange at all! You can definitely see the difference in my before and after picture here!
My friend's favourite product though was the ​Pro Tan Moisture Mousse – a self tanner that also moisturises the body without compromising on Skinny Tan's streak-free, natural colour. She sent me a message stating 'for me it's the best tan I've ever used because it's so moisturising. My skin condition doesn't flare up so would imagine people with eczema could use it too. And it lasted for around 6 days without reapplying. Plus it had a really nice smell that doesn't smell like normal fake tan smell'.
Skinny Tan says that 'traditionally, oils can inhibit the development of DHA, but Skinny Tan have found a new way of moisturising while you tan, reducing these inhibiting oils in the Pro Tan, and instead offering intense hydration from the vitamin E and coconut water. No longer do you have to sacrifice intense moisturisation and nourishment for your skin to have a deep, rich, developed colour'.
Pro Tan Moisture Mousse, ​£29.99, is available to purchase on Skinny Tan's website. www.skinnytan.com​, and in Superdrug stores and online (www.superdrug.com​).
The product we haven't tried yet (but will be using in Barbados in July) is  Skinny Tan's New UVA 5* 'Protect & Glow' Suncare Range High Skin Protection with a Built-in Tanner. As both very pale girls who always have to use SPF 50 when at the beach… this sounds like the perfect solution.
The new ​Protect & Glow ​suncare range​ is the first ever ​triple action UVA 5* ​high sun protection, expertly combined with Skinny Tan's well-loved daily, gradual self-tanner.
Available in ​SPF 30 or ​SPF 50 and in two water-resistant formulas, ​Protect and Glow ​Lotion and ​Protect & Glow Milk Spray are vegan-friendly and ​carry Skinny Tan's classic coconut & vanilla scent​. This new range allows you to shield your skin while building up a natural, sunkissed glow, offering users a maximum tan with maximum UVA & UVB protection.
To finish off the range, there's the ​Protect & Glow Lotion 200ml – £19.99 ​Protect and Glow Milk Spray 200ml – £24.99 or 100ml £14.99 and the ​Body Glow by Skinny Tan Aftersun Gel – £9.99 so Skinny Tan really has hacked the secret to a stress-free summer.
Protect & Glow is available to purchase exclusively on Skinny Tan's website www.skinnytan.com
We're also pretty pleased to announce that in a bid to further promote sun safety ​Skinny Tan has partnered with Melanoma UK to support their efforts to ban sunbeds. ​2,500 deaths are caused in the UK every year by Melanoma, with 15,000 newly diagnosed patients each year, yet 86% of cases are largely preventable.  To sign the petition to ban sunbeds in the UK ​here​ visit here: petition.parliament.uk/petitions/237086