Let's visit Marylebone Village!
I've lived in London for nearly 7 years and I only just discovered the hidden gem that is Marylebone Village. On 19th February 2022, my friend and I were invited on a press trip to discover all there is to offer in Marylebone Village.
Where is it? Well Marylebone Village is located in the heart of central London. It is a true urban village, where culture and businesses thrive, and the community blossoms. Despite being just minutes from Oxford Street, Marylebone Village sits within an oasis of relative tranquillity. There is a diverse and impressive collection of retailers, galleries, bars, pubs and restaurants all set within a grid of Georgian streets. The celebrated area offers an experience for everyone, from a solo shopping trip to a family day out in an atmospheric and engaging environment.
The retail and leisure offering within Marylebone Village is concentrated in and around Marylebone High Street. It includes Marylebone High Street, Moxon Street, Marylebone Lane, New Cavendish Street, Devonshire Street, Paddington Street, Blandford Street and George Street. Moxon Street is renowned as a destination for food lovers while Marylebone Lane is defined by its independent shops and one-off concept stores.
Where to stay: The Mandeville Hotel.
The Mandeville's 142 rooms combine substance with style, each room designed to provide the utmost in comfort and convenience, whether for business or leisure. The hotel room we stayed in was gorgeous and so funky. You'll definitely get an awesome nights sleep after a busy day exploring all Marylebone Village has to offer. The hotel also boasts its own restaurant—the Reform Social Bar & Grill—with full dining menu, afternoon tea, cocktail bar and private dining facilities. Don't forget to check out the buffet breakfast the next morning. It's delicious and fresh… from freshly made waffles to a full English.. You'll be set for the day!
After checking into our hotel we explored some of the shops including Isabel Manns (96 Marylebone High St), a contemporary British womenswear brand. Underpinning Isabel's whole approach to design is her commitment to building a 100% sustainable, circular fashion label. A brand that is invested in marrying innovation and creativity together with sustainability. Creating unique, reversible clothing is just one way Isabel is delivering on her commitment.
Next up was Rixo at 27 Marylebone High Street, W1U 4AD.  RIXO's story began in 2015 in the London living room of best friends, then students Henrietta Rix & Orlagh McCloskey. RIXO's philosophy is to evoke a wanderlust & free spirit in all our wearers, filling a gap in the contemporary market with easy-to-wear, feminine shapes and high-quality materials. Always inclusive, always empowering, they aim to create a fusion of original hand-painted prints and timeless silhouettes to flatter every woman, irrespective of age, season, size, nationality or time of day. RIXO hopes there is something in our range for you, that makes you feel the best version of yourself.
WYSE
92 Marylebone High St, London W1U 4RD
We then visited the luxury British label Wyse London which started in 2014. This clothing story offers classic stylish pieces for every occasion, with that refined – and recognisable – Wyse twist. Specially designed for women with a sense of joie de vivre it has nothing to do with being a certain age or looking a certain way – but everything to do with wanting elevated women's clothing that's also unexpected… and a bit fabulous. The shop was full when we visited which shows how popular it is and with repeating customers… staff seemed to know everyone by name.
Fischers
50 Marylebone High St, London W1U 5HN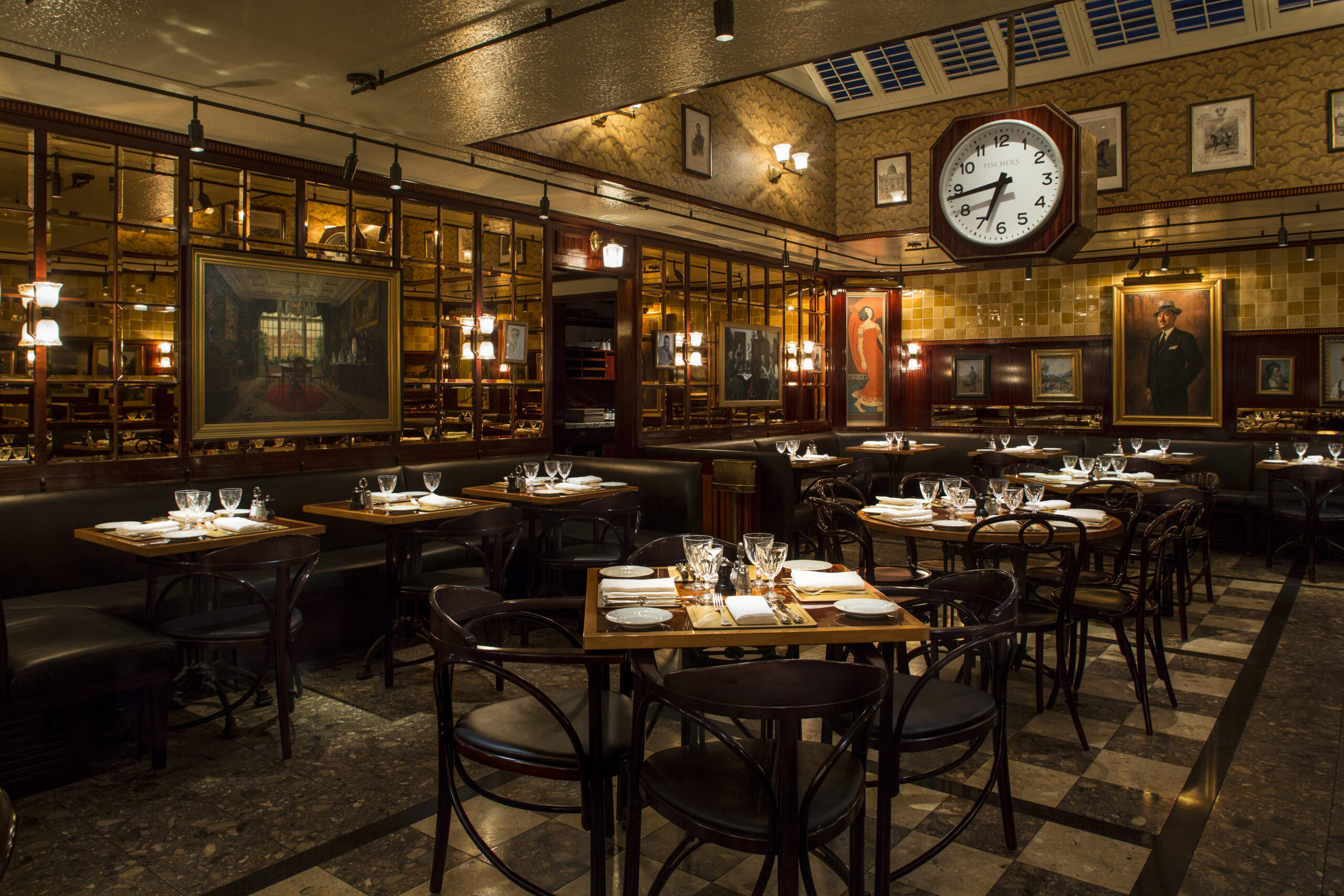 Let's just start by saying wow! This is a hidden gem in Marylebone Village and one I'll definitely be visiting again. The neighbourhood restaurant and cafe derbies a a classic Viennese menu and is reminiscent of Vienna in the early years of the twentieth century. It's a place to relax on your own at any time of day over a paper, cake and coffee; to relax with friends over lunch or dinner; to meet over breakfast or for an early evening aperitif. The menu includes an extensive choice of Austrian specialities. They also serve a delicious brunch menu between 11:30 and 5:00pm on Saturdays and Sundays. We went with the Käsespätzle with Bacon and Black Forest Ham with Alpine Cheese and Grilled Pears for starters. For mains I couldn't go past a Chicken Schnitzel with jus parisienne, while my friend had the Käsekrainer pork & garlic sausage stuffed with Emmental. They were absolutely delicious! 
Fresh
92 Marylebone High St, London W1U 4RD

After enjoying our meal we headed to Fresh to get a lip ritual treatment on the shop floor and a little store tour. Fresh combines potent natural ingredients, ancient rituals, and modern science. The brand creates beauty products that perform with experiences that transform. They are pioneers in products, experiences, culture and in process. The shop smells amazing and we were left with some goodies that are now staples in my daily skin care routine. The Soy Cleanser and Rose Oil Serum make my skin smell amazing! Also their fragrance range is to die for! Sake was my scent of choice but Fresh made it hard to choose as everything smelt divine!
John Bell & Croyden
54 Wigmore St, Marylebone, London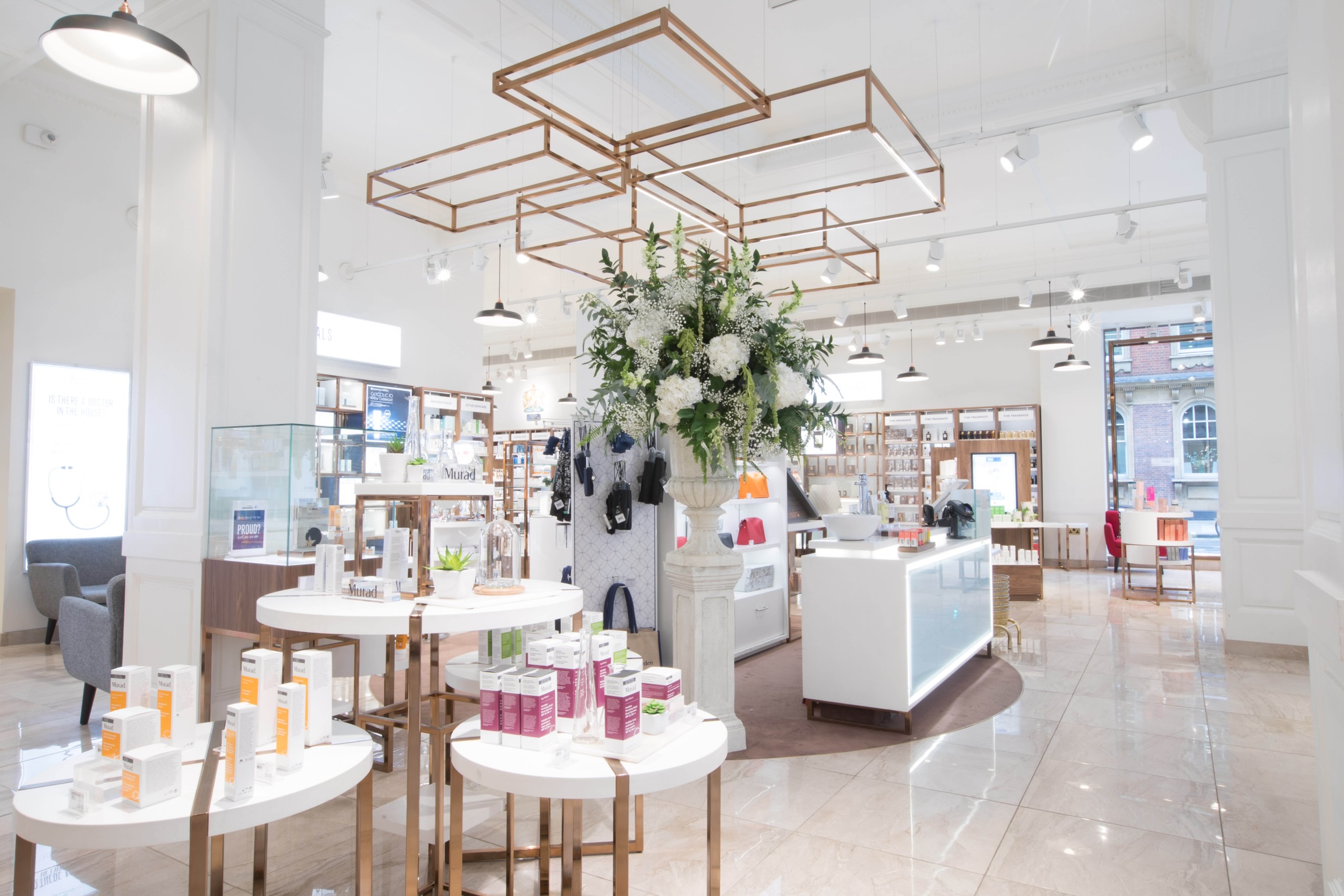 It wouldn't be a trip to Marylebone Village without visiting John Bell & Croydon. Its quality and longevity are reflected in its status as a royal warrant holder. As well as pharmacy services, this large emporium offers a wide range of high quality health and beauty products and services, including vitamins and supplements, medical devices, mobility aids, skincare, cosmetics and male grooming products, while an online doctor offers a private consultation and prescription service. For all your luxury skin care needs you really can't go past a visit here.

Rococo Chocolates
Moxon St, London
We were super excited about visiting Rococo chocolate to learn about the store with its rich British heritage and over thirty-five years of expertise. Rococo Chocolates bring tastes and experiences to their customers for the first time, and believe in setting trends, not following them. Using only the finest ingredients and the care and attention to detail that they put into every single one of their chocolates was evident while we sampled all the goodies they had in store. The chocolate gift sets are great for that chocolate lover in your life… though if you're like us you may have trouble actually gifting it.
Clarendon Fine Art
13a Marylebone High St, London W1U 4NS
Our last stop before dinner, we heard to Clarendon Fine Arts and met with Chelsea who gave us a gallery tour with complimentary bubbles. What more is there to life than looking at gorgeous pieces of art work while drinking bubbles? We really don't know! Clarendon Fine Art specialises in original works, limited editions and sculpture from the finest emerging and established contemporary artists, alongside a superb collection of rare signed editions from 20th century masters including Picasso, Hockney and Warhol.
28-50 (15-17 Marylebone Ln, London W1U 2NE).

We ended the day with Dinner at  28°-50° Marylebone Wine Workshop and Kitchen is a relaxed and elegant wine bar and restaurant in the heart of Marylebone Village. Arrive at the bright and luxurious upstairs dining space to enjoy an unparalleled selection of wines. The restaurant is lovely and both my guest and I commented that it looks like a great date place. It's intimate and cosy and the food was to die for. Don't miss out on ordering the Burrata with Glazed fennel, blood orange, red onion, olive oil & chili and the Grilled Tiger Prawns with aioli. They were heaven! 
Website: www.marylebonevillage.com
Instagram: @MaryleboneVillage
Twitter: @MaryleboneVllge
Hashtag: #MaryleboneVillage