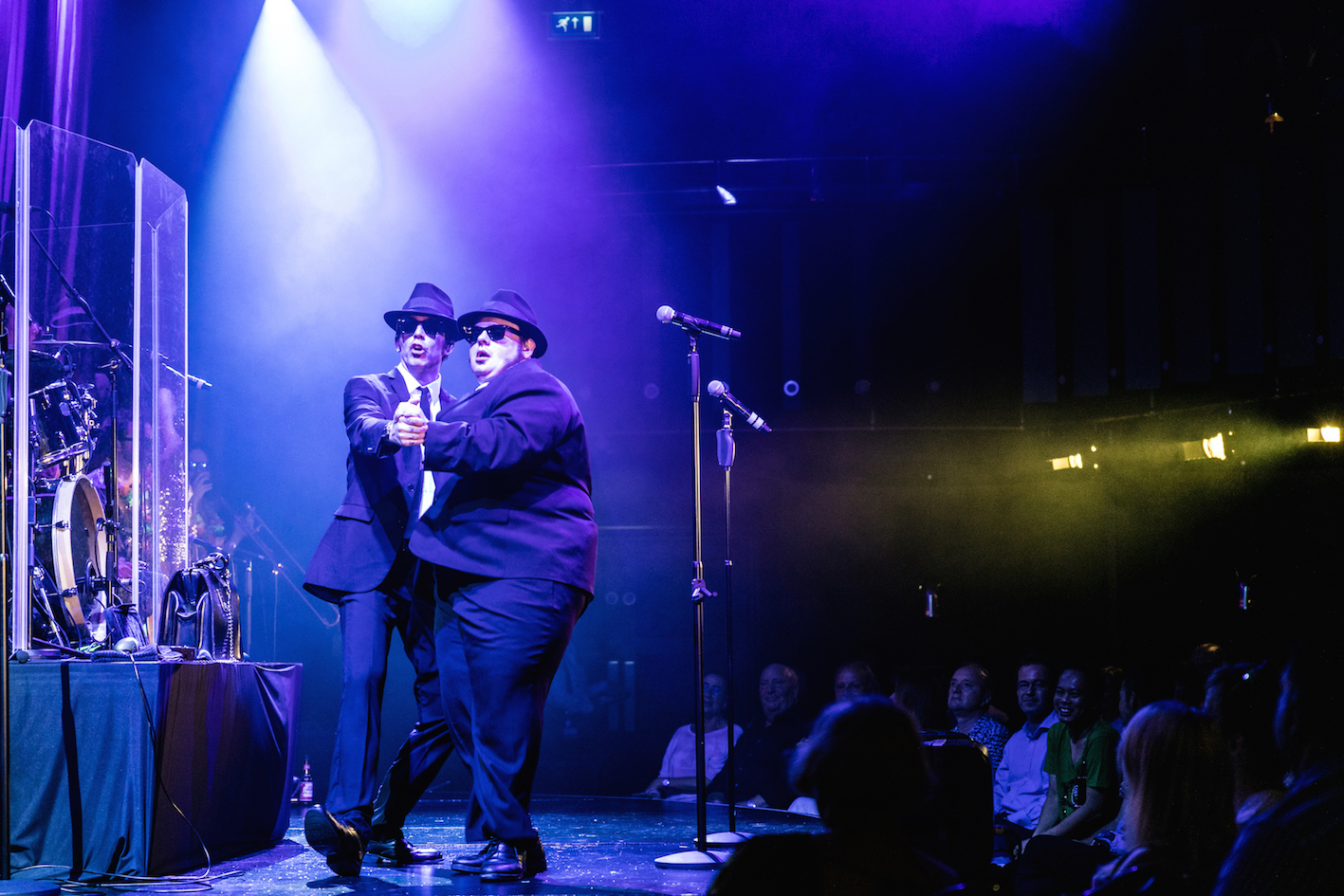 The Blues Brothers Summer Special Review
THE BLUES BROTHERS – SUMMER SPECIAL
AT THE HIPPODROME FOR A STRICTLY LIMITED SEASON UNITIL THE 26TH OF AUGUST 2017

PRESENTED BY HARTSHORN – HOOK PRODUCTIONS & THE HIPPODROME
The Blues Brothers – Summer Special directed by Joshua Mumby at The Hippodrome Casino is an electric and magnificent 'rock 'n' roll' party which will have you up on your feet and shaking a tail feather. For two hours, we were treated to popular rock 'n' roll, soul and blues classics including Respect, Jailhouse Rock, Soul Man, Minnie The Moocher and the all time favourite Everybody Needs Somebody. Be prepared to get out of your seats and join other audience members dancing as it's impossible to stay seated during this show. You may even get dragged up on stage like I did, but for a sneaky shot of tequila – it's no trouble at all.
The Blues Brothers' Summer Special was created with the blessing of Dan Ackroyd and Judith Belushi, the wife of the late great John Belushi. So you know this show is going to be more than just a tribute act. Joshua Mumby as Elwood Blue and David Kristopher-Brown as Jake Blues, seem to be somewhat possessed by the spirits of Dan Ackroyd and John Belushi. Their timing, voices, body language and mannerisms are utter perfection. I will admit I even left the show with a little crush on Elwood Blues. Not only does Joshua Mumby direct, sing and dance, he plays the Harmonica too!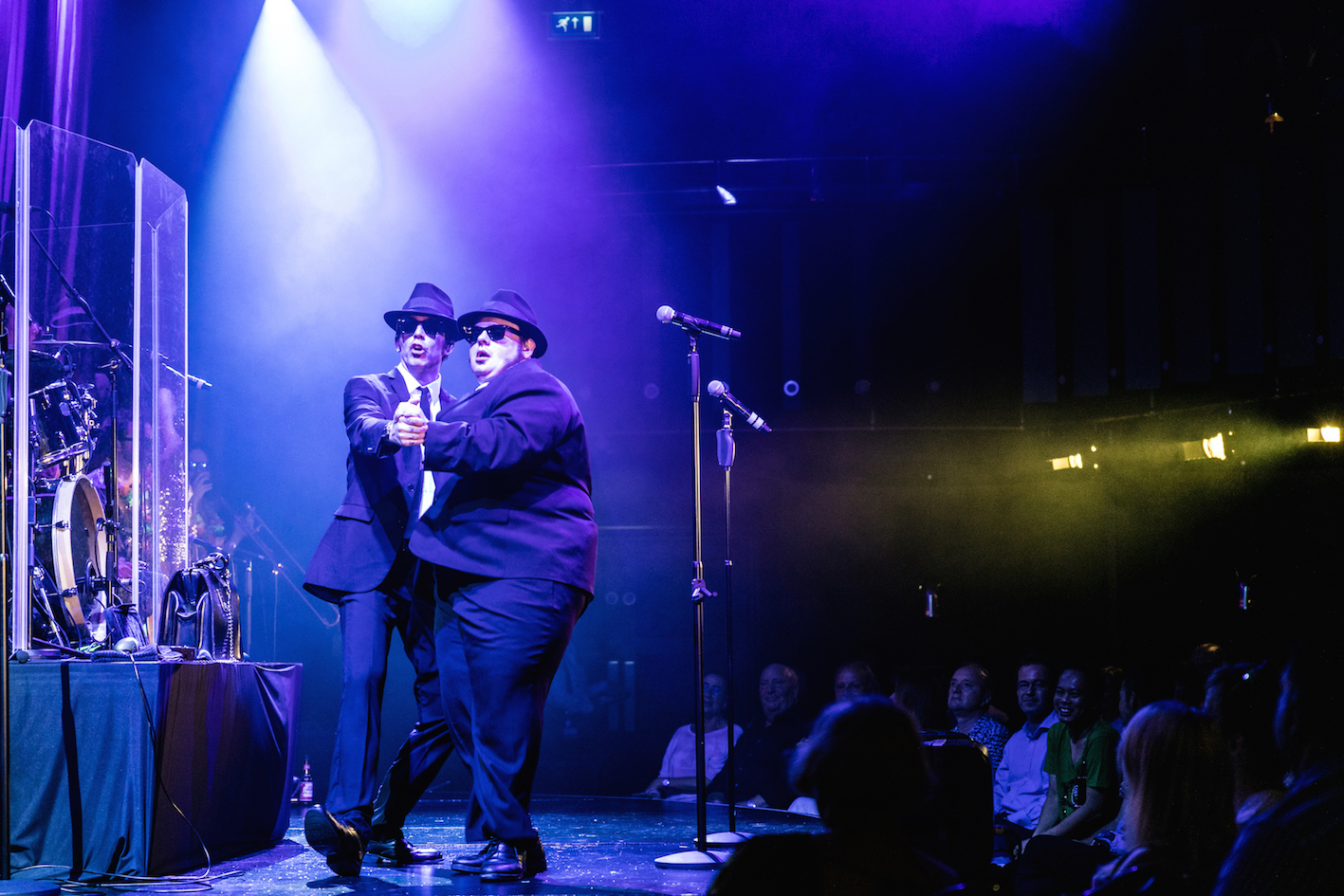 Supporting The Blues Brothers are Helen Hart and Hannah Kee as the Stax Sisters and Arnold Mabhena as Ray. They steal the show whenever they take centre stage and are absolutely brilliant. Helen Hart's version of Respect is something that must be seen to be believed. It would definitely make Aretha Franklin proud.
There a number of little nods to the original Blues Brothers Movie, so those that haven't seen the movie may not recognise the inside jokes. That doesn't mean you have to have seen the movie to enjoy the show. You'll know the songs as they're classics and the enthusiasm that Joshua and David play The Blues Brothers will have you singing along. My housemate who attended the show with me is a Blues Brothers newbie and not a fan of musicals was even inspired to get up and dance.
The Blues Brothers Summer Special will be performed at The Hippodrome until Saturday the 26th of August 2017. It's a show you won't want to miss out on! Its a 5 Stars show for sure!
BLUES BROTHERS – SUMMER SPECIAL
THE HIPPODROME
Until Saturday the 26th of August 2017
Over 18s Only – If you are lucky enough to look under 25 you must bring photo ID
Performances:  Tuesday – Saturday at 7.30pm
                            Saturday Matinee 2.30pm
                            Sunday 5pm
Ticket Prices: From £15
Address: London Hippodrome, Cranbourn St, London, WC2H 7JH
Box Office:  020 7769 8888
https://artstickets.co.uk/blues-brothers/
Facebook: /TheHippodromeCasino
Twitter: @hippodromeLDN
https://twitter.com/BluesBrosSummer
https://www.instagram.com/bluesbrossummer/