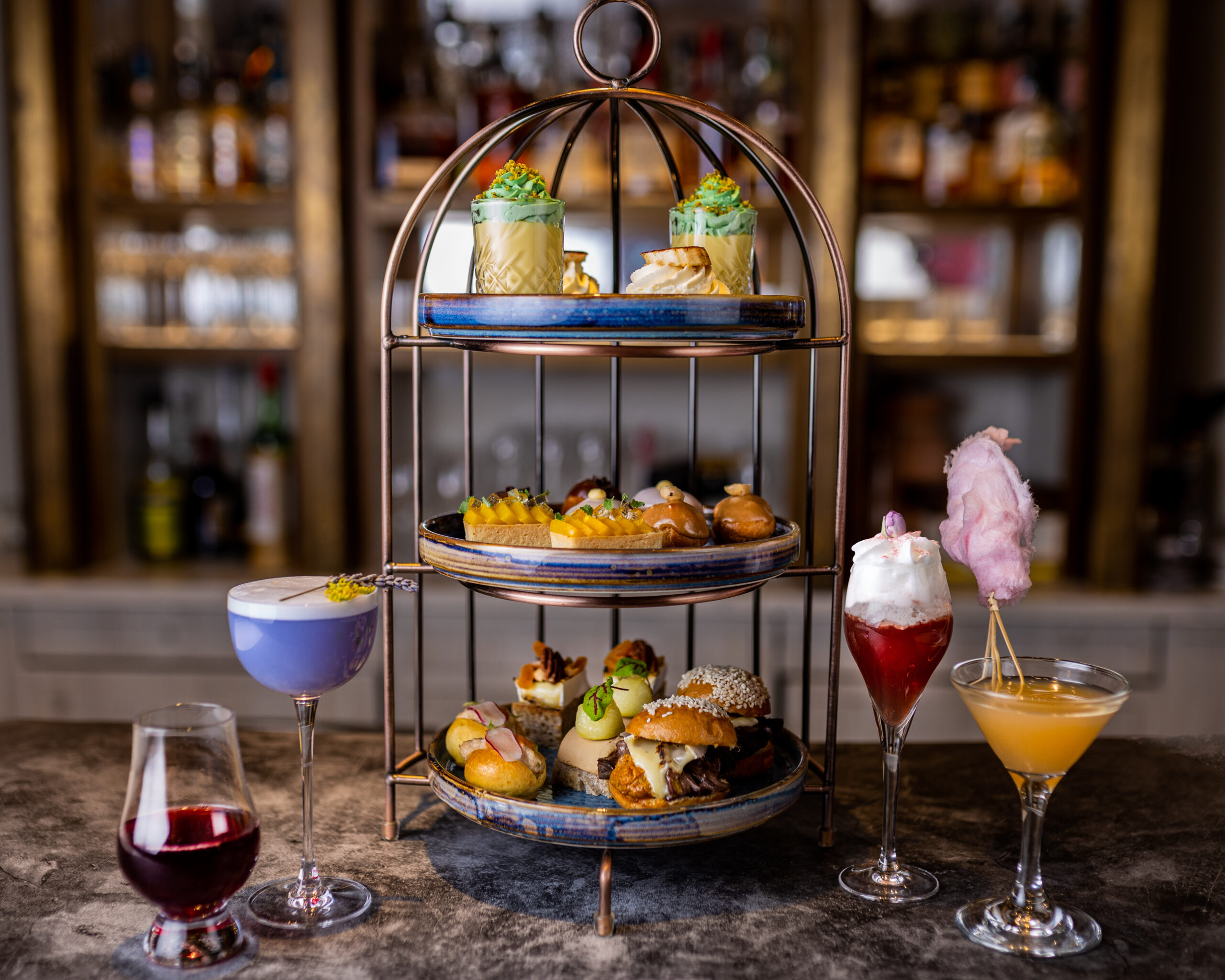 Afternoon tea… is there anything more British? We think not. Rockwell has taken the classic British afternoon tea and turned it's on its head! 
They've launched the Tipple Tea; designed for cocktail lovers and it's amazing!
Tipple Tea sees the bar and kitchen team combining their flair for cocktails and love of food to create a perfect pairing.The Tipple Tea food menu is inspired by Rockwell's love of mixology with dishes featuring tipple influenced touches, from Bloody Mary Sauce to Chartreuse Jelly. Savoury and sweet dishes are rich, indulgent and designed to complement the cocktails.
Upon arrival we were shown to our seats and our lovely host shared the story of Rockwell, the Tipple Tea and why it was created. It was an extremely warm welcome that had us smiling throughout our time there.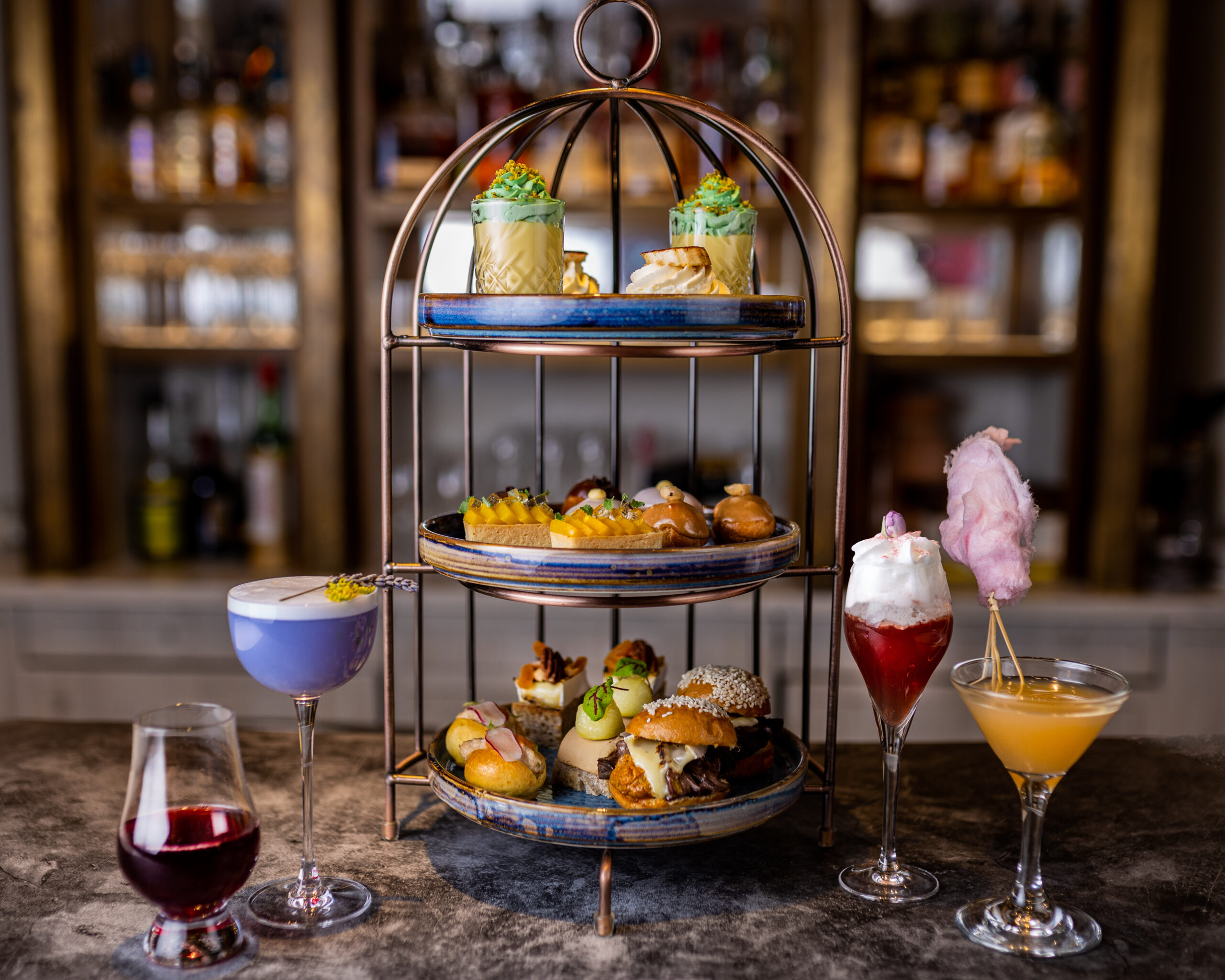 The dishes we had included a Crab Roll with Bloody Mary Sauce and Seaweed Relish, 
Foie Gras on a Toasted Brioche with Apple Calvados Jelly, Smokey Chipotle Pulled Beef Slider, with Pickles & Taleggio and Baked Camembert, Sourdough, Smoked Chilli Jelly, Candied Nuts & Apricot. 

We loved the savoury options especially the Baked Camembert and the Foie Gras. The Foie Gras really surprised my friend who was not sure whether she would like it. She really enjoyed.
We also loved the dessert offerings, which consisted of Mini Choux Buns, Banana Brûlée withScotch Cream, and Butter Shortbread, a Peach Tartelette, Chartreuse Jelly and Brandy Crème Beau Rivage with Pistachio Chantilly. My friend really enjoyed the Brandy Crème Beau Rivage, however, this was the only dish on the menu that I really didn't enjoy. 
The cocktails, though is where the Tipple Tea really shines. The cocktails are all favourites from the bar's current menu created by Brian Calleja and his team. Each cocktail has a story and was explained to us in detail before we drank it and it made the day even more special.
Favourite cocktails of the experience included the Miranda which draws inspiration from Virginia Woolf's 'In The Orchard'. The cocktail combines freshly pressed Bramley apple juice along with the subtle notes of mint, sage and gentian from green Chartreuse and the Spring Garden is named after the very street Rockwell calls home. The Spring Garden cocktail is a marriage of flavours found within British gardens. Woody tones are present from pea flower, while port brings a freshness alongside sweet citrus and honey. Italicus gives subtle light and bitter notes rounded off with floral spices.
We loved the fact that the Tipple Tea give guests an opportunity to try the main cocktail menu in a curated way. There was only one cocktail which wasn't a favourite and this was the Victoria… it was Rockwell's take on a negroni. It's not a cocktail we would usually order ourselves. We do prefer a sweeter cocktail so were glad the rest of the cocktails catered for that.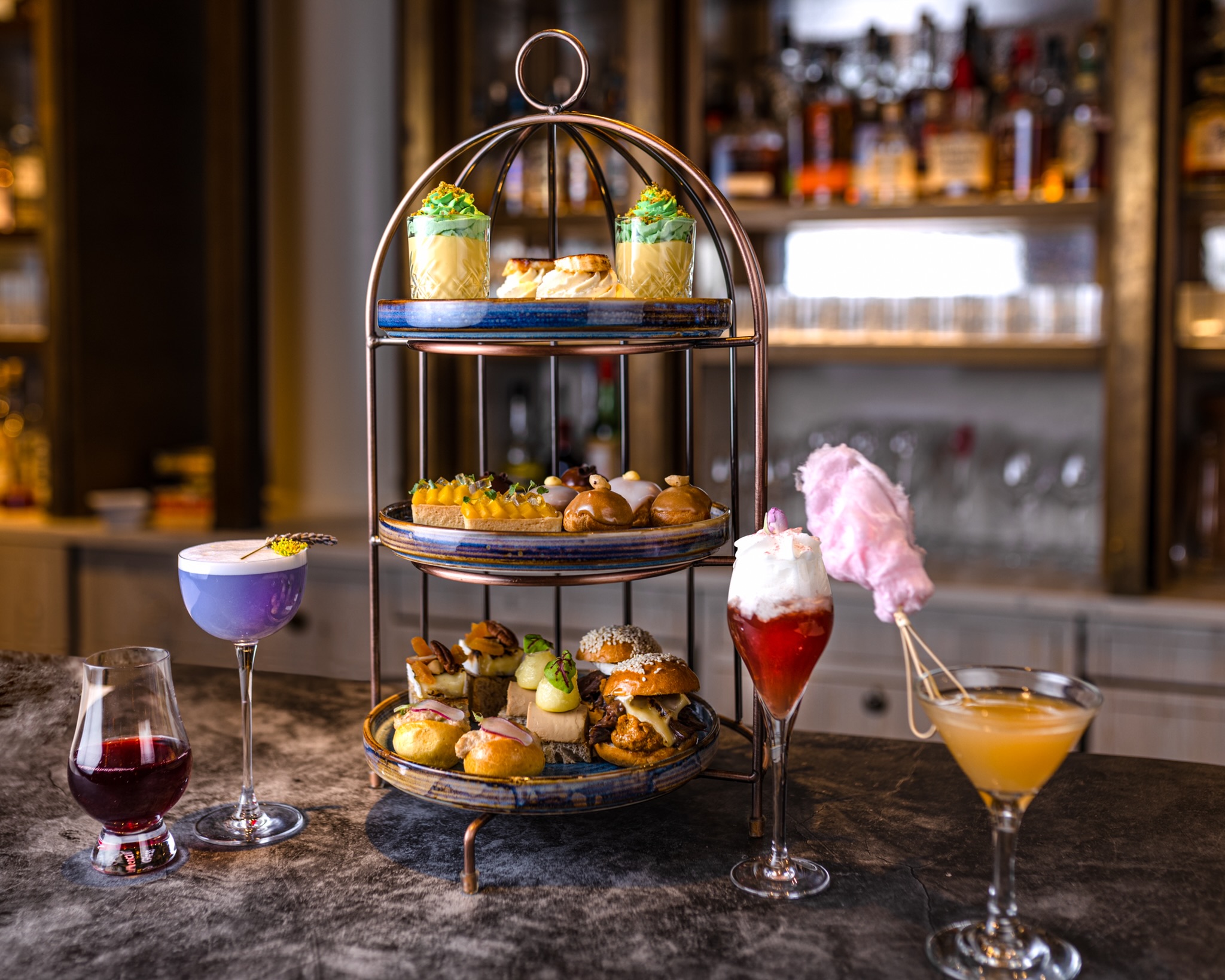 Those looking for a booze free Tipple Tea can enjoy four equally impressive non-alcoholic cocktails.
We were also lucky enough to try an extra cocktail off the menu before we left for the day. The Centrepiece… consisting of Altos Tequila Blanco, Seaweed & Oyster Shell Mancino Vermouth Ambrato , Lime Zest Infused Graham's Blend No5 White Port, Agave Soda, Pineapple & Tequila Sorbet. It was one of the more unique cocktails I've had the pleasure of sampling and was absolutely delicious! I'll definitely be making Pineapple & Tequila Sorbet at my next dinner party. It was the perfect palette cleanser and one we'd definitely recommend ordering. It's well worth the £18.
Tipple Tea is priced at £48pp with alcoholic cocktails or £36pp for the non-alcoholic option. Price wise, we were really impressed. For four cocktails and a large amount of food, we couldn't have been happier. For bookings and further information visit: https://trafalgarstjames.com/pages/rockwell
Rockwell
2 Spring Gardens London
SW1A 2TS
+44 (0)20 7870 2900
Tipple Tea is available:
Thursday – 12pm to 17pm
Friday & Saturday – 12pm to 17pm
Written by Tegan LeBon