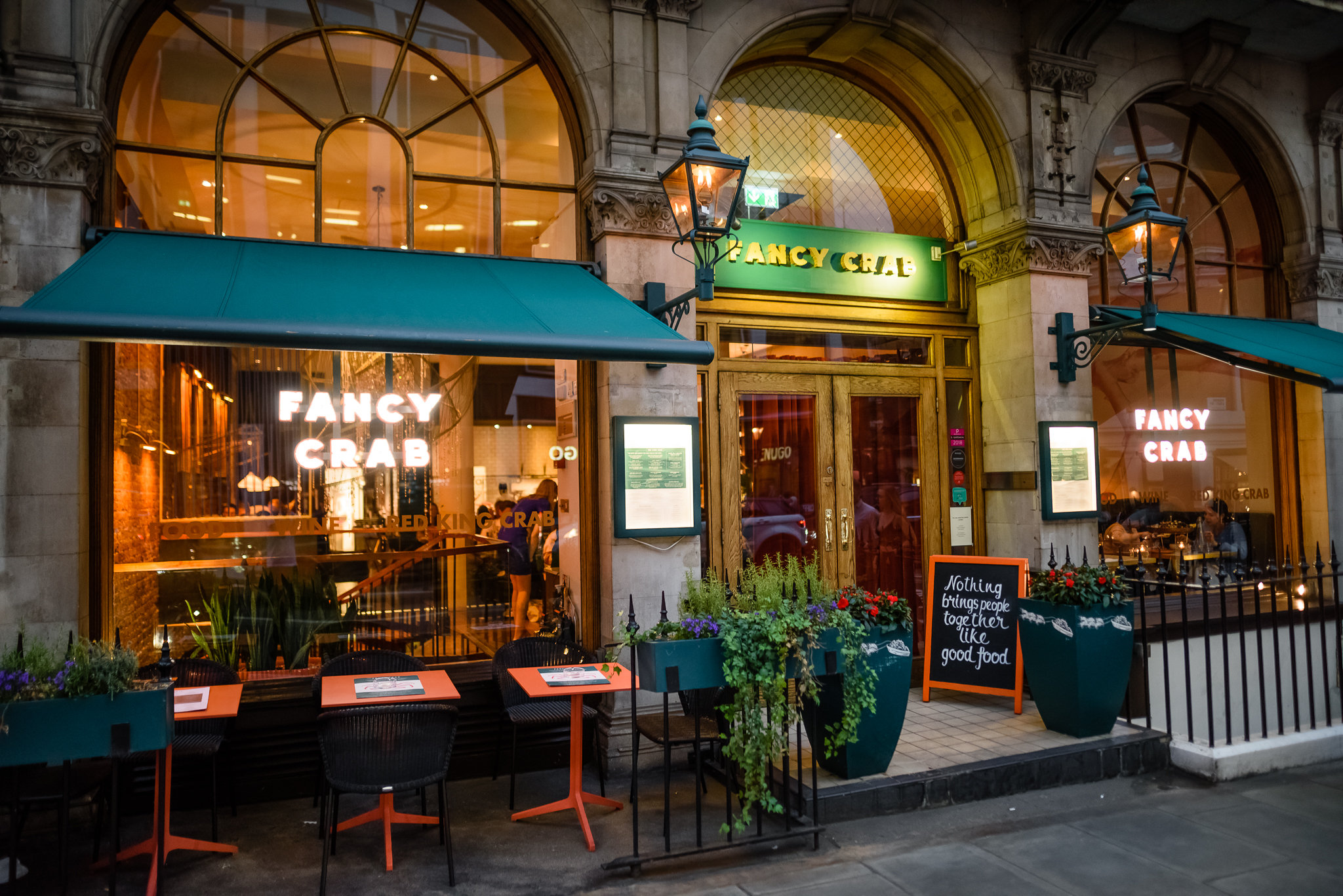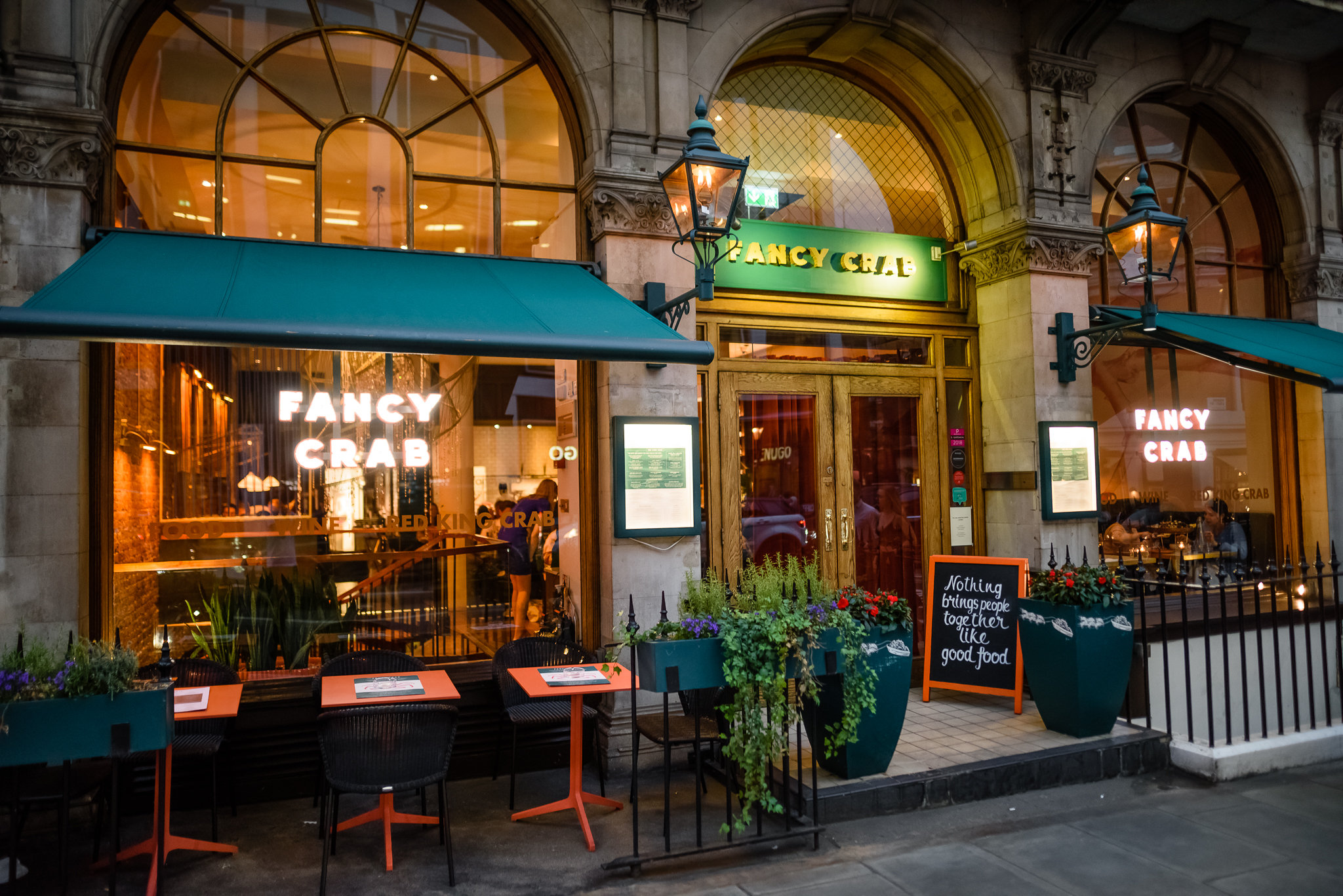 As a big seafood lover, I jumped at the chance to review Fancy Crab In Marylebone, which has been described as "a treasure for every fresh sea connoisseur". Located a few minutes walk from Bond Street Station, the restaurant itself is extremely unusual; a combination of fishing net-inspired chandeliers, brick walls and mahogany, with kitsch paintings and sleek leather booths to match.
We're told that the Northwest Fishing Consortium ships travel to the Arctic Ocean and spends three months in extreme conditions to "seek the unforgiving lair of the Red King Crab" before being frozen and shipped to this eatery ahead of landing on our plate. Additional fun fact, all of the crab served at Fancy Crab have a blue label and are male, so as not to impact procreation. With that kind of a backstory in mind, this spot has a sort of first-date or special occasion vibe to it, ideal for those looking to treat someone special and really spoil them, as the menu is most definitely not cheap.
To kick things off, we started with the crispy squid with chilli salt (£10), which was lightly battered and smoky and arrived with a chipotle dipping sauce, and the Seared Scallops (£11), which were our favourite dish of the whole meal. Cooked to juicy perfection, they were delightfully served in a large shell with feta and watermelon, which proved to be a winning combination (note, do not try and eat the bed of pink sand this concoction is presented on, it is in fact salt and inedible, much to my surprise!).
For the mains, we of course had to try the crab in all of its glory, and were advised that the King Crab Leg Gratin (£28) was a clear favourite; a succulent crab leg was served in a creamy bechamel sauce with a light cheese crust, accompanied by crispy salted fries and garlic butter, and our only complaint was that there wasn't more of it to tuck into. We also tried the Lobster Tagliatelle (£28), made using homemade pasta, which the chef prepares fresh each morning, which came with a small portion of juicy lobster. We did find the sauce to be extremely sweet but the tagliatelle was both light and enjoyable.
For dessert, we shared a fancy lemon tart which was composed of a thick lemon jelly-like curd smothered in a light meringue, served on a stiff biscuit with a raspberry puree, and I washed this down with a Fancy Crab signature cocktail, the extremely sweet Fancy Shimmer (£12). Made of Blueberry Vodka, Blackberry Liquor, and Blueberry Syrup, it made me feel extra 'fancy' with its glittery decorative glass, and tasted like a second dessert.
If you're looking for a low-key fancy spot dedicated to the King Crab then this place is worth a visit. Just be prepared to dig deep into your pockets and maybe consider ordering more than one main each if you want to leave full up.
Website: https://www.fancycrab.co.uk
Address: Fancy Crab, 92 Wigmore street, Marylebone, London, W1U 3RD
Written by Simran Maini-Hoskins