Treat your loved one this Valentines Day
Magical Views at SUSHISAMBA
If you want a luxurious romantic meal and views of London so magical, that you'll never want to leave then SUSHISAMBA is the place for you and your loved one. SUSHISAMBA are offering lovebirds a decadent sharing menu, dishes include: Wagyu-Monkfish Toban, Nigiri Duo and Hana Maki. Diners will also receive a complimentary glass of Champagne, to toast the romance in the air.
Seatings are from 5pm-10pm and is £125 per person. The Valentines Day menu is available at SUSHISAMBA London Heron Tower and SUSHISAMBA Covent Garden.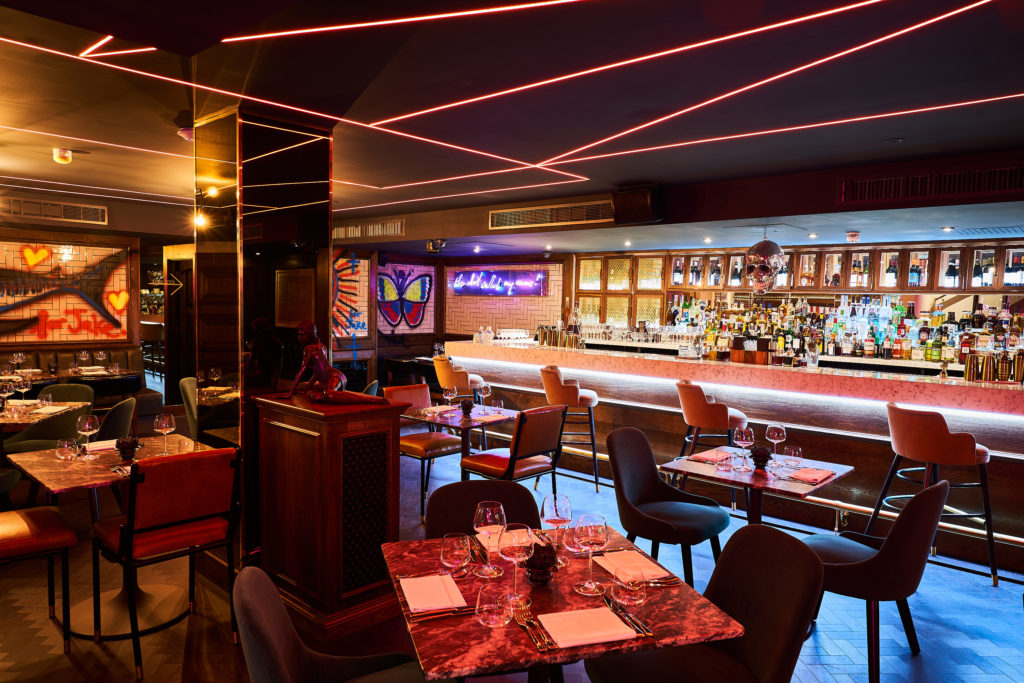 The Wellington Restaurant's Valentine's Day Menu
The Wellington is one cool and quirky looking restaurant, full of personality with walls adorned with original graffiti by Damien Hirst, alongside the artist's rare large-scale prints and the disco skull. Maestro Brett Duarte, formerly executive chef of the Gaucho Group, has created a sumptuous three-course menu for one day only! Dishes includes: grilled pancetta & hollandaise, fillet of beef with roasted tiger prawns, triple cooked chips & chimichurri or Roscoff onion and luscious fig tart with black truffle. We won't spoil the surprise for what they have on offer for dessert. Just know it will be dreamy, and guaranteed to hit every sweet spot.
Priced at £49 per person, inclusive of a glass of champagne
Website: https://thewellington.club
A Trip to Arden House
Whisk your loved one away for a romantic stay at Stratford-upon-Avon, Arden House. This Valentines, they are offering the Gin School Package from £245 per room, including afternoon tea, full English breakfast and a visit to the Gin School. Booze-related activities, afternoon tea and a romantic stay in one of their gorgeous room, this is an incredible treat for the special person in your life.
Website: www.ardenhousestratford.com
Dine in at Orrery, Marylebone Village, with your own takeaway gift
French restaurant, Orrery are offering diners on Valentine's Day a special gift to remember. When you book for dinner and drinks at Orrery, a caricaturist will capture a cartoon drawing of you and your partner, so don't forget to wear that sparkly dress or that dapper suit, this gift will be treasured for years to come. The six-course meal set menu is created by their chef Patron Igor Tymchyshyn, the indulgent dishes include: Seabass, Dorset crab and Tournedos Rossini.
Priced at £100 per person.
Website: https://www.orrery-restaurant.co.uk | https://www.marylebonevillage.com
The Dorchester Valentine's Day Menu
Enjoy a three Michelin-starred experience at the newly refurb Alain Ducasse at The Dorchester. Executive Chef Jean-Philippe Blondet has created an enchanting five-course Valentines day menu. Featuring dishes such as 'Hand-dived sea scallop, heritage beetroot and caviar', 'Confit Duck Foie Gras, hazelnut and black truffle', and 'Fillet of TURBOT'. This is fine dining at its best.
£235 per person (5 courses, with 1 glass of Rosé Champagne)
Website: https://www.alainducasse-dorchester.com
Free prosecco at Stuzzico
Stuzzico in Connaught Village are offering diners a complimentary glass of prosecco on Valentine's day. You will find Scrumptious Italian classics with a modern twist. Dishes include: Risotto al tartufo nero, spaghetti al pesto e gamberi and parmigiana di melanzane. Stuzzico prides themselves on authentic Italian food with wine pairings to match.
Website: https://www.stuzzico.co.uk | https://www.connaught-village.co.uk