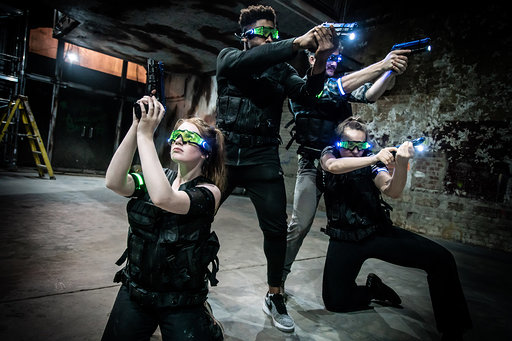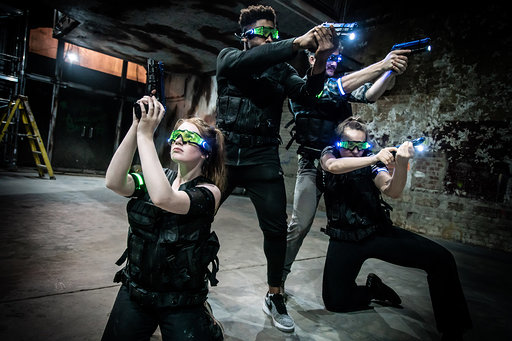 On  Monday 7th October 2019, OnIn.London were invited down to try the World's largest live action immersive gaming experience. Suitably terrified but pumped to try an immersive experience with a different we still weren't too sure what to expect.
Arriving we were informed that 'Space 18, has been outfitted as the now derelict, fire ridden Toxico Technologies. The horrors and experiments conducted by a team of scientists within are at the very root of the company's untimely demise. Soon after rumours leaked in the early 90's of immoral human experimentation involving nefarious chemical compounds, mutations, and reanimating the dead, a mysterious fire broke out within the compound destroying everything and everyone within. Now, twenty-five years later, the doors are opening once more: this time, you are the patient'.
My friend and I were separated upon entering the game and this adds to the terrifying experience we had. I still feel like my heart is pounding nearly two weeks after surviving Variant 31.
The only way I can really describe the show is by saying it's a giant laser tag cross escape room. So obviously my kind of fun! Reminiscent of Resident Evil's Umbrella Company, I felt like I was being thrown deep down into the hive ready to fight my way through zombies and all kind of evil creatures. First off, the venue is huge. It spans over an entire block encompassing seven buildings, 200 rooms, 35 floors and over 42,000 square feet of themed sets. You really are in a live-action video game as you shoot, solve clues and explore the narrative-driven game to be the player with the most points.
So what are you waiting for? Grab your mates, family or co-workers for your next day or night out and race to survive. You'll laugh and scream as you're fully immersed into the experience and be wanting to planning your next trip there in no time. Which is great because apparently no experience is ever the same.
Address: Space 18, 39 New Oxford Street, London, WC1A 1BN
Website: Variant31.com
Box Office: Onsite box office NOW OPEN (or book online at Variant31.com)
Tickets:
Daywalkers – From £35
Nightwalkers – From £39
PLEASE NOTE DAYWALKER TICKETS ONLY AVAILABLE FROM 2 OCTOBER ONWARDS
Daywalker Performances: Monday – Friday: 10am, 10.30am, 11am, 11.30am, 12pm, 12.30pm, 1pm, 1.30pm, 2pm, 2.30pm, 3pm, 3.30pm & 4pm
Nightwalker Performances: Monday – Friday: 6pm, 6.30pm, 7pm, 7.30pm, 8pm, 8.30pm & 9pm. Saturday: 10am, 10.30am, 11am, 11.30am, 12pm, 12.30pm, 1pm, 1.30pm, 2pm,2.30pm, 3pm, 3.30pm, 4pm, 4.30pm, 5pm, 5.30pm 6pm, 6.30pm, 7pm, 7.30pm,8pm, 8.30pm & 9pm. Sunday: 10am, 10.30am, 11am, 11.30am 12pm, 12.30pm, 1pm, 1.30pm, 2pm, 2.30pm, 3pm, 3.30pm, 4pm, 4.30pm, 5pm, 5.30pm, 6pm, 6.30pm, 7pm, 7.30pm, 8pm & 8.30pm.
Running Times:
Daywalkers – 60 Minutes
Nightwalkers – 90 Minutes
Age Range: Daywalkers – Ages 12+ ad Nightwalkers – Ages 18+
Twitter/Facebook/Instagram: @Variant31
#AimForTheHead
#TheExperimentBegins
#ControlYourFear
#TheChoiceIsYours
Warning: This experience is only suitable for the brave and adventurous. The production utilizes strong language, simulated violence, actor nudity and is a high adrenaline, fast paced, full contact survival game. Enter at your own risk.
Written by Tegan LeBon
Photos by Tom Grace